Popular Option for WordPress Community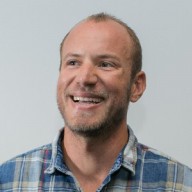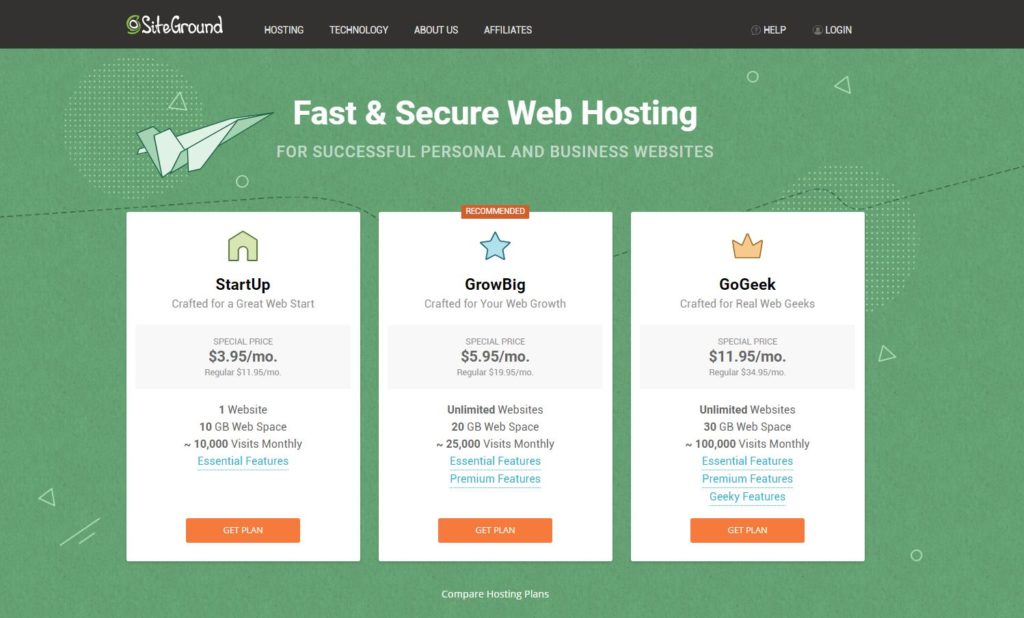 SiteGround is ranked #4 out of 32 hosts
SiteGround is a popular shared hosting provider that offers its users multiple different hosting options.
These include WordPress hosting, cloud hosting and even dedicated servers.
We've been monitoring SiteGround cheapest "Startup" shared plan for over two years now.
We paid for a shared hosting account, setup a live test site, and have closely tracked their performance in a third-party tool to provide this unbiased, transparent review.
Overall, SiteGround ranks near the top of all web hosting companies for both uptime (99.99%) and speeds (713ms). Their customer support team is knowledgeable, fast, and friendly. All plans come with a CDN, SSL certificate, and email accounts.
Here is an in-depth breakdown of all the "Pros" and Cons."
General Info & Hosting Overview
| | |
| --- | --- |
| OVERALL RANK: | Rated #4 out of 32 web hosts |
| SPEED: | 713ms (December 2017 to March 2019 average) |
| UPTIME: | 99.99% (December 2017 to March 2019 average) |
| SUPPORT: | 24/7 Live Chat |
| APPS: | Supports more than 500 applications |
| FEATURES: | Unmetered bandwidth, 10GB storage, website builder, and free email |
| HOSTING PLANS: | Shared, WordPress, Cloud, Reseller, Enterprise and Dedicated Servers |
| SITE TRANSFER: | Not Free |
| PRICING: | Starting at $3.95/mo (renews at $11.95/mo) |
Pros of Using SiteGround
SiteGround starts strong with 99.99% uptime, above average speeds, and tons extra features that are perfect for both beginners and power users.
1. Good Performance – 99.99% Uptime Last 16-Months
All of our hosting reviews are based on at least 16-months of actual statistics and raw data.
SiteGround's uptime performance has been nearly perfect over that time. Its 99.99% average puts it among the most reliable hosts we've reviewed (33 and counting).
Rock-solid uptime like this keeps website visitors happy. But more importantly, it means your site's almost guaranteed to be working around the clock so you won't miss out when they want to buy, either.
Here are the month-by-month results from Pingdom, our third-party tracking tool.
Last 16-month average UPTIME:
March 2019 average uptime: 99.99%
February 2019 average uptime: 100%
January 2019 average uptime: 99.99%
December 2018 average uptime: 99.95%
November 2018 average uptime: 99.99%
October 2018 average uptime: 100%
September 2018 average uptime: 100%
August 2018 average uptime: 99.99%
July 2018 average uptime: 100%
June 2018 average uptime: 100%
May 2018 average uptime: 99.97%
April 2018 average uptime: 100%
March 2018 average uptime: 99.99%
February 2018 average uptime: 99.97%
January 2018 average uptime: 100%
December 2017 average uptime: 100%

SiteGround average uptime | See stats
2. Above Average Load Time (713ms)
Site speed is easily the second critical factor when choosing a host.
For starters, that's because Google's research shows that 53% more people will leave if your pages don't load within three seconds.
However, the other main reason is that you can't do anything to fix a slow host. You might be able to compress images to lighten their weight. You might be able to load them through a CDN to take some pressure off your server. But once a slow host? Always a slow host.
Fortunately, you don't have to worry about that with SiteGround. It's above average 713ms isn't the fastest we've seen, but it does place SiteGround almost in the top 10 at speed.
Last 16-month average LOAD TIME: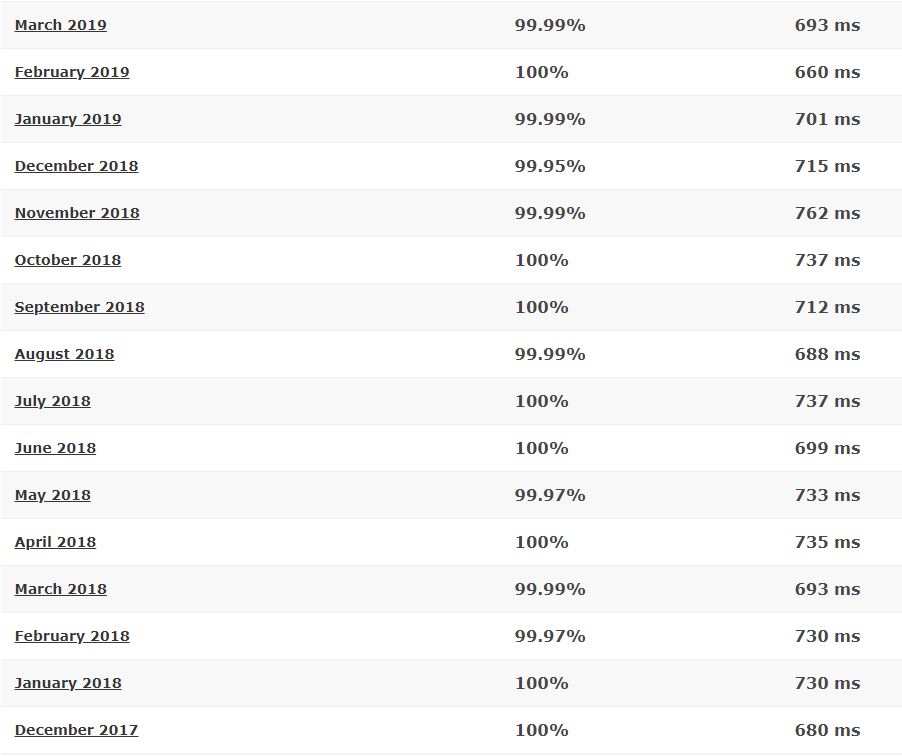 SiteGround average speed | See stats
Overall, SiteGround is pretty fast.
3. Good Customer Support Experience (2017-2019)
We've been monitoring SiteGround for over two years now in total, and we've never had any major issues with their support.
They provide a knowledge base for customers to find their own quick answers. Otherwise, you can call in over the phone or hop on the 24-7 live chat.
For this latest test, I opted for live chat and was connected with Vladislav in less than a minute.
Unlike other hosts, there was no noticeable delay between answers. So it seemed like he knew what he was talking about and didn't have to look up answers each time we sent over a new curveball.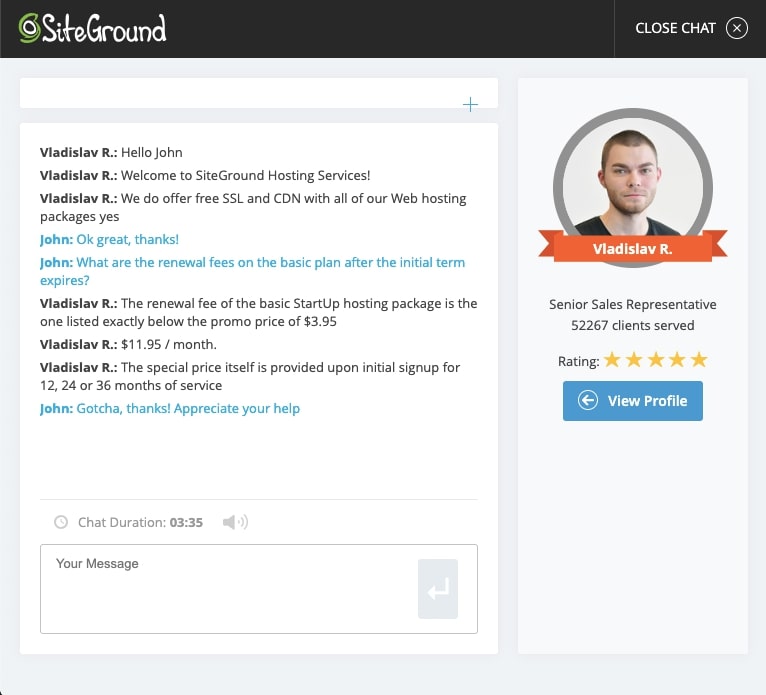 Good experience all around.
4. Free Site Migration for 1 Website
Whenever we see web hosts come out with a "DIY migration" option, it makes us a little anxious. That's because most aren't great, putting more burden back on the customer so the host can save a few bucks.
SiteGround might be the exception to this rule, though. They've created a free WordPress Migration plugin that you can upload to any site.
There aren't any annoying walkthroughs that will take you another hour, either. You can generate a token from inside your SiteGround hosting account and the plugin will quickly help do the heavy lifting.
Yes, it still requires you to do a little work. But the good news is that you can migrate as many websites as you want with this option. (In comparison, some hosts that offer "free migrations" cap it after only a few, forcing you to pay after a certain point.)
If you'd rather have some professional, hands-on help, SiteGround will throw in the free service on their bigger plans (GrowBig and up).
If you exceed the limits on each plan, they charge a nominal fee of $30 for each additional site.
5. Free CDN and SSL Certificate
Google Chrome, the most popular web browser in the world by a wide margin, has started actively warning people if the site they're trying to reach doesn't have an SSL certificate set up.
These help protect any private information sent back and forth between your device and the website, including personal details like your IP address. Left unsecured, hackers and others could easily intercept this personal information. So they're looking out for your best interest here.
That makes SSL certificates a requirement on all websites today. And thankfully, SiteGround throws these in for free on all plans.
The other bit of good news comes in the form of a free Cloudflare CDN (Content Delivery Network), too. These help take large files, like images, off your server to keep it blazing fast.
Plus, SiteGround uses multiple servers spread out over three continents to also make sure that your files are stored as closely as possible to site visitors to once again provide a fast experience.
6. Beginner-to-Advanced Features Available
SiteGround has a little for everyone.
Beginners and bloggers will like that you can install popular website builders like Weebly in just a few clicks. Weebly features a simple, drag-and-drop editor so you can take full control over the "look and feel" of your site (without having to dive into code).
Other than Weebly, SiteGround also has deep integrations with WordPress, Joomla, and Drupal. So each of these apps can be installed quickly and painlessly. No need for a developer to help you out.
However, if you already are a developer, you're in luck, too.
You'll get Git pre-installed on bigger plans, along with SSH, WP-CLI, SFTP, and phpMyAdmin. They have multiple PHP versions at your disposal. Multi-level caching is available. And you can also get access to staging environments for sites to prep or test before pushing new features into production.
SiteGround also helps out with security, using a proprietary, AI-bot prevention tool that tries to snuff out new attacks before they hit. Their data reports that anywhere from 500,000 to two million brute-force attempts are blocked on their servers each hour.
So you're not left alone to deal with these headaches, either.
7. 99.9% Uptime Guarantee
Remember that solid 99.99% uptime average? Well, there's a reason SiteGround doesn't drop the ball here. It would cost them a lot of money.
Usually, when you dig into a web host's terms of service, there's only bad stuff buried in the fine print.
SiteGround surprised us, but in a good way. Under their Service Level Agreement, they "guarantee network uptime of 99.9% on annual basis." If they ever dip below that threshold, you'll get compensated with free months of hosting.

SiteGround uptime guarantee
In other words, they'll comp your monthly payment if they don't live up to their end of the bargain.
Now, there are a few caveats with how it's calculated. Any scheduled or emergency maintenance issues are exempt. If something you do causes the downtime (like exceed resources, install applications that don't work, or violate terms), then obviously they're not on the hook. And any major external attacks on their systems could sidestep this policy this, too.
8. 30-Day Money-Back Guarantee
SiteGround features a full 30-day money-back guarantee on all shared hosting plans. Their cloud, VPS, and dedicated hosting plans only come with a 15-day refund for comparison.
Like many other hosts, domain name fees and any other "extras" are usually not refunded. And this refund policy only applies to brand new customers, too. So you can't get refunds on renewal plans.
Cons of SiteGround Hosting
SiteGround has near-flawless uptime. Good news, considering they'll give you free service if it dips below 99.9%.
The site speed was good (not great). Plus, there are a variety of apps to make both beginners and advanced users happy.
SiteGround isn't perfect, though. There are a few drawbacks to consider before signing up. So here are some of the bigger issues we ran into during our hands-on test.
1. Higher Renewal Rates
SiteGround's cheapest plan, StartUp, features a low $3.95/month advertised price on their website.
This deal looks a little too good to be true because it kinda is. Almost every web host we've reviewed to date uses the same ploy. They suck you in with a low introductory rate, only to double (or even triple) the cost when it's time to renew.
For example, that $3.95/month rate jumps up to $11.95 when you renew. SiteGround's other plans hike up to $19.95 and $34.95/month respectively, too.
The best solution to dealing with this problem is to lock-in the longest term possible (36 months on SiteGround) to take advantage of that low rate for as long as you can.
2. $14.95 "Setup Fee" for Monthly Billing
Not many shared web hosts let you buy only a month to begin. They often try to get you to sign up for at least a few months or a year on the low end.
The good news is that you can sign up for a single month with SiteGround. But the bad news is that they hit you with a random "Setup Fee" for these plans.
Under current pricing, that means you're paying $3.95/month for the introductory rate and another $14.95 one-time setup fee.
The problem, when you compare this to the last section, is that you'll also get hit with a renewal rate after the first month, too.
So you might initially think you're getting this great deal, trying out their service for only a few bucks. But the reality is that you will be penalized twice (once through the setup fee and again through the renewal rate).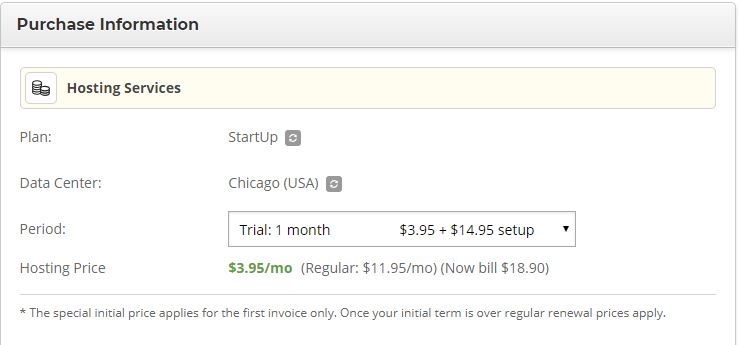 Don't bother with this one month plan, because you'll only end up paying more in the long run.
3. Limited "Cheap" Plan
SiteGround's pricing on their lowest plan comes in right around the competition so it seems like a good deal when you first look at it.
However, the plan features don't line up exactly.
For example, you get one website and only 10 GB of web space to handle around 10,000 monthly visits. This plan also features unlimited traffic (or unmetered bandwidth). However, if your site is getting anywhere close to those limits, performance is going to suffer.
That means it's good for smaller sites who might not hit those thresholds for a little while. But if your site starts to become big, you'll probably have to upgrade a little faster and pay more for increased resources.
4. No Free Domain Name
Most web hosts throw in 'freebies' to attract new customers.
That often includes the low introductory rate and additional services like email or migrations.
A free domain name is almost always on that list, too. They usually throw in the cost of a domain for free at the beginning and only charge you after the first year.
SiteGround, unfortunately, doesn't do that. If you don't already have a domain name, they'll charge you for one from Day One, starting at $15.95/year.
SiteGround Pricing, Hosting Plans & Quick Facts
SiteGround has three shared hosting tiers. Here are the costs and highlights: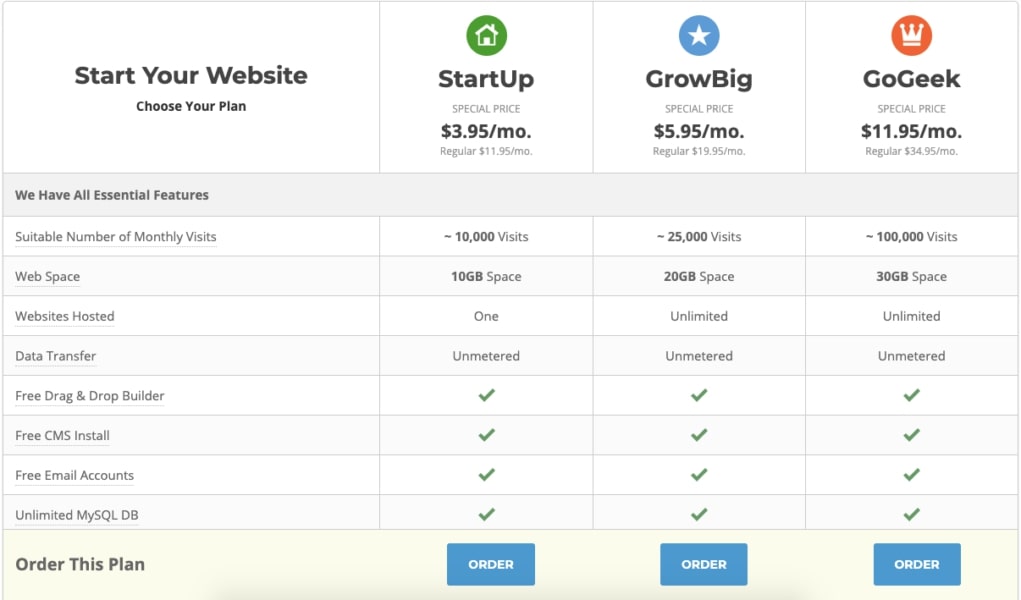 The StartUp plan: This plan costs $3.95 per month, can host one website and is good for newbies who are just starting with a website. It can handle up to 10,000 unique visits per month, with unlimited bandwidth, 24/7 client support, free Cloudflare CDN, free Let's Encrypt SSL, unlimited Emails & DBs, free daily backups, and more.
The GrowBig plan: This plan costs $5.95 per month and can host multiple websites. In addition to what the StartUp plan has, you also get a free SSL Wildcard for 1 year, 30 backup copies and free restore, all 3-levels of the SuperCacher, which aids loading time tremendously, and staging environments for both WordPress and Joomla.
Their GoGeek plan: This plan costs $11.95 per month and can host unlimited websites. It has 30GB of space for up to 100,000 visits per month. It has all features of the other two plans plus priority support, PCI compliance and one-click Git repo creation.
All shared hosting plans come with a free email account, free CDN and unlimited bandwidth.
Domain: Domain prices start from $15.95
Ease of Signup: Very easy, one-page sign-up process.
Payment Methods: Credit Card (there are other options available through chat)
Hidden Fees and Clauses: They charge a $14.95 setup fee if you pay for their shared hosting plans monthly instead of annually. Renewal rates are also higher. And you have to pay for a domain name (no freebie).
Upsells: A few… but nothing too bad.
Account Activation: Quick account activation.
Control Panel and Dashboard Experience: cPanel
Installation of Apps and CMSs (WordPress, Joomla, etc.): Quick and easy install of popular apps and CMSs using Softaculous.
Do We Recommend SiteGround?
Yes, we do.
SiteGround has delivered solid uptime for a few years now. And their uptime guarantee makes sure that you'll probably never have any major downtime issues.
Their site speed is pretty good, too. That's thanks in part to their servers spread out over three continents and free Cloudflare CDN account. They also give you a free SSL on all plans, too.
Pricing is good if you take advantage of the longest term possible. Otherwise, you'll end up hitting those high renewal rates sooner. Bring your own domain, too, to escape another fee.
Visit www.SiteGround.com
Do you have experience with SiteGround Hosting? Feel free to leave your review – good or bad, as long as it's honest and transparent – in the review section below.
126 user reviews for SiteGround

Michael L.
1 —
February 26, 2019
Siteground has SERIOUS issues.
First off, Siteground used to have stellar service. Amazing service. You could ask them to do things like activate an SSL certificate on a site and they would do it live for you on chat. About a year ago, they cut out all chat chat support for everything that was not a mission critical failure and turned everything into tickets instead. Even when you do have a website down issue, you'll get put into chat but 80% of the time, you'll get routed to customer service which has no idea what to do or routed to leave a message because "nobody is available". Now when you open a ticket into support, and wait a day for answers, you'll receive "owners manual" type answers to do it yourself. So if you were expecting legendary Siteground support, or paid another annual renewal thinking you'll get that legendary service, you'll be sorely disappointed – and in my case bait-and-switch.
Second, Siteground makes it extremely difficult to cancel or change services or execute refunds. When a Cloudflare renewal was coming up, I tried for hours searching for how to cancel the service, but was impossible so I waited until 2 weeks before the renewal date to address the issue. Surprisingly, they decided to charge me the full amount 1 month before the renewal date, and so I started a support ticket with them to get a refund. Support says they can't refund because they already paid Cloudflare for it. That's not how ANY SaaS company works. Now Cloudflare support says they couldn't refund because support's handled by Siteground. Eventually, I threatened pulling all services and filing chargebacks and they "disappeared" for a few minutes and came back and refunded me on a "one time exception" on some patronizing reason like "I'm so loyal". What a bunch of crooks.
Third, Siteground randomly decided to miss backups in the last 7 days for no explainable reason and because of this, I lost 40+ hours of work and thousands of dollars. When I let them know, they opened a "ticket" with no ETA …. eventually they fixed it, but the bottom line was their incompetence screwed me over out of time and money. What the hell is wrong with this company? New ownership?
Don't believe the hype – that was the past. There are better hosting companies out there. I am starting to have SERIOUS TRUST ISSUES with this company and you should too.
Marcos
5 —
February 16, 2019
Best Hosting Company Beyond Doubt
I have been with siteground for a number of years now after trying out a number of other providers. I can honestly say that none have come even close to the service and performance that Siteground offer. I also think that many people write negative views when they have encountered issues with a provider, and turn to the web to vent their rage. Yet many happy customers tend not to post reviews about their good experiences with a provider, which unfortunately leads to a lop sided misrepresentation against the better companies out there, including Siteground.
In my experience, the service I have received, including support, has been nothing short of excellent.
Juan
2 —
January 15, 2019
I lost my site with SiteGround
I moved after 10 years with Media Temple to Site Ground thinking that -from what I read- their service was better. In order to have always the latest version, I installed WordPress through their control panel. It is version with auto updater.I had all the security plugins installed and purchased SG Site Scanner, a script that "tells you if your site is clean".
After a couple of months, I tried yesterday to update my posts just to realize my website was hacked. I sent a ticket through their 1990 looking support site. Long story short, I am about to lose 10 years with no support at all from them. Yes, they have a backup to restore the site, but only from 30 days back. Someone hacked my site on January 1st and it's been 45 days since. So no backup, no log in through wp-admin… my work is almost gone.
The support guys just sent me a list of "suspicious" files, saying "help yourself or buy the XYZ wordpress repair service from XXX". I asked them to help me with backup before January 1st. Nothing. So my traffic is 0 right now, penalized by Google… I'm not very happy with all this, as you might imagine. I included an image to prove that currently I am a SG customer.
I'm currently trying to get my files and site back. So I think that most of the comments I've read were either false or paid. I think SiteGround is not a serious business, not worthy paying for, unless you want to harm your reputation.
I'll be moving to MediaTemple, WP Engine or BlueHost again or to a new hosting company with additional security. Different pricing, but… how much did I lose after 45 days without a site and SG "Scanner" sending emails saying: Your safe is CLEAN?
Guys at Site Ground, as I've seen you reply to some customers saying "we cannot find your website" implying it is a fake review, please take a look at the ticket number #3024118. I am an active customer.
My final advice: Do not trust this company. Remember, they offer a cheap deal the first year, and then the price goes up up up, and after that, you might lose your site with awful customer support.
David Cragg
5 —
January 11, 2019
BEST Hosting Support
I am an SEO professional with 15 clients. A new client insisted on using SiteGround to host their site while all my other clients use Godaddy. I was very reluctant because support is SOOOO important. I found that my reservations were unfounded. Tonight, SiteGround provided the best support that I have had in years. It took two calls but I really don't care. A real tough problem was resolved. I AM VERY HAPPY and will start to recommend SiteGround to new clients.
Ezaz Shaikh
5 —
December 25, 2018
SiteGround Genuine Review
I believe SiteGround is the worth web hosting service among all the present hosting companies. Though BlueHost is popular on the internet, but it cannot beat Siteground for sure, if we compare all the features and rate.
Brandon C
1 —
December 10, 2018
Raving Angry!
This EXPENSIVE hosting service deleted my site backups after a minor payment issue. Im angry beyond belief at these fools. WHY WOULD YOU NOT SAVE WEBSITE BACKUPS? Im talking about next to nothing in terms of space…
I had over $1,000 easily put into my websites, plus virtual coder cost and lots of time spent on them (maybe 100 hours+).
Should of went with HostGator or someone without such idiotic policies. If their support is so good, then why didnt they reach out to me-a longtime client, by phone? Im just thankful I didnt build out more on their terrible service. Ill be taking my money elsewhere and I hope you do the same. Shame on anyone who recommends these fools and their services.
SiteGround Review RESPONSE
Hi Brandon,

We would like to review the reason for losing your backups and address your case, but unfortunately we were not able to identify your account. Please note for us any feedback from customers is important and we aim to check how we can improve client experience. It will help us if you send us your domain and client email to reviews at siteground dot com so we can examine the communication with regard to using the backup service included in your plan.

We understand losing data is frustrating, yet we would like to point out that our terms of service have a dedicated section on backup services. There we list our obligations and we explicitly state that you agree to also keep independent backup copies of your content in addition to the backups we maintain. That clause is intended to prevent situations of data loss and to inform you that our backups should not be used as sole copy of your files.

Regards,
SiteGround Team
Jeff M
1 —
November 28, 2018
paused my hosting
They claimed that my site was hacked and after that they suggested that i change my password to cpanel. I forgot to do it so 2 month later i wake up to see all the sites on that hosting plan are down. No error logs, no emails of any kind. I contacted their support so they told me they shut down my account since i didnt take their advice to change my password.
My sites were down most of the night and few hours in the morning while i was waiting for them to respond.
They couldnt have emailed me a warning. They could have reset my password and let me know that it was reset on my behalf. They could have done many things but to take my sites down was the worst choice they made.
This is beyond irresponsible behavior!
SiteGround Review RESPONSE
Hi Jeff,

We were sorry to hear you are not satisfied with our service. We were not able to locate your account to check in more details the reason for suspending the access to your website. We would like to review the handling of your case and we will be grateful if you send us your account information (domain, client email) to reviews at siteground dot com.

As part of our security policy when a hacker activity is detected on a client's account we suspend access to the compromised files to stop it from spreading and affecting other users. To prevent further unauthorised access to your account we recommend that you change the cPanel password as well. It appears that we have not received a confirmation you have completed the password update. That is why we have not lifted the suspension as we needed to verify all security instructions were applied. Please note it is our policy to get your permission for any changes we make on your behalf related to login data and files, and we couldn't proceed with the update without your approval.

We apologise for the inconvenience caused by the downtime of your website, but as we have a responsibility to protect all of our clients on the same server we follow our procedure strictly to keep them secure.

Regards,
Siteground Team
Sherry Harris
5 —
November 22, 2018
Love Their Customer Service
I have been with SiteGround for about a year. Their service is top-notch.
Everyone there goes over and above to help you solve your issues immediately. I normally use their chatbox to talk with them. I have used email maybe twice and even then I received detailed responses from them regarding my questions.
I highly recommend SiteGround primarily because I am not technical and don't have a desire to learn most of the behind-the-scenes stuff. They always talk to me in a language that I can understand, which I love. I haven't had one bad interaction with them and I can't say that about other hosting companies I have had before.
Julius
5 —
October 24, 2018
Siteground experience
I started with a single domain a year ago. Setup was easy (GrowBig account). I've been watching since then and am extremely pleased with it. So recently I transferred my other domain from Godaddy. Godaddy gave some problems with the transfer but after chatting with support all was fixed in super fast, super convenient way. Later after verification of transfer was received I had some more questions and contacted support chat again. Again, very helpful and everything I had questions about was explained. So, my opinion of siteground is that it is great. Recommended.
Allison W.
5 —
October 21, 2018
Blowing My Mind
Long story short, I came from hosting with GoDaddy. Anyone who has been with them before knows that they lack in every department possible. From customer support to user-friendliness. I can say I waited over an hour for a representative on a web-chat to resolve billing issues. They are also mega expensive with their services and I feel as though my services were slow and lack-luster. I switched to SiteGround after a friend raved about it. And I can see why. I think I waited about 30 seconds for someone to help me, and they actually knew what they were talking about. I mean, your lucky if GoDaddy representatives can tell you what color the grass is. I am beyond impressed with what I had to what I have. I wish I would have gone here 3 years ago.
Kevin
4 —
October 4, 2018
Good but Expensive for the little guy
All in all, I've had very little problems with SiteGround on the whole. The renewal costs I found to be too high. Yes, I fell for the low-cost first-year model. But with renewal over £200 for 12 months of 'Great Support and Even Greater Hosting'… – There are plenty of other choices which claim to also offer 'Great Support'.
Support response times are very swift and are usually also very helpful, but occasionally you do get someone who hasn't read or understood the ticket. So things can drag out a little, but you get there in the end.
Be careful with additional services, and be sure to know what is included with the package level you purchase before you purchase. SiteGround has a partnership with Sucuri which they default to if there is money to be made from recovery assistance.
If you have the budget, go for it, if not, give those hosts you skipped on the way to SiteGround another look. There are some gems hidden amongst the dirt.
Pat Bracken
5 —
September 5, 2018
Website Transfer
Due to the unfortunate death of our neighborhood association's web developer and the closing of the web hosting account under which our website had been hosted, it was necessary to move our website to a different hosting service. The job of facilitating this transfer fell to me as a board member. I am not a web developer; hence, I had very limited knowledge of all that was contained in our site and how to make a transfer. The SiteGround support staff was very patient with me. The transfer did not go smoothly mostly because of the hosting service the site was being transferred from. SiteGround identified the key files that needed to be included in the former hosting site's transfer file.
SiteGround was highly recommended to me to consider for hosting our website. Now I know why SiteGround was so highly recommended.
Austin
5 —
September 5, 2018
Never seen the likes
The services of Siteground are top notch, I don't think I have seen the likes yet.
I have had issues with my site crashing which was my fault and issues with the renewal of my domain but it was sorted out excellently.
Excellent customer service, fast reply, it's just awesome.
It's a model I think so many other web hosts can learn from!
David
4 —
September 5, 2018
Good but a VERY expensive shared host
Excellent host. The only issues are those prices you quoted. They are the intro price. After your initial purchase account has expired you're going to be paying 35 a month for a GoGeek shared hosting account for example.
They are also not ideal if your site is prone to sudden traffic spikes from social media. Other than that they're a solid web host.
Sabina Clayton
5 —
September 2, 2018
Great for New Starter
I am a freelance designer/illustrator and wanted to establish an online presence. Being new to this, I needed some help with registering a domain name, setting up email and developing a new website. Pavlin was fantastic and very patient in providing guidance and helping me through the process online to complete the registration and web hosting plan subscription. I had a number of questions which he answered and which really helped in my decision. SiteGround were recommended the #1 web hosting in my country and I can see why. They responded almost immediately to my request for assistance and did not try and rush me in any way. I am pleased I made this choice and now feel very confident in continuing my journey with them knowing I will get a high level of service and support.
Suzanne
4 —
August 31, 2018
Training
Thank you Siteground; you have now been very helpful, however every member that I passed my issues through need proper training in SSL certificate and the requirements when adding a domain. Seriously; this has taken too much of my time up when this issue could have been avoided
Tivano Multimedia
5 —
August 19, 2018
The best
I could go over server performance and statistics but SiteGround's numbers speak for itself.
What really makes SiteGround the best (in my opinion) is their customer support. They don't just redirect you to a blog post or FAQ but they genuinely want to help you fix the problem(s).
Never before did I experience customer support at this high level. It's the reason I'm moving all my domains to SiteGround.
Sam
5 —
August 18, 2018
Absolutely Brilliant
I cannot explain how rare it is that I am completely happy with a company. I am completely new to this side of blogging and SG have been so supportive the whole way through, helping me out even when the problem wasn't with hosting (i messed up a theme install) and being so incredibly friendly all the way through, and when it is a problem on the host end (I accidentally deleted my database) they fixed it for me instantly. The longest I have ever had an issue has been less than 30 minutes, from the discovery of the issue to being completely solved. The people I have spoken to have always been calm and professional even when I am panicking and coming across super blunt and probably rude – SG staff are nothing but professional and friendly.
I recommend SiteGround wholeheartedly
Andrew
4 —
August 15, 2018
Billing Concerns
It took a moment to find the chat box, you have to type in the box for email support first and then the phone number and chat box appears. My rating reflects that because I feel the links should be visible and not hidden. The actual service I got from the chat representative was excellent. I had a problem with being able to pay my renewal upfront and they adjusted for me and gave me options, which was very appreciated. The rep actually answered my questions, rather than giving stock answers which some CSR's are prone to do. I've had nothing but great support from SiteGround.
John C
4 —
August 12, 2018
Better than most shared
When compared to most shared hosts they certainly are a cut above the rest. But they still leave a lot to be desired.
The CPU minutes can be a real problem for some websites, especially e-commerce ones. I've seen websites get shut down for exceeding the limits. This isn't ideal. The number of visitors they advertise should also be revised. Several people see it as a firm number and are then surprised when they encounter problems.
For a blog, it's a great host, but for an e-commerce website, I do have my reservations.
Niall W
5 —
August 10, 2018
Super Reassuring Support
I love using Siteground. I've never had an issue with a site go down, and I'm always amazed by how good the support available is. The documentation is super easy to read, but best of all, it's always convenient to get problems fixed by a real human being. I know that whatever time of day, and whatever problem, I am just a click or two away from being in touch with a customer support agent who can solve whatever is troubling me. Before Siteground I was totally new to web hosting. Now I am confident to experiment because I know there is a great safety net behind me.
Hearther
5 —
July 15, 2018
Nothing short of amazing!
I'm so happy I switched to Siteground! Hosting and tech support are always outstanding. Dessy just spent 45 minutes on chat helping me resolve a certificate warning. Turned out to be a setting in Outlook. Other hosting support would have told me they can't help because it's an MS Outlook issue, but not Siteground. They're always available when I need them!
Magda Wojtyra
5 —
July 4, 2018
Excellent service, excellent customer service, unbeatable price
SiteGround is amazing and I recommend them highly.
The very first website I built was in 1996, so I've definitely seen my share of nightmare and just so-so hosting.
I have been hosting several websites with SiteGround for several years now, and I have signed up clients on their own accounts, too.
The hosting field is very competitive and it's hard to get an edge, and here is where SiteGround really stands out: customer service.
I pay a few dollars a month per website that I host with them and for this ridiculously low price, the service is just outstanding because they will actually help with your problem, not just stop at the border of their contract.
So they will actually help you track issues with email right into your own Gmail account and they will help you with third-party plugins with WordPress.
Any issue I have ever had has been resolved quickly and completely.
HIGHLY recommended.
Tropical Guy
5 —
June 13, 2018
awesome
I can't comment much on SG they are the 3rd host I move into and now I have upgraded into their cloud platform which is quite secure. To me it's not about speed really it's about security and they deliver on these terms. Their support is awesome also, they know what they talk about and they provide a solution. They will tell you if they don't know or are unsure and will check which is quite honest if you ask me. The only downside is their domain renewal which is quite on the expensive side compared to other hosts. However, I highly recommend them.
Morgan Reece
5 —
June 6, 2018
Best in Class!
I switched to SiteGround after nearly 3 years on my previous host. I chose them after doing tons of research about security (my sites were hacked thru a free WP plugin, so security became my top priority!). Delighted to find they also include free staging sites (great for testing changes to sites before going live). Love their friendly, knowledgeable customer support. Love that the default settings for installing WordPress force strong passwords. (My previous host set my site user login to "admin" when I asked for help to restore my sites after the malicious code was finally gone. Even newbies should know this is a terrible idea, and for the hosting rep to do it is inexcusable.) Support chats are always answered super fast, often in seconds, and the reps will patiently walk me through whatever I'm struggling with. Love SiteGround!
Chris
5 —
June 5, 2018
Best out there
SiteGround has a bunch of rockstars working for them. I run a VPS and host a number of client sites, as well as maintain/support client sites on separate shared hosting accounts, and SiteGround is always responsive to my tickets.
The turnaround time is insanely fast and these guys are real techs who know what they are talking about. They know what I'm asking for in my tickets and don't run me through stupid troubleshooting steps that obviously won't solve the problem.
The hosting features, speed, etc. are all great as well. I recommend SiteGround to anyone and everyone.
David Bentley
5 —
May 28, 2018
Above and Beyond
I've been with SiteGround for years now. I've recommended over 200 clients to them as well. Some affiliate sales, some not. Either way, they are just a good hosting company.
Here's the main reason.
For several incidents now, I've needed hosting support with issues faced on clients sites. Most hosting companies will simply tell you to go find a developer or that the server is fine. This doesn't really solve someone's problem who doesn't know anything about websites and oftentimes those people are just stuck in the middle somewhere with a site that isn't working.
Being that I am a web consultant and work closely with clients to build sites and build a powerful online presence… this doesn't work for me.
SiteGround is the exception. They have always gone above and beyond to help solve problems In my personal opinion, they have gone out of their way to help fix things I wouldn't even expect.
You won't find this anywhere else. I guarantee it!
Bryan Paz
2 —
May 25, 2018
Very poor emergency care
We acquired the GoGeek package for our site and when carrying out the migration process errors occurred on our part, my assessment is for the terrible technical support service per ticket, it is deficient, it is not very useful because the answer was +2 hours for each response We were + 32hrs out of line! Even though we opened chats they answered that they did not have root access, the calls never answered them, I spent 7 minutes waiting for an agent to respond and I hung up in despair. I had strong attention calls for the site's fall and Siteground has washed its hands because it was not their fault.
In addition to this, the cPanel interface is horrible, it looks like cPanel version 1.0. The code editor of the task manager is literally like the notebook in Windows.
There should be a more efficient ticketing system to scale them by customer priority, so they should also renew the old-fashioned style of the cPanel. It would be ideal to create an emergency department where the priority incidents of falls from the site in real time are resolved.
SiteGround Review RESPONSE
Hi Bryan,

We were sorry to hear about your experience. We reviewed carefully the handling of your website transfer request and we would like to add some clarifications.

Please accept our apologies for the wait time on getting your call answered. In periods when we have a high volume of simultaneously coming calls we are not able to take all of them at the same time. We can see that you have successfully reached operators over the phone and chat, and both of them have checked on the status of the transfer and informed you that the technical team is working on it. More advanced technical questions like website migrations are best addressed via tickets as the support agents on chat and phone do not have full access to the servers.

We would like to assure you that assistance requests marked with "site down" category get priority and we aim to minimize downtime for our customers. Please note your ticket was regarding a website migration and required actions on your end, as the issue was not related to the hosting service provided from us. We understand that the temporary website access suspension due to an infected file created an inconvenience for you and we have done our best to resolve it. We also addressed several other setup issues you reported.

As per our support standards we guarantee 15-minute reply only on your initial request. It is correct that with the GoGeek plan you get premium support, yet our subsequent answers to the ticket depend on the nature of the issue. When there are complications this can result in a prolonged resolution as we need clients' input before we can continue assisting them. In your case, the infected file we detected on your account had to be cleared before we can allow full access to the website on your account. For security reasons, only after we verify that the problematic file is no longer posing a risk we can allow active usage of the account. Our system shows most of our answers in the follow-up communication are within an hour and a half after your updates. Indeed, on a couple of occasions, our replies took longer due to the fact that you have posted several updates to the ticket within a short period of time which have pushed it back in the queue.

With regard to accessibility of your website after the account was reactivated, we would like to clarify that until your site starts to load only from the new name servers there is a period called propagation which may take up to 72 hours. Since you also bought a dedicated IP address after the website migration a secondary update to the DNS was needed which extended the additionally the propagation period.

We acknowledge your feedback on the cPanel interface and we want to let you know that we are working on a big project that will improve tremendously the experience for using cPanel and make it easier to perform these activities.

Regards, SiteGround team
Chris Moore
5 —
May 15, 2018
Just Works!
I move to SiteGround about 10 months ago leaving an unlimited website and space legacy contact with a host I had been with for too many years. It was like a breath of fresh air, the site loaded in a couple of seconds not ten and it's stayed very much like that with 100% uptime too. I contacted support today with three issues that needed a little more knowledge than I had in certain areas. All three problems sorted out in 15 minutes. Really can't fault SiteGround at all and would recommend to anyone immediately.
Chris
2 —
May 13, 2018
NOT For Large Sites
I signed up for SiteGround thinking 'Yes! The best WordPress host out there. This will be best for my site'.Everything was setup fine and had no issues getting going, however my site is fairly large (175000+ posts) and I immediately started getting warnings about to much server load and that my database was too big. I did have a lot of tables in my database that I was no longer using, so I started trimming down and removed everything but my wordpress tables. Within a day by database was to big again. I asked about upgrading just the size of my database and 'they don't do that'. So I'd have to pay another $80 for a year to upgrade to the next plan. Kind of stupid you can't just upgrade one feature. I quickly switched to a new host that has much much looser restrictions and have had zero issues since. For a host that popular you would think they'd have a way to upgrade just certain features for a site. If you have a small site, they will probably work for you, but if your site is large, skip this host and find someone with less restrictions!
SiteGround Review RESPONSE
Hi Chris,

We were happy to hear you have chosen our WordPress hosting for the quality of the service. Unfortunately, we were not able to locate your account and check in more details the setup of your website that was reaching the database limit to suggest alternative options to resolve the situation. We are sorry that our service was not a good fit for your needs.

Please note that in case you signed up for a shared hosting plan, you are sharing the server resources with other users. We are not able to allow higher usage with regard to the database size on your account because it will affect negatively other sites hosted on the same server. In order to deliver high quality performance to all users we allocate a dedicated amount of resources for each account and we monitor individual account's usage. On our full features page we have the exact specifications for database resources available on each plan.

Regards, SiteGround team
Stephanie
5 —
May 6, 2018
Amazing.
SiteGround has been absolutely amazing for me. I've been using them for nearly a year and they have saved me so many times from having a complete panic attack after I screw something up on my site. There customer service and technical skills are impeccable. They work so quick, all I have to do is send a chat message and they have fixed the problem within minutes.
Also, my SiteGround account comes with so many amazing features. I thought I would need to purchase add-ons for my site elsewhere, but they have everything I need already. A lot of their features are one-click and easy to turn on. Amazing! Love SiteGround!
James D.
5 —
April 26, 2018
Best Tech Support I've Ever Had!
I've had, or worked with, accounts on Fatcow, 1And1, and GoDaddy & some others. If you merely want cheap hosting those guys are fine.
But if you NEED awesome tech support, then go with SiteGround. At one or another, the "other guys" have quoted me the excuse "we cannot tell you how to program …" for some extremely simple questions that should be fair game for a shared hosted environment. Not only has SiteGround always been courteous they have also always been helpful and willing to work with me to get my questions / problems resolved – 100% of the time. And I have asked them some relatively complicated/high-level questions compared to the other guys I had worked with previously. SiteGround's tech support is 2nd to none and I have been satisfied with the results every single time.
I am a professional programmer and am very critical of things like this, so for me to say this about a hosting provider is a big deal. Go with SiteGround. They are the best I have ever used.
Yvette
5 —
April 17, 2018
Best Hosting Service for WordPress
In 10 years of being a web designer, working with numerous clients' hosts, I haven't found a better hosting company. Recently moved a client to SiteGround and impressed with their speed (on the entry level packages) and mostly willingness to offer support – and most importantly – actually solve my problems.
I'm a web designer, not a programmer, so sometimes things are beyond my technical abilities. Most hosts send you a link to some complex set of instructions. And go no further (unless you're willing to pay extra). SiteGround's techs actually logged in and assisted me with the coding / directory errors at no extra cost.
And for that a definite 10/10. Thank you!
I'd highly recommend SiteGround's wordpress hosting to any business owner, blogger or designer that uses (or wants to use) wordpress.
Dan Zerkle
5 —
April 15, 2018
Found our home
Competent technical support within 1-2 minutes 24/7. SO much better than the competition we've been through. They're based in Bulgaria, but they speak/type in understandable English.
No uptime or performance problems, ever.
Feature rich.
Very easy to have them manage certificates and domain names.
Flexible billing. I had already paid for one year, and found out that I could get a 30% discount if I sign up for three years. They billed me the difference, and now I have three years.
There have been minor deliverability problems with e-mail. This was because some of the recipients were refusing to accept it. When I investigated, it was always the fault of the recipient, not Siteground or their mail sending contractor. Also, this hasn't happened in about a year.
A little pricey, but very much worth it if your business depends on it.
Kathrine Phillips
5 —
April 14, 2018
Top Hosting Service I've used
I have been with siteground for about 5 or 6 years. I was a complete newbie to WordPress when I signed up for the Grow Big account. They worked with me as I was learning to use WordPress. It didn't matter if the problem was one of my own making due to lack of knowledge, if I couldn't fix it on my own, they did it for me or gave me detailed instructions on how to clear up the problem. Their tech support is tops in the hosting services companies that I have used since 1998.
A few months ago, I let my service expire because I wanted to completely revamp my website. Tech support helped make the transition very easy. I won't say I'm an expert at WordPress, but I can hold my own for most of what I want for the new set up. And if I can't, there's always tech support. The tech people I've worked with over the years I've been with SiteGround have all been courteous, knowledgeable and very helpful. Not that I want to have any problems but it is a pleasure working with their tech support people.
Now on to the price. I like getting a discount if I choose a longer period of time. I usually get the three year package when available. Some services don't have that option but they make sure I have plenty of time to deal wtih a service that is expiring within a few months.
I would highly recommend this service, especially for someone with little to no skills working with WordPress for creating a professional looking website. As long as I have websites online and I'm not too feeble from old age (I'm currently 67), I will continue with SiteGround.
Stephen Austin
5 —
April 11, 2018
Highly recommended
I do not hesitate to give this host and their staff unconditional and total praise. Their hosting is stable and reliable. It is very competitively priced. I believe the most important aspect is the accessibility, helpfulness and of their knowledgeable staff.
Having had a bad experience with another host who liked to keep clients waiting for up to twenty minutes on an IDD phone call, Siteground staff answer chat requests within a few minutes, are unfailingly courteous and helpful with even the trickiest technical questions.
As a teacher I can also say that they are especially courteous and helpful with people with less technical expertise.
Good hosts. Keep up the good work.
Andrew Gunn
1 —
April 8, 2018
Service is Shocking
We upgraded from $5.95 per month to $79.95 per month to have our own server and it has been all downhill from there own… I have to spend an hour plus every other day going through the same questions and answers trying to get my email back up and running… We have 8 people all getting the same emails from the same server in 4 different countries… AND YET WHEN NONE OF US ARE GETTING EMAILS IT IS OUR FAULT WE HAVE SET IT UP INCORRECTLY… Or its our IPs… Because the server is showing no errors… REALLY!!! They don't keep any records of what has been happening to the server so I have to go through this time and time again… It only gets sorted when you escalate it to a supervisor… Have had a gut full of this… So if you don't mind dealing with customer service and having no emails on a regular basis and you enjoy wasting time, then siteground may be great for you… That is NOT what I am paying for…
SiteGround Review RESPONSE
Hi Andrew,

We were sorry to hear about your experience. Please note a senior support supervisor has reviewed your case and posted an update to your recent ticket. He has addressed the issues affecting the performance of your website and provided steps on how to mitigate the processes that are generating excessive server load and thus causing disruption of service.

We would like to add some clarifications to the points you have raised on using our services.

Indeed, the issue with your email appeared to be more complicated and it took additional investigation and troubleshooting on our end. After applying some fixes our techs requested your validation and further details on the email accounts affected so they can proceed to find a permanent solution to the problem. We understand that the prolonged communication on the resolution was not a very good experience for you, but we want to assure you our goal at all times has been to restore the normal service for you.

Regarding the upgrade to the cloud plan, we can see that this was the fix you've chosen to pursue for the database of your website that was reaching above the allocated space on the GrowBig account you initially purchased. As in the shared hosting environment the server resources are shared among many users we have alerted you that your database was consuming excessive amount of space. One way to fix this issue was to reduce the database size so that it can be supported by your plan. The alternative solution was the upgrade to a cloud plan where there are no such limits. Please note we monitor individual shared hosting accounts as part of our fair usage policy, which aims to prevent the excessive usage of one user from negatively affecting the performance of other websites on the same server.

With the upgrade you have a fully managed server solely at your disposal, but the single cloud container has much less power in terms of RAM and CPU compared to the hardware of the server available when your account was on a shared hosting account. The website and applications you are using appear to be resource-intensive and that is why you are frequently reaching the limits of the server setup on your entry cloud plan. For this reason, our techs have given you tips on optimizing processes that consume the most server power like: enabling our caching tool, and reducing executions from Heartbeat and unused plugins. Please refer to the full instructions provided in the ticket.

Regards, SiteGround team
Yael Reinhardt-Matsliah
5 —
April 3, 2018
Awesome support and hosting
I've been using SiteGround for several years now and manage over 20 SiteGround sites for clients. The support continues to amaze me!
I always know that SiteGround has my back and if I have issues or need help, their support is there for me.
And sites load super fast with cache and the free cloudflare CDN.
SiteGround is the only shared hosting provider I recommend to my clients.
Thank you for making my life and job easier 🙂
George
1 —
March 31, 2018
Stay away!
They informed me my account will be closed because someone made a complain which states my web service might be fraudulent. I told them these accusations are entirely fake and demanded they do an investigation of their own.
They refused to investigate if the complaint is based on any real fact and also did not disclose who made the complaint. If your competitor decides to write a complaint with various accusations, this webhosting will terminate your account without any justification.
This is an abuse by the Siteground team.
SiteGround Review RESPONSE
Hi George,

Our Abuse department always reviews complaints in detail, and makes sure that the contact data of the reporter can be easily verified, and there is enough evidence for the infringement, before taking any actions. In the communication with you we shared as much information as possible about the complaint without compromising the identity of the reporter. As explained in the ticket, the type of information on your website is in direct violation of our terms and thus we cannot make any exception.

Regards, SiteGround team
Grace Tay
5 —
March 29, 2018
Truly awesome
The Support people are all super helpful, and really dig deep to get to the bottom of the problem. So far they've always helped me solve any problems or answer any questions pretty quickly. They're friendly and polite too!
The site has very comprehensive troubleshooting resources and a self-help process where suggestions related to your question come up before you connect to the live help. Sometimes that alone solves things.
The hosting service is the most reasonably priced one around, in my opinion. Especially for multiple site hosting all on one account. SiteGround provides loads of free add-ons that other hosting companies would charge another $29-39 a month for.
Kim Studdard
5 —
March 24, 2018
Best Service EVER
I have gone through so many hosting companies, and none can compare to SiteGround. Seriously. Not only are my questions answered quickly, but they are answered with knowledge and a satisfaction guarantee. I'm not the most tech-savvy person, and I Live Chat with SiteGround more than I'd like to admit. Each time, my conversations last just a few minutes…that's how fast they are at getting things done! Plus, I never have to wait for HOURS to get a hold of someone like I used to with some other hosting companies. You know what else I really love? That SiteGround is super affordable but not "cheap". Look…you can spend $50 a year by going with the other guys, but they'll also charge you for every little thing you add or update to your site. I spend less than $150/year with SiteGround, but with Live Chat, their free updates to my blog, and getting me switched over to SSL, I've saved HUNDREDS. I will never switch, no matter how much they charge. They have the best everything, and I'm so glad I found them!
Tony
5 —
March 18, 2018
Great Service
I have moved a handful of clients to SG and love it. Best thing is the service. Prompt and always willing to share as much time as needed to resolve an issue. Fantastic company and one I would recommend to anyone looking to move to a new host. Thanks SG. You all rock!
Johanna Lawter
1 —
March 17, 2018
What customer service?
I had just signed up with Site Ground yesterday. As I was signing up I was chatting with a customer service representative and I was explaining exactly what was going on. I had bought my domain from a different hosting site and was looking to transfer everything to them, She explained things (or so I thought) quite clearly. I filled out the transfer of the website form submitted it and today was ready to get started. Well apparently they charge to transfer the domain, then why didn't the sales rep yesterday inform me of this when I explained my situation very thoroughly to her. I was led to believe the transfer was free. No I'm not super technical so I didn't know there was a difference between website transfer and domain transfer, but I'm sure the sales rep knew and neglected to point out the difference and that one service was free and the other was more money. It's not about the money it's about the principle, Site Ground will blindside you with this things, save your money and the headache go with a different hosting site.
Lesson learned, It's not about the money it's about the principle, Site Ground will blindside you with this things, save your money and the headache go with a different hosting site.
SiteGround Review RESPONSE
Hi Johanna,

As already explained over the chat we always try to be transparent about the scope of our service – e.g. the storage space cap, email account sizes etc. If there was any misunderstanding about the price of a domain transfer, it certainly was not intentional. As a web hosting provider we specifically want to make sure that users can easily transfer their websites to us – thus we offer a free transfer of files and setup on our servers. The domain name is a separate service and clients are not obliged to host domains with us – they can either transfer them or keep them with their domain registrar and only point them to our servers. All of this is also covered in our terms of service.

During your initial chat you had various questions about our services, but a domain transfer was not discussed at all, probably due to your assumption that it is included for free. We already apologised for the inconvenience this has caused and also offered to make a one time exception for you and provide the domain transfer for free. We are sorry that you decided to cancel the service altogether. We have refunded your payment in full as per our 30-day Money Back Guarantee.

Regards, SiteGround team
Herman
5 —
March 16, 2018
4 year client still the best support!
I normally don't write many reviews. But I want people to know that if they choose a hosting company they should definitely pick siteground. I've been with 2 other big hosting companies before. But after reading a lot of good reviews about siteground (and their awesome support) I decided to give them a try. After 4 years I can say their support is still a 100 % awesome.
The thing is, if there is something you don't know, you can just ask and they always provide you with the information you need within minutes!
Best customer experience I ever had. Anywhere.
Lushain
5 —
March 15, 2018
Lovely hosting company
They're so helpful if you have an issues with their site. The services with the plans are great and your site naturally feels secure. I don't have to be overly worried if I have a problem. The waiting time to talk to someone over chat is low and the response time on tickets is moderately quick. Emil M., and other workers there are amazing. I would definitely suggest this to anyone looking for a stable place for your site.
Sanket More
5 —
March 14, 2018
Autorenew Goosebumps
I did not wish to continue with SG (nothing personal) as I no longer needed the service. As soon as I received the auto debit message from my bank I contacted SG chat support.
I thought I will have to fight for my refund but to my surprise everything went smoothly and received my refund immediately.
During my hosting period I never had to contact SG for any site or service related issues. I will definitely recommend SG to friends and colleague.
Keep the good work!!
Adriano Comai
5 —
March 14, 2018
Excellent assistance
Every time I call for help Siteground operators are kind, competent and willing to help. This is one of the main reasons for whiche I appreciate your company.
Kathy Fisher
5 —
March 9, 2018
Always Helpful
I have had nothing but great support from Siteground for the few years that I've been hosting with them. I have no reservations about recommending them wholeheartedly to my clients. Every single time I chat with one of their representatives they go above and beyond the call of duty to make sure my issue has been resolved and that I understand where I might have gone wrong. I wish they just had a general WordPress helpdesk. I'd be here all the time. Many thanks to all your representatives for all their patience and warmth. They make my day!
Memekiller
5 —
March 1, 2018
Best in the World
As an American, what an absolute delight to have a hosting service still up to traditional US standards for price, quality and service that have disappeared in the US as quality businesses have been swallowed up by large predatory companies in recent years.
Siteground maintains that traditional standard of tech knowledge and service that's seemingly disappeared everywhere else in the world with smart humans (old standard) rather than stupid bots (new standard).
I have to pinch myself as if in a dream to face a troubleshooting issue on a Joomla or WP site and call or chat with SG and get someone as smart, helpful and pleasant as an Ivan or Milen or Antonia. What an amazing set of humans you have on your team. A thousand thank-yous.
Alister Gates
5 —
March 1, 2018
Always Super Helpful
I really appreciate the support team at SiteGround. I have 8 sites with them and from time to time stuff happens. They are always helpful and go way beyond hosting issues to support me. Site restores and some useful programming help with issues. Great team, keep up the good work.
Adam-Smith
5 —
February 26, 2018
Solved my issue in minutes
Your heart always stops beating when your site goes down. However, I jumped on live chat and answered a few questions . . . and they checked it and resurrected it!
Now I can get on with my planned work for the day. Thank you for the quick fix.
Victor
5 —
February 25, 2018
Sweet and Simple
Moved various sites to SiteGround last year (May 2017), and loving it! The support team is amazing, honest (not trying to push up-sale), and knowledgable.
On top of that, as I'm not a coder, they keep things sweet and simple enough for me to understand.
Simon
5 —
February 25, 2018
Very satisfied in all aspects
Competitive price, free SSL & SSH included, quick & knowledgeable support team. What more can one ask for?
vast ozone
5 —
February 22, 2018
SiteGround is AWESOME
I've been using SiteGround now for over a year and I am totally in love with these guys. Extremely cost effective and the support is outstanding. I have the GoGeek plan and have one step backup restores for 30 days of backups. And did I mention their fantastic support? oh yeah, I did 🙂 Great hosting and great value.
Kevin
5 —
February 21, 2018
Simply Brilliant
I have been using Siteground for few years now and have evolved other the time in terms of skills. My needs changed but Siteground team and services professionalism always remained as great as it was on the first day. Happy to trust them, affordable price, great quality.
John
5 —
February 20, 2018
Can't beat the best. Siteground is top flight
Every time I need help, siteground's tech support is there for me. Not only there, but fast, accurate and they cut to the chase and address the issue in record time. Why would anyone want to host anywhere else? This is why Siteground is always on top of the lists of Best Hosting Services and Support!!! A++++ Company for sure!
Thank you SG, JF
John D Hipsley
5 —
December 29, 2017
Competence Courtesy
I have contacted SiteGround on several occasions over the last few months since creating an account. I have found the site straightforward to use. What impressed me was the prompt service to my requests. This evening Denitsa helped me resolve a technical issue and answered additional questions which helped me more effectively use the SiteGround platform. I found a similar competence and level of service when I contacted SiteGround on previous occasions with technical questions. Having a knowledgeable and responsive company makes using this technology enjoyable.
Richard Burke
5 —
December 29, 2017
Excellent service – Outstanding support
Have only had to use SiteGround's support services 2-3 times in the past several years but each time was thoroughly impressed with the promptness, expertise and willingness to help.
The latest chat session was almost an hour in length (with Atanas D.) and I would hire him in a moment.
Can't recommend SiteGround enough. I rated them at 95/100 only because no one would believe me if I gave them a perfect score!
Riccardo
5 —
December 11, 2017
Reliable and helpful
These guys are brilliant. The hosting services are solid and reliable and their customer service is outstanding. They're fast and they don't stop until your questions are thoroughly answered. Absolutely recommended.
B.Dalaker
5 —
December 6, 2017
the place to be
I have encountered many little problems during my time with siteground and not once they had let me down or where not able to help me. If one asks me for a domain-hosting or such I only reply: siteground ! Never have I had a better support in my life and I have been online for over 10 years – I have met them all. Siteground is truly a great place to be. Thank you all.
Faran Akhtar
4 —
December 6, 2017
Overall good but Low Resources offered
I have used Siteground for almost 5 years. Overall my experience is good, I had a forum, a WordPress blog and a PHP website hosted on the startup plan. I have never faced a server down or taking too long time to load the website problem in 5 years.
The only problem I faced was that server resources offered in the startup package are way too low. Whenever I share my website's links on social media, resource limits forced my hosting account down due to which I can't get more traffic. Even the GrowBig plan doesn't have many resources.
Due to this problem, I try not to share my website on social media accounts and only I get organic traffic on my website which is almost 200 to 300 pageviews daily.
Apart from the server resources, the support team is very good and I would give 100/100 to their prompt support through live chat or even through tickets. The performance was good, speed was good, but limited resources was a big problem.
Now I have migrated to A2Hosting, will share my experience with A2Hosting after using it for at least 4 to 5 months.
Ajibola John
5 —
December 5, 2017
You can't possibly get a better hosting company
I wholeheartedly volunteered to write this review. These guys knows what they are doing. I am most impressed by the customer service, they just sort it all out for you. Left to some other companies, they will ask you to follow some instructions or watch a youtube video to fix an issue, but not with siteground. Their customer care will go to your backend and make corrections for you, they just simply tell to relax for a minute or 2, and tell you your problem has been solved. I haven't quite seen anything like that before. It's like the kind of concierge services you get when you buy a VERTU. I hope someday I can have a company and run it like siteground
Ashlee
3 —
December 5, 2017
Unhappy
I'm not one to take hours out of my day to leave reviews but SiteGround has me so upset that I will search for every review site to share this story. This morning I received a notification of a $139 charge from my bank. I checked and discovered it was from SiteGround. I logged into my SiteGround account and saw the charges were from promotional services that I never used and will not use in the future. I attempted to cancel the services and request a refund through my admin. The only option available was to cancel for the following year. No refund option. (May I add that the charge was placed on the 5th and the services weren't scheduled to cancel until the 20th) I called at 5:30 am to have the service cancelled since I couldn't cancel online. The rep told me that he could not issue a refund. I explained that the charges were not authorized, and the services were not needed. He began to read the date and content of two emails that were sent to me regarding the renewals. (Allow me to first address this. I receive at least 100 emails a day. 99% of emails from SiteGround are about WordPress updates or some weekly promotion. When I look through my email, I scan for business related content. In addition, I do my due diligence not to save my payment details for a company to charge in the future. Therefore, Siteground saving and having access to the last card I used to upgrade my hosting was not approved by me.) Before he could continue, I stated that "the emails sent means nothing to me. My reason for calling is to cancel those services and be issued a refund. His response, "we don't issue a refund for..". I immediately asked to speak to a manager. He stated that a manager was unavailable. I ended the call and called back. The second rep was female. I went through the spill about the charges and refund. I held the phone as she looked through the account (probably the notes from the previous rep). She returned and stated "The refund has been processed. You will receive an email within an hour or so." I thanked her and figured the previous rep was having a bad day and chose to be a jerk. Well, 5 hours later, I checked my emails and did not see any emails from SiteGround. I then checked my Siteground account to see if there was a ticket open for the issue or evidence of the cancelled services or a refund. NOTHING. So, I called a third time. I explained that "the previous rep refunded the charges that were drafted today but I have not yet received the email confirmation that I expected 4 hours ago". He reviewed my account and told me that the previous rep refunded half, but the SSL wildcard is non-refundable. I explained that I use the free SSL certificate and have no use for the paid version. I explained that I never used it and will not pay $60 plus dollars for something that I have not and will not use. He then began to read aloud the two emails that were sent regarding the renewals. I asked to speak to a manager. He told me there would be no point in transferring me because a manager would tell me the same thing. I then demanded a manager. His response was, "Allow me to make this clear for you..". At that point I was done. I said, "You know what, this is fraud, I will get it resolved with my bank." Immediately he said he would make a special exception and refund the full amount. I asked for an email confirmation. He said he was processing the refund and I would receive the confirmation within 5 minutes. I ended the call and was relieved to finally be done with the ordeal and move on with my day. After 30 minutes and no email, I called a 4th time. I told the rep that I was expecting an email and asked for the status. She verified my account and then fell silent. After 3 minutes I asked if she was still there. She stated that she was reviewing my account and asked the name of the representative that I was expecting the email from. I told her that I didn't recall the name, but it was the last person that I spoke to. After a few minutes, she told me that I would receive the email shortly. I told her that I would wait. She chuckled and asked if we were going to sit on the phone in silence while I waited for an email. I said, "Yes". She asked why. I told her that I didn't want to call back. She told me that they receive many inbound calls and unfortunately, she couldn't wait on the phone with me to receive an email. I asked if part of her job description involved resolving the customer's issue. She said yes. I told her that my issue was not resolved, and I refused to end the call without a resolution. She asked if I wanted to wait on the email or for her to resolve it. I told her that I wanted it resolved. She then asked me to explain the issue that I was having. I asked, "why would you tell me I will receive an email shortly when you had no idea of what I was talking about?". Her response was "I messaged the colleague you spoke to and informed him you were waiting on an email". I then went through the spill of the charges and refund. She began listing all of my active services. I told her that "I know what's on my account. I just want the services/products cancelled and my funds refunded". She asked what services I wanted cancelled. I told her "the ones that were renewed today for a total of $139 ". She then began reading everything in my account aloud. I reiterated the purpose of my call. Her response was "Do you want your issue resolved or not?" Shortly after, she stated her colleague responded to her message. She told me that my refund will be processed with their billing team (But I called 1-800-828-9231 and pressed 3 for billing). I requested an email confirmation. She typed one out about the $139 plus being refunded within 10 business days and emailed it to me. I will try to update in 10 business days. I've attached a screenshot of her email. Buyer Beware!! I've never experienced a product or service that was non-refundable within a certain time frame. Also, I've never experienced service that was as unprofessional and unconcerned. Overall, I haven't had any major issues with my sites. I have 4 small, very low traffic websites. Any hosting provider will suffice. I prefer providers that aren't fraudulent. I would tell any undecided consumer to stay away from SiteGround, greedy, the service sucks, and the service is nothing special.
SiteGround Review RESPONSE
Hi Ashlee,

We were sorry to hear about your experience. We would like to confirm that the refund in the full amount of $139 for all services you no longer wish to use has been issued and the money will be returned to your bank account. Regarding the refund you can also find a credit memo in your client area, which contains a reference number you can use to track the money with your bank. Our team remains available to assist you further if needed.

We understand you were not happy with the prolonged communication for sorting out your refund request, and we have forwarded the handling of the case to our phone team Supervisors for review. They acknowledge that our agents could have presented the information about our renewal policy more accurately and avoid confusing details. Indeed, 2 of the services you wanted to cancel were fully refundable, and only the third one was not eligible for a refund, as it has been pre-paid to a third party provider. Please note they will talk to the operators involved to improve the process for similar situations. As you have placed all 4 calls about the refund within a short period of time of several hours, the request had been answered by different operators which did not contribute for a faster resolution. We are always willing to work with our clients to find a resolution to their issue and we appreciate their patience while the process is completed.

Regards, SiteGround team
Danil
1 —
December 5, 2017
They blocked my account, and the only option to reactivate is upgrading to a dedicated server.
I have a GoGeek account since 3 years. In the last month It went under ddos attack, and they blocked it. (so first problem the server is absolutely not safe enough, they are very bad against ddos) and my websites went down.
According to them they cannot restore my account due to DDOS. My only option is to upgrade to a dedicated server. So basically my account can't be restored unless i upgrade to a Dedicated server, paying over 3000$ difference wich i can't afford.
Now I still have 9 months contract but i can't use my hosting because i can't afford to buy a dedicated server, and they don't reactivate mine with i paid untill september 2018.
So if your website is important to you, my suggestion is to avoid siteground.
Customer support is really badly prepared. They are just programmed to reply, they are not allowed to think. And you can easily see this from the replies they give you.
They always apologise and blame some others some unforseen circumstances, they never take respondibility and admit a mistake. Whenever there is a problem, they will always say that is not their fault.
So basically since it is "nobody's fault", they decided to close my account for good, despite i have still 9 months contract.
After 3 years during which i experienced really a lot of problems and really many times my site was Down because of reason that "they can't forseen" i decided to quit.
SiteGround Review RESPONSE
Hi Danil,

We were sorry to hear about your experience and checked on your case.

As you have expressed dissatisfaction with the support you have received from us in resolving a recurring issue with DDoS attacks targeting your account, the case was escalated to our Support Supervisors. Via the HelpDesk system they have explained that for security reasons we are not able to restore service to your GoGeek shared hosting account with your current setup as it is posing a threat to the other customers sharing resources on the same server. Since your domain resides on a shared IP address, on a shared server to protect our clients we need to be proactive and prevent any negative impact on our server by blocking access to the websites under attack.

Our Supervisors have acknowledged that the communication on this issue could have been handled better by our team in the part presenting the reasons for the solution we suggested and the answers to your refund request. They have already addressed the points have raised with the agents who processed the initial responses on your case. Please note we have issued a partial refund for the remaining time on your account and the money will be back to your bank account within 7-10 business days.

Regards, SiteGround team
Guy
5 —
December 1, 2017
My great experience with Siteground hosting
Hosting providers and everything else more or less can be measured on time off trouble.
And Siteground rocks.
The patient, the manners, the explanations, the professionalization, the short response time and short solving time (crucial).
My over all feeling is they want to help as much as they can the faster and better it can be done.
Awesome hosting provider, keep it that way.
Guy
Chuck Moran
5 —
November 25, 2017
I could not be happier!
I've been building websites for myself and my clients since the mid-nineties and have dealt with quite a number of hosting companies. I can say without hesitation that I have never had the pleasure of working with a hosting firm the likes of SiteGround.
This is obviously a very competitive field. SG excels above all other providers I've worked with, especially in terms of their caliber of support and technology. To have a support chat or call picked up in a matter of seconds is quite a unique and pleasant experience. And these qualities would not be in place without superb management and ownership, so my hat's off there as well.
I just upgraded to to the GrowBig plan and am really looking forward to finally moving everything to SiteGround.
I am a totally satisfied customer. Keep up the great work!
Beata
1 —
November 22, 2017
wasted time
At my first chat team made a mistake and my account was cancelled while i was inquiring how does one cancel the subscription. After 6 phone conversations and 4 chats it's been back and forth suspended for days after payment has been processed no access to the site was granted. Good customer service, but totally different outcome from what is outlined in the conversation and next team rep is explaining new story why account is suspended again. the main part that is not professional now after 4 chats, 3 phone calls and about 2.5 hours in total spend on trying to resolve this, is that no one take responsibility of what initially happened and just try to mend the latest with no result so far. Sadly I am very disappointed with the technical service that is not congruent with the words, explanations and promises from the chat person that it will be working smoothly now, next thing I know site is suspended again.
SiteGround Review RESPONSE
Hi Beata,

We were sorry to hear about your experience and checked your case. Indeed, there has been a misunderstanding regarding your inquiry on cancellation and refund eligibility for your account, which resulted in the account cancellation from a member of our team. As the cancellation was processed immediately and included a full refund of the money for your hosting, there had to be a new payment submitted to re-activate your account. Our team has assisted you promptly with that and followed up shortly after the chat by sending custom payment link, and even extended the account suspensions for a few extra days.

We understand that the prolonged communication on restoring the active status of the account was not a good customer experience for you and we have forwarded your case to our Customer Care Supervisors. They will review the handling of your case and address your points with the agents involved to prevent such situations form happening again.

Once again we apologize for the inconvenience caused.

Regards, SiteGround team
Vic Hardy
5 —
November 22, 2017
Best performance for the money
I've been with Bluehost for 4 years on a VPS and was always disappointed with the speed, both load times and back end/cpanel. I've asked repeatedly why and never get an answer. (now they don't even do tickets!) When I tried SiteGround I was blown away that their shared servers are 'much' faster than Bluehost VPS. The tech support is fast and competent, the SSL is free and load times are stupendous. I'm paying less than half the cost for double the value.
I'm now in the process of moving all my 40+ sites off of Bluehost to SG. Their knowledgeable technicians, cost and modern hardware (fast microprocessors and memory do matter) make them one of the top choices for hosting.
Just
5 —
November 19, 2017
Patient, professional support
Somewhere along the way, my novice web building knowledge got me into a bad situation where I somehow inadvertently deleted my website files. An easy fix if you know that this occurred, but terrifying if you do it to a seldom monitored site and a couple of months go by. Fortunately, I had several staging versions saved up. Thought they were not recent and I'm sure many updates and changes were missing, Nevelina K was able to get me back on track. She was very professional and extremely patient as she worked through my questions and offered advice as she worked to get me back up an running. I truly appreciate every interaction that I have had with SiteGround in the several years that they have been my host. Highly recommended based on the service I have received.
Anne
5 —
November 14, 2017
Helpfull even when closing account
Very helpfull, even when I tried (and failed) to close my account. Turns out when you cancel all services, the account will terminate automatically 30 days after expiration date. Happy user for over a year and will now open a new account with you guys, hopefully to last longer this time!
Josh Parker
5 —
November 14, 2017
Awesome Web Hosting Company
Man, what can I say about Siteground hosting! This is by far the best hosting company I have come across in my 10+ years working online. Security, speed, support, they have it all and offer it at very friendly prices. Moving all of my websites over and recommending Siteground to all of my clients.
S.J.
1 —
November 13, 2017
Horrible Customer Service
I have hosted and registered a few websites with Siteground and moved 1 of the sites not long ago. There was an issue that turned into a dispute over the registration rights of the website. After several phone calls and at least 1/2 a work day spent on my part, they refused to let common sense prevail, or defer to me as the customer. Instead they towed their party line and said if I wanted to escalate the concern, I had to hang up and start over by emailing a supervisor. Which was the last straw for me–I had to initiate an email to a supervisor vs customer service forwarding my concerns. So, instead of keeping my business with my remaining sites, or earning more business from me in the future, I pulled all of my sites and moved them elsewhere. The hosting was fine, but at the end of the day customer service matters and they don't have it.
SiteGround Review RESPONSE
Hi S.J.

We were sorry to hear you have not been satisfied with our customer service and decided to move your websites to another host. We checked on your case and we would like to add some clarifications regarding the communication with our team and availability of supervisors on the phone.

Receiving feedback from our customers is important and we have channels where you can address an issue to a supervisor's attention. One way is via the HelpDesk system and the other one is by sending a message via email. The second option has been suggested by our representative over the phone, as there are no managers available on the phone to which you can get transferred at the time of the call.

We understand that you have been disappointed with the handling of the case, yet we would like to mention that our team has assisted you with the cancellation process and getting a full refund for the hosting account you no longer needed.

For the convenience of our clients with the purchase of a hosting account we also offer registering a domain. And it is easy to get the impression that the two services are bundled together. However they are different services and have to be managed separately. Over the phone our agent has simply tried to explain what options you have for managing the domain associated with the website you are transferring away after it has been renewed with us. Indeed, given the complexity of the rules governing domain renewals and transfer, it would have been more helpful if our representative presented the information in a way that will be easier to understand so that you can make a decision on how to proceed. Please note we will forward the case for our Supervisors for review and check if we can improve the way we address such requests in the future.

Regards, SiteGround team
Sarah
5 —
November 7, 2017
Fast and Easy
I'm creating my first membership site and the whole process is quite complicated. Toni made it easy and fast! I thought it would take longer to get set up than it did. I'm so impressed and can't wait to start creating my site! Thanks Toni!
Colin
5 —
November 4, 2017
excellent
An excellent service, and I fully agree with the above review.
The thing that stands out for me is the support. Its the fastest Ive ever encountered (at least half a dozen calls over the last few months all answered within 60 seconds), and the knowledge of the staff. For me these things are the biggest burner of time when they are not done right.
Put bluntly, Siteground has answered all of my last half dozen calls in under the time Ive been on hold and/or battling with ignorance for a single call with my previous hosts. Yes, really.
Mehdi
5 —
November 4, 2017
Insanely amazing!
Support team was just amazing ! They assisted me for 1h30 to choose the right plan, move my website, and transfert my domain. They even managed to accept my payment via paypal even though it wasnt there… I mean, what else?
Cool Cmsc
5 —
November 1, 2017
4th year now with Geek – what else can I say?
I'm an amateur user and I need support and simplicity from my Host. I have used two other well known premium hosts for Joomla, WordPress, Drupal and some hand-built sites. Neither came close to SiteGround.
Sure, they all get the basics correct. But it's the details that matter and this is where SiteGround has your back. For example, any host will allow you to make a beta version of your site where you can design and test your latest creation. But SiteGrounds version, "Staging", is absurdly easy to use and protect – it just works.
Everything just works! And if you fox your self, the instant Chat (with a real person, not an AI-Bot) will soon sort you out – I've never needed to raise a formal support ticket.
Stephen
5 —
November 1, 2017
Service is excellent
SiteGround's support is second to none. I've used numerous website hosting companies in the past and none have come close to SiteGround's support and capability.
Michael McCumber
1 —
October 31, 2017
Defenseless Against Bots
The introduction of strict account execution limits will have you worrying about bots hammering your site especially when you consider that the IP blocks you put in place to block the bots don't function (as I discovered and proved to tech support). The amount of traffic SiteGround claims your account can handle is far from reality, literally just a fraction of what they claim. A single abusive bot can overwhelm your entire grant of executions particularly if you have a lot of URLs. The bots often ignore robots.txt leaving you actively blocking IP addresses only to discover that SiteGround's tool to block them doesn't even work. While the service is fast and dependable it comes with a lot of grief. I've been a customer of SiteGround for at least three years and this situation just started recently. I'd like to say my account has more web traffic but it doesn't. SiteGround has one solution: upgrade your account just to handle the same traffic as you did the year before. I'll be considering moving it to HostGator and not worry when the next bot visits my site. Take warning.
SiteGround Review RESPONSE
Hi Michael,

Thank you for being our client for the past 3 years. We checked on your case and we would like to add some clarifications about your comment on monitoring of account resource usage for our shared hosting plans.

Please note that when you are using a shared hosting plan you share the server resources with other users. For this reason we have allocated an amount of resources dedicated to your account. To ensure equal performance for all users sharing the same server resources we have an automated system that monitors resource consumption at all time. It alerts you when you reach close to the allocated amount so that we can prevent the excessive usage of one user to affect negatively the performance of other websites hosted on the same server. We would like to clarify that the fair usage policy is not a new feature and we inform our clients about it in the terms of service for our hosting.

Regarding your comment about bots, it is correct that if your site is heavily crawled by bots this can cause a sudden surge of resources being used from your hosting account, even if there is no increase in the visitor traffic to your website. There are different tactics you can apply to mitigate their effect including blocking IP addresses from which they are accessing your site.

We want to assure you that our tool for blocking them is working properly. Our techs have explained via the HelpDesk system that bots actually use different IP address ranges, which are changed from time to time, and blocking only some of them will not prevent the bot form crawling your website completely. They have investigated the specific bot causing the issue for your site and added custom code that will filter out only the abusive bot activity, while leaving the good bots, like those from Google, to crawl your site as you have requested.

According to our system since the changes to your site have been made in the past week your account has been running normally without getting close to the allocated resources amount upper limit.

Regards, SiteGround team
Edward
5 —
October 28, 2017
Fantastic company
Fantastic company, very helpful. Site transfer was done promptly, although setting up did have its bumps (perhaps not all SiteGround's fault). Very reliable and great support staff.
Colin
5 —
October 26, 2017
I have said this before, but it needs to be said again
Siteground support is absolutely outstanding. I will never go back to the days of waiting for support to respond. If anyone knows of a faster and more knowledgeable support for a similar service, Im all ears. To me getting an answer fast from someone who knows what they are talking about is the very top of my list.
Absolutely excellent in my opinion (and yes I have tried many other providers, all sadly well below what these guys offer).
Michael Knowles
3 —
October 25, 2017
Deleted Emails
So I screwed up by trying to watch a baseball game AND delete emails from my son's account. Instead of Basic Maintenance, I deleted ALL of his emails. SiteGround saved me with a FAST and EASY Restore in 10 minutes. Thank you SiteGround!
Javier
4 —
October 24, 2017
almost perfect
The service works well but I had a problem with the email (I couldn't receive) and it takes near a week to solve the problem. So the only disappointing thing is the support service. Of course, it's a personal experience it doesn't mean that you are going to have this problem with the email service. Overall they offer a good service at a competitive price.
Barb Sturrock
5 —
October 19, 2017
Best Customer Service Around
I just wanted to say how much I appreciate the customer service staff of Site Ground. Although I have a blog, I am not very tech savvy, and I have had a couple of issues, that were of my own making.
The people at Siteground helped me out right away and didn't make me feel silly or stupid for not understanding everything.
I have spoken to different people at different times through their chat option and I have never been disappointed or made to feel that I am a nuisance at any time by any of the staff that I have talked to.
I just want everyone to know you could not ask for more than the help you get with Siteground.
Also, their hosting is superb, I have never had any problems using my site. Not with loading times nor with the site being unavailable.
First rate at everything.
Karl
5 —
October 19, 2017
The. Best. Hosting. Company. Period.
I made the switch to SiteGround a few years back, and I've never been happier or more pleased with a hosting company — and I've tried most of the "big names" and spent far more than I'm spending now. In other words, I'm getting better service, support and results for a lot less than some of the other guys. What could be better?
Just today, I had a tech problem that was, as they say, "beyond my pay grade." Chat had me squared away in 10 minutes! How's that for instant gratification?
That's one of the many things I really love about SG: you can rest easy knowing that somebody is always there to help if something goes wrong or you're stuck. Everyone is friendly, respectful and very, very helpful. And unlike a lot of other companies, SG keeps enough staff on duty at all hours that you're not going to have to wait 2 hours to reach a live person!
That's a fantastic benefit you don't realize is HUGE until you've dealt with other hosting companies. Even some of the big names don't offer live support, and you may wait 24 hours or more to get a response to a ticket! But you'll NEVER run into this kind of problem with SG. Not in my experience, anyway.
For the first time in my life, I'm not always wondering if some other hosting company wouldn't be better than the one I'm with. So long as SG continues with the excellence they've become known for, I will NEVER switch hosting companies again. That's no BS.
Ludovic
1 —
October 19, 2017
From Awesome to Terrible
I've been a customer since more than 5 years. Siteground was a very good premium hosting before. Even though they had a higher price tag than competitors, their support was simply amazing, it was by far the best support I was in contact with. This is why I loved them, and this is why I'm starting to hate them now.
Because this is something from the past. In the recent years, everything has changed, slower replies, less quality in the replies. And right now, I feel they don't even want people to ask for support. To create a ticket, you must find the link at the very bottom of the support page. Then you will need to describe your issue and a sort of AI will read it and choose for you the channel to contact the support. You prefer to send an email because you don't have the time to chat with them right now? The AI said no sorry.
Today I got an issue that I know is way too technical for their live chat, but their AI said no to the ticket option, I could only choose a livechat or call. So I needed to lie on my first message, so the AI will let me choose a ticket. Then I can make a request.
Hilarious, when you knew how good they were before. But I guess with affiliate marketing, review website will still tell that you are "perfect for those who care deeply about customer support". But that's a joke.
SiteGround Review RESPONSE
Hi Ludovic,

Thank you for being our customer for 5 years. We were sorry to hear you have not been satisfied with the support process on reporting your issue via the client area recently. As the new AI system is still new and learning, we appreciate your comment and we will consider your feedback in our work on improving the experience for our clients.

Please allow us to explain how we have redesigned the support area as we aim to provide assistance to our clients more quickly and effectively.

From our experience a good majority of the requests for help from our clients ask for information that is readily available in our extensive knowledge base and tutorials. So as a first step we invite you to describe the issue you want to resolve and the AI system suggests a list of articles related to that topic within seconds.

If you are not satisfied with the results to your inquiry you can proceed to the link in the next section "request assistance from our team". There you are prompted to select a category for your request. The categories list has been complied from the most common requests reported from our clients and we have tried to capture the topics based on their needs. To be able to guide you the channel where you will get a fast resolution to your request we ask you to select a category as well.

We were able to check your initial inquiry and we can confirm that you were offered chat and phone as the level of support we provide in these channels can address your issue. Both of them connect you to a representative immediately and the agents who service them are capable of resolving your question. We can see the ticket you have submitted to report your issue was solved in our initial reply and there have been no advanced problems that needed further investigation. Please note that our goal is to refer clients to tickets about complicated issues that require technical expertise and access to server information and logs for resolution.

Regards, SiteGround team
David
5 —
October 12, 2017
Incredible service
I used SiteGround previously for a client and was impressed with their service. Decided to move over from HostGator and the support to get transferred was really incredible. Easy with no hassle. Such great service.
Thank you very much!
Valeria
3 —
October 10, 2017
Short, very short experience
I feel uneasy and wondering if I am not doing too much fuss about nothing but I feel they don't tell you everything: you find out once you have ordered and paid. I don't know how it is abroad but here in Italy, when you buy a hosting service, you don't have to go after the DNS and change them according to your requirements, it's the hosting company that does this. I don't know what it is about and it would take me hours just to find out what I should do, where and why while it is certainly a matter of minutes for them.
What a pity, they seemed so nice…
SiteGround Review RESPONSE
Hi Valeria,

We wanted to briefly address your comment about managing DNS settings after you transfer your website to our servers. When you purchase a hosting account with us you can keep your domain with your existing register and still use our services. In case you choose this setup when we transfer your website to our servers we inform you that you need to point your domain to our servers and provide you with the nameserver data you need to add in the DNS zone for your domain. As your domain was not registered with us we do not have access to the area to update the details so that your website is pointed to our server instead of the old host after the migration. You also have the option to transfer the domain to us but this is a paid service. Domain registration is separate from the hosting service and you can choose how you want to manage them based on your needs.We were sorry to see that you have decided to cancel your plan and you no longer use our services.

Regards, SiteGround team
Carolyn Newall
5 —
October 9, 2017
Support for the tech challenged
As a tech illiterate it is such a relief to get support from people who never make me feel like an idiot. I have had some major mail issues the last week (not siteground's fault) and have been on tickets and chat everyday. The support people have been absolutely wonderful and understanding with limitless patience. I can not speak highly enough of them. There has been a lot of record tweaking and changes and it has been difficult when I don't understand any of it. If they hadn't been willing to take me through it step by step I think I would have given up by now. Thanks Heaps.
Carolyn Newall
5 —
October 9, 2017
Support for the tech challenged
I moved to siteground more than 5 years ago after recommendations from people I trusted to give good advice.
Whenever I had issues in whatever service, site, development or question – I received quick and to the point response which either solved the problem, or was told EXACTLY what I had to do on my end to solve the problem.
The same happened today with no exception.
I have just read complaints about specific use cases (Neil Buchan) and I hope SiteGround will find a way to allow the flexibility (for peak usages like pantheon does) and time to assist also in those cases as people will only move to another site if it's painful enough.
Like Neil, I once had a issues with a certain service causing hangs and peak CPU and after extensive reading found out the issue might be due to server configuration, when asking support from SiteGround I consulted them with the reference regarding those issues and they fixed it on their end. I assume SiteGround expect resellers (which I am not) to be technical expert as to do the research themselves and hand it over to siteground. I don't know, and I hope I won't have to find out..
for now and for me – they score 100
Jason Cox
5 —
October 8, 2017
Best Hosting Company
I have over 30 websites with siteground and they are always fast, punctual and polite when dealing with any questions or concerns.
Tony
5 —
October 6, 2017
All goes well
Well, i using Siteground services since 3-months and never face any issue.
The only time I needed technical assistance, I chatted with them and the answer was very well explained in no time.
I do recommend Siteground to any one who is looking for satisfactory service
Ayaz
1 —
October 5, 2017
Their renewal process is a scam
The service itself is fine, but their renewal process is incredibly shady. They auto-renew all services automatically at a price they set, and provide no option in their system to turn auto-renew off.
The only way to avoid the charges to to manually contact customer support for every single service. On top of that, they refuse to refund charges that auto-renew (unless you escalate, in which case their tune changes).
It's essentially a scam to make extra money off people who aren't paying attention when renewal comes up. This doesn't reflect well at all on the underlying philosophy of the company — SiteGround clearly cares much more about a little extra revenue than about its customers.
SiteGround Review RESPONSE
Hi Ayaz,

We were pleased to hear you have been satisfied with our services. Regarding your comment about the renewal system, we would like to add some clarifications on the process.

We have created the automatic system to prevent downtime for the sites of our customers. For our clients' convenience, the auto-renew option is enabled by default on their account. You can change this setting at any time via your client area billing section—> billing settings. Each service you have purchased with us is listed there and with a simple slide button, you can select to turn off the auto-renew. You can also request assistance about that from our team.

We are sorry about the confusion on managing the auto-renewal option, which our chat operator did not address very well in your recent conversation on this topic.

At the same time, we can see she has correctly pointed out in your session that we sent multiple notifications via email prior to charging you for the renewal. When there is no action on your part the system processes the payments automatically. The price of each service and the renewal rate are clearly displayed in your client area and you can view them. In addition, when you get close to the expiration date of a service you are using upon logging into your client area we also alert you that you have services due for renewal, and we prompt you to take action about them. We are transparent about our prices, but in case you are not sure about the amount you need to pay you can always check with our team.

We would like to report that we are working on a big project for improving the customer experience for managing your account and it will be easier to adjust and make changes to your settings.

Regards, SiteGround team
Andrew Lords
1 —
September 29, 2017
Do they even respond?
I run a website large enough to necessitate an enterprise plan, and I filled out the online form with them and was told they'd contact me within 24 hours with a quote. 24 hours later I reach out and they say to be patient. Another day later I call them and they say they're working on it. A week later and nothing. I would never go to a hosting company that won't even respond to me during the sales process – I can't imagine what it would be when I needed support help!
SiteGround Review RESPONSE
Hi Andrew,

We apologize once again for the delayed response on your inquiry about getting information and a quote for using our enterprise hosting.

We checked on your case and we can see that a member of our enterprise team has been in touch with you regarding this inquiry a couple of days after it was submitted. You have received our full cooperation and to make sure we have all the details about your website and budget we have followed up with you over the phone before responding with a suitable solution that can accommodate your needs.

Please note our enterprise hosting solutions are custom-built and for this reason when you contacted us via chat our rep has explained that we are working on processing the request as we do not have ready-made plans we can suggest. For enterprise clients we design and build the infrastructure for the website based on the specifications provided by the client and need to calculate the cost for each individual quote.

Regards, SiteGround team
Jane
5 —
September 27, 2017
Great Hosting Provider
I am using SiteGround from one year now. So far I didn't had any issues. Great customer service whenever you need help.
Neil Buchan
3 —
September 18, 2017
I recommend
Maybe used Siteground since 2010, but I think longer actually. I could never speak ill of them until last year or two. The CPU penalty is a real pain. I can have 10 sites in my reseller package doing nothing with no hits and just because some bot picks on one of hem (and not ridiculously – Doesn't take much), it gets threatened with a shut down.
Also let me speak about the database size. I had a site which routinely breached Siteground's 500Mb Database limit (There seem to be a lot of limits nowadays at Siteground which seem to be arbitrarily set). It was a Drupal site which tended to grow it's caches, so I had to flush them out every two weeks lest I get threatened with something mandatory). Then I thought I would get rid of a bout 400 menu items and a few hundred old articles (which I regret now) to try and put a stop to this problem. Made no difference. I still got the notices.. I therefore moved it to another provider and guess what? The cache doesn't grow?? I can only be led to believe that it is some implementation and config. of Siteground's server that caused my site to break their limits.
Thirdly and worst of all. Siteground decided to change their domain registrar in April 2016. Now I know that mistakes can and always do occur. The first I heard of it was my customers complaining that their websites were down. I had to raise a ticket!! They didn't tell me the ostrich headed goofballs that they had mucked up. The cover up is always worse than the crime. Took two days to resolve and apart from some smiling into their hand apologies and empty platitudes I was left holding the baby and lost one of my customers.
I have been shipping my websites out of Siteground over the last 4 months as I am done with them. They seem not to like (and even have smiling contempt for) reseller customers and so if I am not welcome, then I am off.
I have ticked not to recommend this hosting company, but they are still better than many and offer excellent features and good support much of the time. If you have a nice little site that doesn't use many resources, then I DO actually recommend them.
Harpreet Parmar
4 —
August 25, 2017
Very Fast
I have been using site ground for my site www.comparethehosts.com and I am been impressed with the fast WordPress page speed and excellent support. The live chat response is amazing (under 1 min).
The only issue has been the CPU limits. For some reason my WordPress site keeps hitting the cpu limit on the sHared plans. We could not work where all the extra cpu cycle were coming from and I had to upgrade.
Kyle
5 —
August 17, 2017
Great Hosting Provider
I have used siteground to host my website for over a year now. I am super happy with their service. I used bluehost before switching ( which is also very good) but what I like about SiteGround is their awesome customer support system. You can chat to someone about any problems you are having and they have been able to solve every problem I have had so far.
Pete
5 —
July 26, 2017
Happy customer
I've been using SiteGround on 3 of my WordPress websites and so far I'm very satisfied. I previously used Bluehost, but SiteGround is much faster – you can feel it when you browse in their admin panel or WordPress dashboard.
K Geiger
1 —
July 10, 2017
Will not give you a refund
The reason for this poor review has to do with trying to migrate a client from another company. I've had poor experiences with hosts that promise allot until you buy the service – then you are stuck. So I called Siteground to ask them – if i migrate to your $160/month business pro cloud service, and something does not work – however unlikely – email, site, security, speed what ever, can I get a refund if I cancel the first week – and their answer – No — What? So essentially pay us, and if we can't help you, pay us. Wow – nice, I was looking forward to their "great" customer service, but this was a major put off. It is a precursor to their customer support, god help you if you have a real technical question.
SiteGround Review RESPONSE
Hi k Geiger,

We were sorry to hear you have not been satisfied with the refund policy for our cloud services. We would like to clarify that our cloud plans have custom-built server software for maximum performance, scalability and speed. We aim to deliver high quality service and provide value for our customers. You get a fully managed server for which we configure and manage the infrastructure. In addition, we preinstall and maintain all the software you need on your server, and you can rely on our VIP support 24/7 to help with all hosting-related questions..

Please note that upon receiving a completed order for a cloud account we create it with the specific parameters for CPU, memory and storage and we reserve resources for it. It is uniquely setup for each client and for this reason the money back policy is not available for this service. The payment cycle for the cloud plans is on a monthly basis and does not require long commitment.

Regards, SiteGround team
Mike Lee
5 —
May 20, 2017
SiteGround Has Excellent Performance
I am currently hosting one of my websites on SiteGround and I did monitor and record the uptime performance of SiteGround. Overall, as an end user, I am satisfied with their performance from all aspects.
Customer support – Excellent. Their customer support is the most helpful support service I ever see. Normally they will get me entertained within seconds or the worst case under minutes.
Uptime – I recorded their uptime stats and it is always performed at the average of 99.99%. Sometimes, SiteGround uptime performance even recorded at 100%. This is amazing and I hope they can keep this record.
Server Response Speed – I conducted a server response test on my website that hosted on SiteGround. Overall it is good and recorded A+ using Bitcatcha speed testing tool.
CPU resource limit – Might be the only downside as you will receive their warning message if your website consumes too much CPU resource. I believe this is also the case for other hosting.
James
5 —
May 5, 2017
Awesome Value and Service
I have used a number of hosts over the years and none are perfect, but Siteground has by far, come the closest (to perfection). Currently I used the to host three eCommerce sites running on Prestashop, and three WordPress blogs. Here's what I like about them.
1) Value for Money – you can go cheaper, but what you get more bang for your buck with Siteground. And they have entry level options, right up to enterprise solutions
2) Great Service – a lot of companies tout this, but from all the interactions I have had with Siteground, I can say they mean what they say. It's easy to contact them via a number of channels (chat, message, phone) – and I've never waited more than a 30 seconds for a chat, or 30 minutes for a reply on messenger. Their staff are friendly and knowledgeable. I've had a few technical issues to sort out with my sites over the years (eg: move to HTTPs, server location) and it's all been seemless – and easy.
3) Great performance – never had any serious issue or down time. And they're fast – much faster than the previous host I was using. The only issue I had once was from a Abandonded Cart Reminder App on my eCommerce site which was sucking up my data resource quota, and shut down my site. But this was the fault of the App, not hosting, and each time it happened they quickly restored the site.
4) Security – never had an issue, unlike a previous host I used, where an eCommerce site I had was hacked.
5) Options – heaps of options, such as SSL, CDN, Hack Alert. But my favourite is the option to choose your server location. My business is based in Asia, so I have chosen Singapore as the data centre, which improves load time and has SEO advantages as well.
Honestly, struggling to think of a negative – highly recommended, and I hope they manage to keep up their quality and service as they grow.
SchaOn
1 —
April 21, 2017
Bad support – Bad CPU usage – Does NOT integrate with CF Railgun IF you were with another provider with CF already – overall Not Happy
I was VERY, VERY excited to switch some of my more important sites over to SiteGround, though ended up switching back to my previous hosting provider in less than 24 hours! I went with the GoGeek level.
Cons:
1.) If you had those domains on CloudFlare already, SiteGrounds support wants you to DELETE your domains in your CloudFlare account, then re-add them via their platform, even though CloudFlare says you do NOT need to do this to have the Railgun switched to theirs.
2.) Was having an issue activating the Let's Encrypt SSL cert on 2 of the sites, so I installed some temporary ones so the sites would work. Had to have tech support try and fix it… and they did on one of the sites, BUT then the site they couldn't fix, they had removed the temp SSL I was using, didn't put it back, and left my site offline (and told me to try it again in an hour)!!!!!!!!!
3.) I'm not a fan of how they do the CPU thing. With my other provider, you get let's say 20% of the CPU dedicated to you, and you can use that 20% all day long, etc. With Siteground, you can only use 4000 seconds/hr – and counts EACH script/site visit, etc, and a max of 40,000/day. While these numbers seem reasonable — somehow my sites (3 sites – which get about an average of 50 human visitors a day to each site) according to their things was at over 8,500 in a 2 hour period… and I just didn't want to risk them shutting my sites off. Now yes, I was getting a lot of bogus traffic hitting one of my sites from China IP addresses, but still.
4.) One of my sites was giving me a 403 error after switching over to their servers. This was because I mistyped the directory that site was in (oooops). Personally, I like putting the add-on domains into a directory outside of the public_html. When I contacted tech support about the 403 error (because I didn't catch the mistype), they told me that I had to have ALL of my addon domains under the public_html. This was the first experience with their chat tech support people… and each experience that I had with their chat tech support people showed me that the support techs were *very* limited in their knowledge.
Pros:
1.) Overall site load time for each site was about 0.1 to 0.2 seconds faster overall. TTFB though was twice as long (went from about 0.17/0.19 on average to 0.3/0.4 on average). The TTFB I attribute to the Railgun not being activated.
2.) Liked being able to set which PHP version/directory, though the versions of PHP that were available were out of date. PHP 7 was 7.0.17 (and 7.1.3), though PHP 7.0.18 (7.1.4) has been out now for 9 days. PHP 7.1.4 fixed an issue with opCache that was causing an issue for some sites that used certain aspects of JetPack within WordPress. My previous host had this updated within about 5 days after it was available.
SiteGround Review RESPONSE
Hi SchaOn,

We were sorry to hear you have decided to cancel your GoGeek hosting with us. At the same time we were glad that even in the short period when you used our services you have experienced the benefits of faster performance of your website and the flexibility of using multiple PHP versions on your account. We are in the process of adding the newest available releases for PHP 7 and PHP 7.1, as they are currently in the QA stage. To be able to offer our quality fast hosting we need to ensure the custom patch solutions we have for PHP are working properly before making the latest versions available to our clients.

Regarding CloudFlare we would like to clarify our support agent explained that since the CloudFlare activation on our end creates a new account, in case there is an existing one with the same email on their servers you get an error. The text of the error message says that you have to deactivate the existing account first in order to open a new one. We have acknowledged via chat that if your domain is entirely managed by CloudFlare, there may be a workaround for transferring an existing service to a new hosting provider and you have agreed to reach out them for further help.

We understand that the support you have received on the issue with Let's Encrypt was not a very good client experience for you. Our agent has made a wrong assumption regarding your request to help with Let's Encrypt installations for 2 domains. He installed a Let's Encrypt certificate on the first one, and disabled the existing certificate on the other one because he thought in this way he will enable you to install Let's Encrypt shortly after that. His reasoning was that your goal is to use Lets' Encrypt for both domains and he disabled the Cloudflare SSL because for the Let's Encrypt certificate to work there should be no other SSL on that domain. Our support technician has apologized for the caused downtime and acknowledged his mistake. We're sorry for the inconvenience again.

Please note it's important for hosts to monitor accounts performance on shared servers and each provider has a different approach to setting limits for fair usage. From our experience over the years measuring processes and CPU activity has turned out to be optimal and we use this method to ensure no single account usage affects negatively the performance of other accounts on the server. In addition, our GoGeek plan, you had signed up for, is our most powerful shared hosting solution and it offers features like dynamic caching that can help with optimizing your site processes.

Regarding your chat reporting a 403 error, indeed our representative seems to have misunderstood the cause of the issue and did not give you correct instructions to solve the problem. As you have pointed out the reason for the problem was that when you updated IP address for one of your domains you have not entered "www". We have forwarded the chat session to a chat supervisor so he can address the case with the operator. We are sorry for the inconvenience again.

Regards, SiteGround team
Matt
5 —
March 2, 2017
Good Shared Hosting
I moved my website to siteground.com short time ago. I purchased GrowBig package. They gave me 1 year free SSL. Everything is fine by now. Their support really awesome. When I post ticket, I receive answer right away. Even at night at 03:00am. (This is not because of timezone. I also posted ticket at 13:00pm and received answer 10 min. later. So afternoon or midnight they provide support anytime). And they are knowledgeable.
My reason to move my website is that because I lost all my index in yandex search. I asked this to Yandex authorities and they answered me that my hosting company block something. I forwarded their mail to my old hosting company and explained what happened. Their answer was like this: Your website running on shared hosting and noone on this hosting has a problem like this. So we cannot do anything.
This is not something that I can accept. None of my pages were available in the search result. My visitors come from mostly from Yandex. If do not have visitor, what is good having a website?
Anyway website is available now. I do some speed test and I can compare with old hosting: Faster now. I am not going to say what was my old hosting provider but I paid more then what I pay to siteground.com.
Before purchased I read a lot of reviews. Especially in this page. I was worry about some negative review here, even though they are not too many. Fortunately I do not regret. I am happy sor far with them. I do not know, I might have some problem in the future but I see they are responsible, answer your question and try to solve that problem.
I do recommend them.
Tiger
4 —
February 24, 2017
Good Service – but we aware of the CPU allowance!
We used to use siteground and for the most part their service was fantastic(uptime, support and features) excellent.
But many times we got hit by the CPU allowance limit. (if u go over your limit the site is no longer accessible)
So please be aware of this if you plan to use siteground its a huge limitation of their service IMHO and the reason why we switched to a different provider.
Jack
1 —
February 4, 2017
30 day refund is a JOKE!
Forget the 30 day refund. Its a joke, They say they will refund the money, but they dont. They auto-renewed my account at 1:52 in the AM, so I would not have a chance to stop the charge. I went online and since there is NO BILLING PHONE NUMBER to call, they said they would send my request for the refund over to billing. So I receive a 30% refund back, with a line item "Service Cancellation", nothing else. Probably lucky I could get that back from them.
So I had to go back and ask them the status. The "excellent customer service people" (what a joke) said they would have to send my request to billing to review. So we all know that means they will do nothing, again. So I initiated a FRAUD case with my credit card company. I hope they remove Siteground from their approved list. This company is a joke and is nothing but a fraud.
SiteGround Review RESPONSE
Hello Jack,

We are sorry for the inconvenience! There was indeed some delay in the processing of the refund, yet the entire amount has been refunded, and we would be glad to clarify the situation for you.

Our renewal system works automatically and renews purchased services for the convenience of our clients and to prevent downtime for their websites, unless the customers have specified otherwise in their accounts. In addition to that we send 4 notifications prior to charging the amount, and there is also a notice in the client area about upcoming expiration date. Since we did not receive a response or cancellation request from you, your accounts were renewed as scheduled.

Please note that once we collect the renewal payment, we send the fees for domain and other extra services to the respective providers, we only keep the amount for the web hosting account. This means that we are not able to refund fees paid for domain name registration or other extra services, which we prepay to 3rd-party providers, and which are non-refundable for us as well.

We can see that you have actually performed the cancellation via the client area and not via phone. It seems that during this manual cancellation, you managed to cancel both of your accounts, but initiated refund only for one of them. We will have to recreate the situation on our end to find out that caused this glitch. The amount that was refunded consisted of the fee for one of your web hosting accounts less the amount for your domain name, which was no longer included for free with your account. The hackalert and ID protect could not be refunded since they were already prepaid by us, as explained. In the follow up chat session with our rep you didn't actually request information about the refund amount, but only confirmation that your accounts has been successfully cancelled, which you did receive. Once our Billing department reviewed the case, they initiated the refund for the seconds account too. We apologize for the inconvenience caused in the process. Since you had to reach out to us again to sort out the case, we decided to reimburse you for the domain and additional services as well. A refund for the remainder amount has been issued immediately and the money will be credited back to your bank within 7 business days. Please note that this period is processing time by the banks and it's not related to our operations.

Regards, SiteGround team
Daniel Morell
5 —
February 1, 2017
Best Cloud Hosting I Have Ever Used
I have used a number of hosting providers in my career. However, none are as professional and helpful as SiteGround.
Now the speed was what sold me on SiteGround (I typically get 1 second load times on sites that I have optimized). However, I have found that there is nothing slow about SiteGround. For instance their ticket response is nearly instant. And they do not just respond they provide a solution when they respond, or they have already fixed it. It does not get better than that!
It may cost more, but it is well worth the extra money.
Fabrizio
5 —
January 29, 2017
Siteground is the best so far
I've been using SG for 4 years now.
Their services are great and the unlimited bandwidth works well for me. I'm using them as a host for my websites. very little php using so not worried about CPU seconds.
Customer service is top notch, too.
Nicky
5 —
January 19, 2017
Siteground is by far the best web hosting company
I have been looking for a good host for ages and finally found SiteGround. They are not only efficient in their service delivery but also courteous. Their site speed is excellent and quite frankly, of all the services I have used before, none matches siteground. I experienced issues on at least two occasions and thought I was gonna wait for about an hour before it was resolved, but true to their fast response claim, they fixed my issues in a record five minutes.
Their support system is amazing.
Jaswinder Kaur
4 —
December 9, 2016
Overall Good
There is a daily CPU allowance on the shared hosting plans, which I don't like, because despite of on Grow Big Plan and traffic around daily is 150-200 I face the problem.
Now I am going to Update my Plan on christmas to GoGeek, so I don't have to face Exceeding daily CPU.
I am using SG for almost one year. I like the layout of SG, it is very neat and clean. I like their service, on Chat, as well as Ticket, it is very quick. Chat response is within two minutes and Ticket Response in my opinion is around 10 minutes.
So in my opinion overall in all areas of their service include Product prices they are okay.
So I want to Stay with them for long time and afterall my site Ease Bedding is really growing, so I am very happy!!
Thanks.
JK
2 —
October 27, 2016
Don't use monthly billing.
SiteGround makes you call in every month if you have monthly billing. If you don't CALL them, they will automatically bill you for a year. This is designed to make you forget one month so that you're automatically charged. It is unlike literally every other service provider in the world.
Also don't be fooled by their introductory rate. The real rates are much higher
Amanda
3 —
September 24, 2016
Started good, but continuos upsells..
When I first moved to basic hosting with SiteGround I was floored by the quick way they responded in online chats and how easy they made it to resolve issues. Then I got hit by a bot and they took advantage of that to upsell me…I finally agreed after paying a developer to rid me of the bot.
However as soon as i upgraded, my site kept going down repeatedly and their only solution was for me to upgrade again though my traffic was now 1/2 of when I started on the cheapest plan. They eventually agreed it was their problem with a bad server, but continued to ping me to upgrade non-stop.
Zain Ali
5 —
September 24, 2016
Best hosting (in my opinion)
From last 8 months, I have been using SiteGround to host my big coupon sites as well as my amazon micro niche sites and i have been very much impressed with their service.
Specially their support, as they have very good staff with good technical knowledge.
A few months ago, I got some technical issues with my WordPress website, so iI had to contact SiteGround Support staff for the help and within few hours of opening a support ticket, my problem was solved.
So, after 8 months, I can say, SiteGround is one of the best when it comes to Reliable Web Hosting. I also written a review on my website to tell more people about this hosting company so that they can leave all those ugly hosting companies and migrate to SiteGround for better service.
And I must say, you have written your points very clearly in this review. Great Work Done.
Nic S
5 —
August 16, 2016
All the features you expect from a top (expensive) host at a fraction of the price
Having used a wide range of hosting companies over the last decade or so, I gave Siteground a go on a bit of a whim, due to their excellent reviews and half price intro rate!
It was a excellent choice! I'm really pleased with them so far, the features such as staging areas, automatic backups etc – basically everything you'd expect from a top dedicated server host but at a fraction of the cost (particularly if you take full advantage of the intro offer!)
Support has been quick and detailed, and from my first day with Siteground knew I'd made the right choice!
I'm currently in the process of moving all my WordPress sites over to Siteground, and for anybody with a WordPress site (or like me lots of WordPress sites).
David Makin
5 —
August 11, 2016
Best host I've ever used
We host a local newspaper on Joomla with Siteground after changing to them from Hostgator. It is a night and day difference. Siteground knows everything about Joomla and how to make the server SING with joy. We run over 100,000 page views per month which is pretty hefty for Joomla. The site always responds quickly, even during peak times and the cost is MUCH less than the solution I had to have with Hostgator.
They have an array of tools that update everything I want automatically. Their tech support is always fast AND they give you meaningful answers and assistance.
I simply cannot say enough good things about this company and the service they provide.
Daniel
3 —
July 14, 2016
Bad service and support
Just to tell, Siteground have a really bad support, and I feel like this is really a thing to notice!
I have a client who have chosen siteground to host their site, and strange things is happen from time to time, which I haven't seen before at other hosting companies.
When we are contacting the live support, I have to write our problem first, which can take a long time to clear out, and then they answer it very shortly and we are 8 out of 10 times "disconnected" after that answer. Leaving us still unclear of what to do.
We have used hours and hours of trying to get support, and the best way is to open a support ticket, which will then be answered by up to 6 different "supporters".
So the conclusion from my side is that, I will never recommend siteground to anybody because of the bad service. They might be good on something, But I feel that I have to sort everything out myself.
Michael Cooper
5 —
May 15, 2016
New to web design.
OK so I am a novice having only recently started with my site and that of my fiancée. I know my way around computers and bits on websites but SiteGround were amazingly helpful and I have had to contact them a few times with niggly newbie stuff.
Just taken on my friends website to update and Valentin at SiteGround talked me through the domain pointing process with name servers etc…..all still new to me but the guys at SiteGround will go the extra mile to help.
Many thanks and I would highly recommend them.
Ahmad Imran
4 —
May 5, 2016
One year with SiteGround's GoGeek Plan
I have been with SiteGround for just over an year now and I have found them to be reliable, fast, efficient and most importantly, customer focussed. The prices are competitive and the customer support is definitely a big plus with SiteGround.
Obviously no hosting is perfect and SiteGround can improve in some areas but if you compare them with other competitors, they easily beat others on many fronts. I especially enjoy and use their cache plugin (SGPress) and staging options which are available in GoGeek plan. Additionally, they offer free complete backup on a daily basis which is another big plus.
At the end of my first year with SiteGround, I can only recommend it thoroughly for new bloggers and WordPress blog owners. A solid foundation is important for any website or brand and SiteGround offers you this opportunity in an easy and cost-effective manner.
Félix Desjardins
5 —
April 19, 2016
Quality hosting with a cheap price tag
SiteGround is the best hosting service I have ever seen. First, the price: $3.95 per month, with more than adequate resources to small companies. In addition, they run occasional promotions where you can get this even cheaper…
The support side, I have nothing negative to say. Fast and effective. Something that the distinguished? Their ability to respond to all, including questions on the CMS itself. I've never seen this, and my ca amazed, and less than 10 minutes response temp, is a plus!
Finally, the quality. I have had no problems with my website from the start of accommodation. Bad PHP version? No problem, we have the choice.
I recommend this hosting service if you want quality at an affordable price, with the incredible support.
Santosh Parashetti
5 —
April 19, 2016
Highly recommended. Great uptime and service.
I've had great experience with their hosting. I've used a lot of different hosting providers in the past, but this one is exceptional.
They have given such a good service, by helping me a lot (removing site errors, resolving plugins issues from back-end). They've also helped me to transfer email inbox, configurate my email in no time etc…
For Siteground customers: Purchase, sit back and relax?
Warren Denley
5 —
April 18, 2016
One of the best shared hosting providers
Working with client WordPress sites since 2007, we have seen the good, the bad and the ugly of hosts. Based on our experience, the best host in the shared space is definitely SiteGround.
Their customer service is second to none. Not only is it one of the fastest responses I have ever seen on live chat, but they are almost always able to solve your question on the first contact – even if it is a WordPress issue and not actually a hosting issue. Compare that with most other hosts who either don't understand WordPress, or, worse still, blame WordPress when it is actually a problem with their servers.
They also do a lot behind the scenes to provide one of the most stable and secure platforms, including proactive security patching at a sever level and updating WordPress installations for you. Dedicated caching (to speed up your site) is provided on most plans, and the top plan also includes staging site capability (so you can test changes without affecting your live site). These are features that are normally only found on managed hosting platforms that cost 10 times as much.
SiteGround is not the cheapest host in the market, but it is certainly the best value for money.
Imran
5 —
March 4, 2016
Pleasantly surprised
I have a number of WordPress based websites and up till now I had not really considered WordPress hosting. I had noticed a number of other developers online talking about WordPress hosting and a few names kept coming up as those that provided a good deal and more importantly support.
I looked at my current hosting provider as a starting point and then looked at the others. In comparison (upon price) I found Siteground to be competitively priced and I took the jump into a 2 year contract. Its very easy to get sucked into a sales pitch, so I was pleasantly surprised to find that I got a call from customer care after 6 hours asking if I needed help transferring my current websites over. Via email I gave them the details they needed and they took care of the rest. So far, great customer support and easy to use. I couldn't be happier.
Nikos Houssos
4 —
March 4, 2016
Very good service
I am impressed by the quality of their support: they responded almost immediately (within minutes) to all my support requests and the support personnel was always helpful and knowledgeable. I think in certain they could be more clear in communicating the terms/prices of their different types of services.
A minor thing: They are also quite "aggressive" (e.g. promotional messages when logging in and to your email) in promoting offers and trying to do upselling and also encouraging you to renew the services you have bought way before the renewal deadline. Otherwise, a very good service.
Shamai Greenfield
4 —
March 1, 2016
It's great…
I just joined site ground for my site and I'm really excited! They offer free SSL with lets encrypt which is something most hosting companies are not offering! It was very easy to switch over and the people there really know their stuff… I chatted them up a bit. The support is great and my site is running smoothly.
My only gripe is that on shared hosting they offer 20GB as opposed to others that offer unlimited.
Otherwise they are solid and I'm really happy so far.
Heather Wood
5 —
December 18, 2015
Siteground – Great Hosting for Web Professionals
I am a professional web developer and designer that uses WordPress on a daily basis to build personal and client websites.
I have been using Siteground hosting for over 2 years. I have never been more happy with a hosting company. They have extremely fast customer service. The service reps understand wordpress and are always more than happy to help and make suggestions. They often go above and beyond what I expect of them. The servers have been great with speed and uptime. For 2 years I have had an average of 99% uptime. This was not the case with my last hosting company before switching to siteground which was the big reason for my move.
I always recommend siteground to my clients building new sites or needing to move (or should move) to siteground. I have yet to have any security issues or technical issues that could not be fixed quickly. It's has a hosting control panel that is easy for clients to understand and maintain themselves and siteground has lots of rich documentation for both newbs and technical users. Siteground hosting has affordable pricing which is awesome. They are worth more than what they charge in my opinion. I'm an extremely happy customer.
Johnny
5 —
December 18, 2015
Budget friendly host!
I've tried all of the alternatives including all of the drag and drop as well as free blogger type hosting services and even though I hate to admit it as I wish there was an alternative, WordPress on a self hosted website is still the best solution out there.
The problems I have with non-wordpress sites are the lack of flexibility and plugins either not being available or just not working correctly such as: Disqus or another custom Comment Box Url Redirects such as wanting JohnnyFD.com/Something to go to a custom link. Having a lack of custom themes and little support for the ones out there.
Now you just need to choose a host and the reason why I recommend and personally use Siteground is because it's the most budget friendly managed WordPress host out there. What that means is they automatically update and keep your site secure, which is ultra important.
Zac Johnson
5 —
December 15, 2015
SiteGround for bloggers
SiteGround is one of the top hosting companies in the world today. What makes their hosting and customer support stand out from the crowd is that they will go the extra mile. They also attend many of the top web hosting, site owner and blogger conferences around the world as well. This helps make their brand visible and allows their customers to know that they are working with a reliable company that will be in the game for a while.
Lastly, the price, uptime and support is also top notch as well — especially for bloggers, as it's just a few simple clicks to setup your own WordPress based site after ordering your hosting and domain name.