Recommended: 99.99% Uptime and Solid Speed Last 10 Months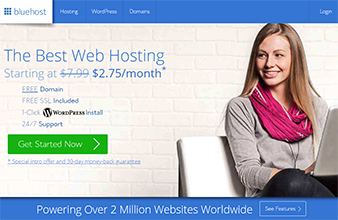 Over the past more than 16 months, I've been a paying customer and quietly reviewing BlueHost's services to help you determine whether or not they are the right hosting company for your needs.
A lot has changed since I first signed up with the company and, in this review, I'm going to lay out the objective metrics and data such as uptime, load time, and customer support statistics.
Without any further ado, here is my honest review of Bluehost's services:
Bluehost Background Information
Bluehost is currently responsible for hosting more than 2 million websites all over the world and is one of the most popular and least expensive shared hosting services available.
Founded in 1996 by Matt Heaton and Danny Ashworth in Provo, Utah, they have a staff of 750 employees working around the clock to ensure the highest quality of service possible.
While the company's long history and dedicated support staff provide a certain degree of confidence, I've noticed a serious problem with most Bluehost reviews.
They make glowing recommendations for the service without taking any objective data or metrics (like load time and uptime) into account.
But not us…
This review is based on actual statistics and data, gathered over the course of more than 3 years of testing Bluehost's cheapest 'shared' plan.
You can even see our live test site here.
What is our experience with Bluehost over the past 16 months?
Let's dive in and find out!
Pros of Bluehost
As is the case with all of our web hosting reviews, we are committed to providing you with the most unbiased and transparent information on the web and we rely heavily on statistically relevant data and quantifiable metrics to determine the quality of a web host.
Here are just a few of the "Pros" of using Bluehost's services (according to the data).
1. Strong Uptime of >99.99% (#1)
Since their services underwent a major overhaul, Bluehost has improved its uptime so profoundly that it's darn near perfect (>99.99%).
With only 5 outages in the past 10 months, Bluehost's phenomenal uptime is well over the industry standard of 99.94% and resulted in only staggering 9 minutes of downtime out of the 7296 hours that we logged over the period of our review.
Although their uptimes took a serious hit in August of 2017, Bluehost claims that the problems were due to various DDoS attacks directed at their servers and the numbers have been trending ever since.
In overall, it's the best uptime we've seen over the past 10 months after monitoring more than 31 hosts:
December 2017 average uptime: 100%
January 2018 average uptime: 99.99%
February 2018 average uptime: 100%
March 2018 average uptime: 100%
April 2018 average uptime: 100%
May 2018 average uptime: 99.99%
June 2018 average uptime: 100%
July 2018 average uptime: 100%
August 2018 average uptime: 100%
September 2018 average uptime: 100%

Bluehost: Page Load Speed and Uptime (Last 10 months, full data can be found here.)
Conclusion? Bluehost is the most reliable web hosting according to our research.
2. Fast Page Loading – 424ms (5th Fastest)
When we reviewed Bluehost's services in early 2016, their speeds were – shall we say – less than satisfactory.
With an average speed of more than 1,500 ms, they were too slow to even rank in our top 10 (in fact, their services were #20 on our list from 2016 to mid-2017)
Nevertheless, since summer 2017, Bluehost has improved their load times… By nearly 300%!
With an average load time of only 424 ms, Bluehost has managed to pull itself up by the bootstraps and rise through the ranks to the 3rd fastest web host that we've ever reviewed.
Surprised by this sudden and unexpected jump in their page load times, I personally reached out to their team and asked how they managed to improve their speeds so drastically.
Their answer was simple, "We wanted to improve our customer experience and decided to invest in upgrading our 'Bluerock' server park"
And the results have been steady ever since then. Now nearly at the end of the year let's look back how have they performed over the last 10 months.
Last 10 month average load times:
December 2017 average speed: 399ms
January 2018 average speed: 415ms
February 2018 average speed: 463ms
March 2018 average speed: 429ms
April 2018 average speed: 409ms
May 2018 average speed: 406ms
June 2018 average speed: 467ms
July 2018 average speed: 418ms
August 2018 average speed: 414ms
September 2018 average speed: 421ms
That's not bad. In fact, Bluehost hosting ranks 5th in speed.
You can find the statistics for the full 16-month review here.
3. Low Introductory Pricing ($2.75/mo)
In the past, I found it hard to justify using Bluehost's services due to their exorbitant price tag and lackluster services.
In 2018, not only has Bluehost kept its impressive uptime and load times from 2017, but they've also positioned themselves as one of the most inexpensive web hosts on the market.
Although they aren't the cheapest provider when compared to the other hosts, the improved servers and the lowered price tag makes them an excellent option for even the most frugal of webmasters.
While we aren't evangelizing BlueHost in any way, we did manage to negotiate a pretty stellar deal for hostingfacts.com readers. By clicking this link, you can get about 65% off of Bluehost's retail price and host your website for only $2.75 a month.
4. Good Security Options
With the myriad of cyber attacks and major data breaches that have been proliferating the marketplace, finding a web host with sufficient security options is more important now than ever before.
Luckily, Bluehost offers some great tools to combat and prevent some of the most common attacks and risks.
For example, you can prevent spam with tools like SpamAssassin, Spam Experts, and Spam Hammer. They also support CloudFlare, which helps prevent pesky DDoS attacks that can bring a site down by sending an overwhelming amount of "fake" traffic from different sources.
They also offer hotlink protection (which prevents people from stealing your images and content), IP address blacklists to block problematic individuals, SSH access for secure web sessions, and optional filters that you can use for specific users and email accounts.
You can also password protect your directories, create blacklists for IP addresses, and manage digital certificates and private keys right from Bluehost.
Moreover, they don't stop there!
Bluehost has also integrated several layers of security to protect you on the account level.
You can enable two-factor authentication with your Bluehost account, and they've built the entire site with token account validation.
With token validation, you can prove your identity when you contact customer support by giving a six-digit code to verify your identity before having to give your password to a customer support agent.
All in all, Bluehost comes armed to the teeth with plenty of security features that will keep you, your audience, and your website safe.
5. Many Integrations, Apps, and eCommerce Features
In addition to the many security features listed above, Bluehost also comes equipped with an application-rich dashboard that allows you to integrate different services such as Google Apps and the aforementioned CloudFlare directly in the cPanel.
By integrating Google Apps into the Bluehost platform, you'll be able to bring all of the perks of Google to your business right from the heart of your hosting account.
Cloudflare, on the other hand, is a popular, free CDN service that can boost your site's speed and help to keep it secure from potential hacks and breaches.
Furthermore, Bluehost has radically simplified its eCommerce features, allowing customers to seamlessly set up an online store with an endless number of shopping cart options. Simply click "Install" and get down to business.
Bluehost also says that you can use MOJO Marketplace to install shopping cart software, manually install software on your own, or hire a developer to install and/or manage it for you.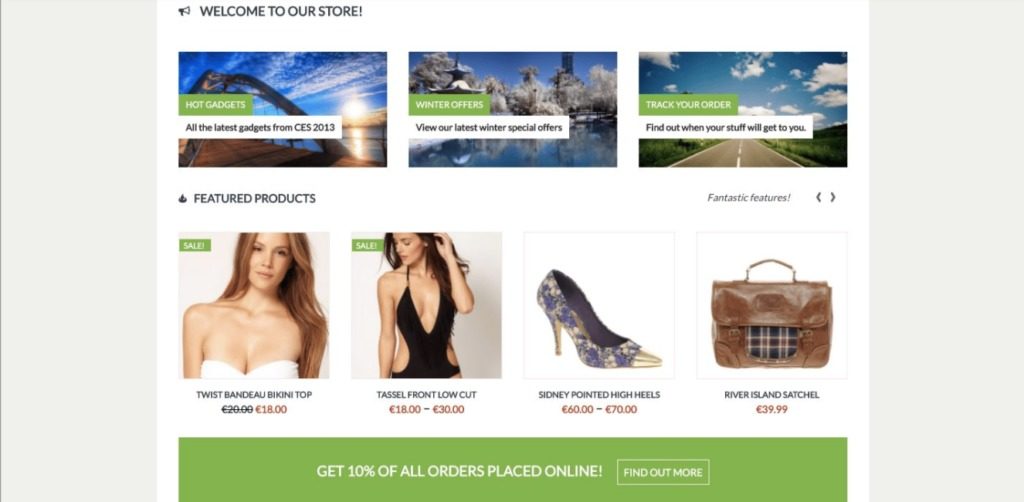 Simply choosing Bluehost allows eCommerce sites to obtain a free SSL security certificate, OpenPGP/GPG Encryption, and more right away.
6. 'Official' WordPress.org Recommended Host
Although you should typically take non-data drive hosting recommendations with a grain of salt, when the world's largest CMS recommends a hosting provider, it's typically a good idea to take it into consideration.
The WordPress official site (WordPress.org) recently re-made their hosting page and listed their 3 favorite hosting providers. Among those are SiteGround, Dreamhost and – you guessed it – Bluehost.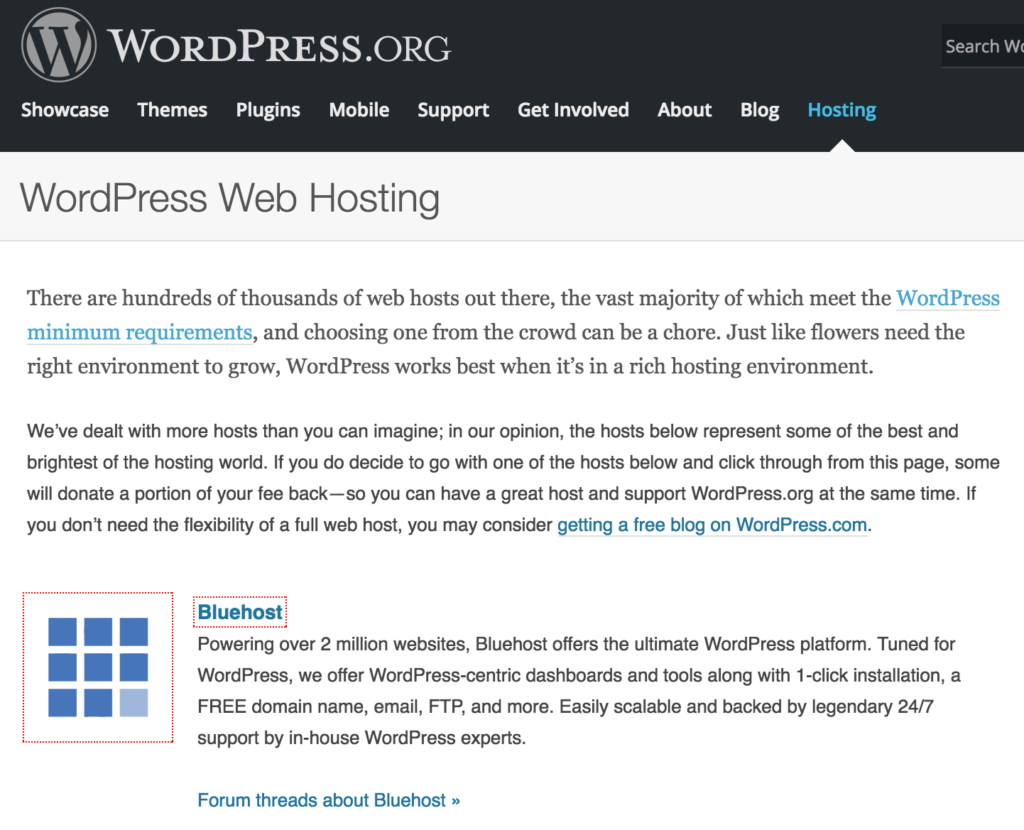 7. Easy to Use
Bluehost is simple to use and very beginner friendly.
The cPanel interface is just about as simple as web hosting can get. All you've got to do is click on the icons and get to work.
What is that Staples slogan again?
Right… That was easy!
With Bluehost's simple interface, you can access all of your websites and email addresses from one place.
Plus, you can customize how you want to lay out the cPanel to fit your specific needs so that you can quickly reach the features you use the most.
8. 30-Day Free Trial and Money Back Guarantee
For the commitment-phobic among you, Bluehost offers a 30-day money back guarantee, allowing you to take their services for a spin before committing your hard-earned cash.
While this guarantee isn't quite as extensive as other competitors, like Dreamhost which offers a 97-day money back guarantee, 30 days is more than enough time to determine whether or not Bluehost is the right provider for you.
However, it's important to note that some terms apply if you want to claim your refund:
The money back guarantee doesn't apply to add-on products like domains.
If you cancel within 30 days but your plan includes a free domain, Bluehost will deduct $15.99 from the total amount of your refund as a domain fee. The company claims that this is to "cover their costs" while ensuring that your chosen domain name isn't lost. It's important to note that newly registered domains can't be transferred until a 60 day registration period has passed.
Cons of Bluehost
1. Their Customer Support is FAST but Could be More Knowledgeable
Although Bluehost has seen an astronomical improvement in its customer support response rate in recent months (in fact they have a near-perfect internal customer review score), the quality of their customer support is still lagging behind its contemporaries.
While the customer support team can now handle inquiries with lightning-fast speed, I found that some of the more technical questions eluded support representatives and required multiple inquiries to resolve.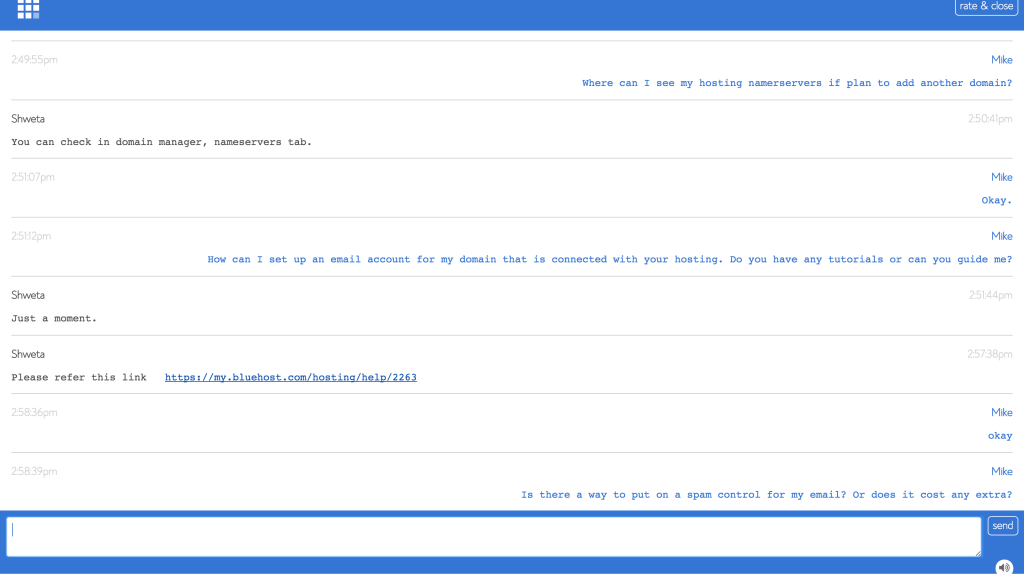 An advantage is that their YouTube channel DOES contain tons of helpful tutorial videos. So if you don't mind rolling up your sleeves and get your hands dirty, you can probably resolve 90% of your potential problems by yourself.
2. The $2.75/mo Price Only Comes with 36-month Plan (But $4.95/mo is Still Cheap)
Bluehost is cheap.
But just how cheap? Well, it depends…
Their super-low introductory rate of only $2.75 a month comes with a few strings attached. Namely, it requires a three-year commitment.
If you only want 12 months of service, your rate jumps up to $4.95 per month.
At this point, only HostGator Cloud allows for hosting periods as short as 1-3 months.
Personally, I'd recommend biting the bullet and taking them up on their 3-year introductory offer because their basic 12-month renewal price jumps up to $8.99 a month.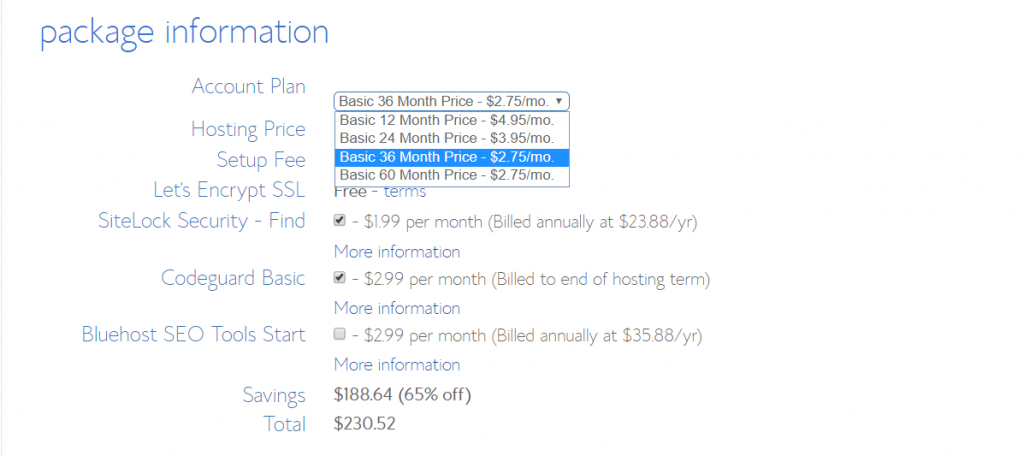 3. Site Migrations Aren't Free…
Most of the hosting providers we've reviewed will happily help you move an existing site from its current location to their service.
After all – it's a quick procedure to get you to switch companies and become their loyal customer for the next few years.
Unfortunately, Bluehost is not one of those companies.
They charge a 'migration fee' of $149.99 to do something that most provide gratis. And they will not transfer more than 5 sites and 20 email accounts.
Speaking of extra fees, a simple 45-minute introductory walkthrough of their services will set you back with $79.99.
Again – it's something that most hosting providers are all too happy to provide complimentary because you're signing up for their service for the long-term.
BlueHost Pricing, Hosting Plans & Quick Facts
Bluehost provides three shared hosting options to choose from.
Please note that advertised pricing below is a low introductory rate for a three-year term. Rates for shorter plans cost more and you can't get anything with less than 12 months.
Also, the word 'unlimited' doesn't always mean unlimited (as discussed in the last section).
Basic plan: For 2.75 per month, you get one website max, 50GB storage, and 'unlimited' bandwidth. You also get 5 email accounts (with a max storage of 100MB each).
Plus plan: $5.45 per month provides 10 websites, 150GB storage, and 'unlimited' bandwidth. You also get 100 email accounts of 500MB each.
Prime plan: Their largest plan comes normally at $5.45 per month, providing 'unlimited' websites, storage, bandwidth, email account and email storage. (Currently On Sale)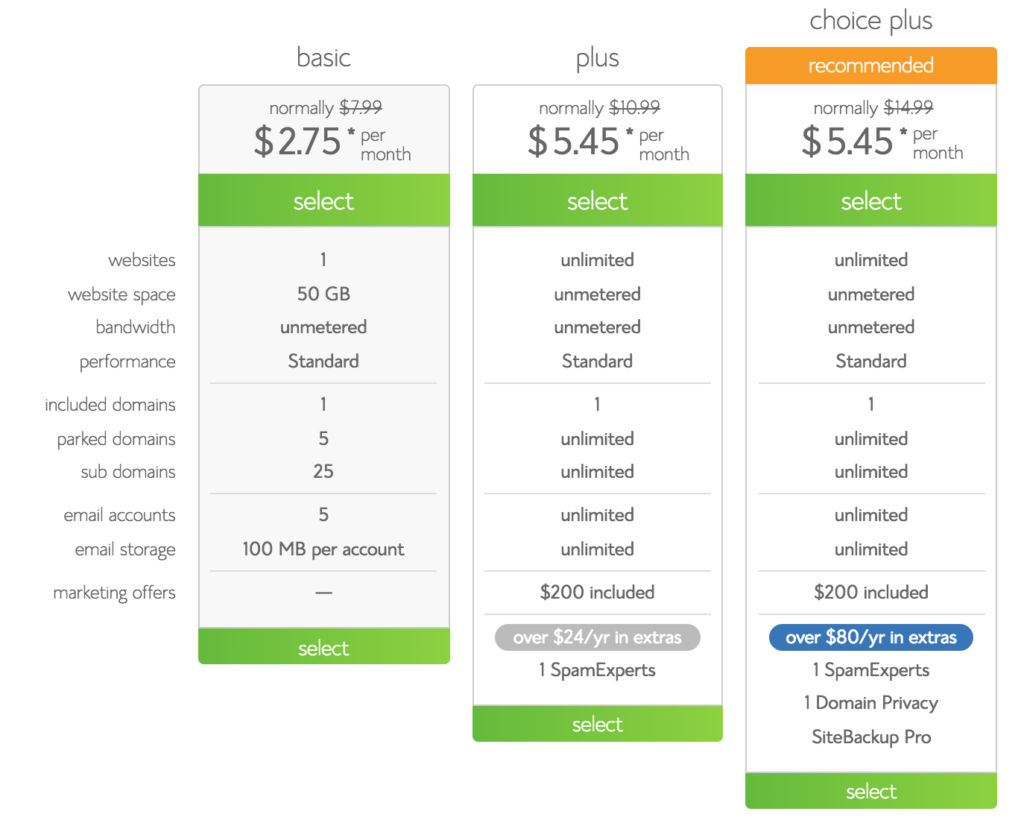 You need to pay for three years at once to enjoy the advertised price for their shared hosting plans. It will cost much more if you choose a shorter duration. Please note that the minimum duration you can pay for is 12 months.
Free domain? Yup.
Ease of Sign-up: Easy two-page sign-up process.
Payment Methods: Major credit cards and PayPal.
Hidden Fees and Clauses: The low introductory starting rate for three years minimum (with renewal plans that jump). And that whole, "We'll delete your account if you go over 1,000 database tables or 3GB total database," thing.
Upsells: Some Upsells. But it's common in the web hosting industry, so don't worry about it.
Account Activation: Most users enjoy instant activation. If the information is inaccurate or there's suspicion of fraud, activation might get delayed.
Control Panel and Dashboard Experience: Simple and easy-to-use control panel.
Installation of Apps and CMSs (WordPress, Joomla, etc.): Mojo Marketplace makes app installation quick and easy!
Do We Recommend Bluehost?
Yes, we do.
It's the best in uptime and reliability (next to HostGator Cloud) and the speed isn't bad either.
Speed – top 5
Uptime – top 1
They're cheap and it's easy to get started.
In overall, Bluehost is our TOP 1 host and you shouldn't go wrong with it.
Visit www.Bluehost.com
P.S. Have you used Bluehost before? Please consider leaving a review below – good or bad – doesn't really matter until it's helpful to our visitors. Thanks for your support!
75 user reviews for Bluehost

Julia
5 —
February 12, 2019
Easy to use
I've had my blog and store for years but know very little about the technical side of how to set it all up and so on, but I was in need to change web hosts(ughh that previous host still gives me anxiety) and a couple of friends recommended Bluehost. So I signed up and was so surprised about the ease of use. Almost everything is done for you automatically and the things that you need to change have tutorials or support helped me out in no time at all. I have been with them for two months now and couldn't be happier!
Bradley Rubin
2 —
December 22, 2018
Shady webhosting practices
My site has been under daily attack from every port scanner around the world. When I first reached out to bluehost they tried to refer me to a sitesecure monthly service. Maybe this is common among all hosting platforms. But, to me it seems shady. I refuse to pay an additional monthly service. They should secure their customers host account. So I took matters into my own hands and learned about .htacess. My .htacess is now the size of a novella, but it feels like I'm just plugging holes.
Enrique sherwell
2 —
December 14, 2018
2018 the year bluehost went down the drain
Ever since bluehost stopped providing the free comodo ssl certificate, I've been experiencing constant issues with expired certificates, but the real downer is the customer support has been awful, I have to contact their support 3 or 5 times everytime this issue presents itself. And after almost a year of having this same issue every two or three months i still do not have a long lasting solution and it seems that every day their customer support gets worse.
E Holder
2 —
December 7, 2018
Luck of the Draw
After nine years working with Bluehost, it's hard to completely throw them under the bus, except for their Tier 1 "Tech Support" which seems more like an ABM tool than an actual help by design. However, every now and then, about 15% of the time; I get a smart fella on the phone who is capable of understanding my needs. BlueHost have gone downhill by trying to compete with WIX, et al. – I won't be staying.
Philip
1 —
November 28, 2018
Won't acknowledge downtime
UptimeRobot indicated my site went down six times in a few hours. I contacted Bluehost support and their response was that
"Since it is the third party tool which is showing the server logs , we will not be able to completely relay on that, even if website loads slow it would monitor and consider the website is down for few mins."
I explained that tools like Uptime Monitor are there to prevent humans from having to sit in front of their monitors 24/7 to ensure the website doesn't have problems. I then asked "Just to clarify, before BlueHost will investigate further, I will need to actually see an error message that indicates my site is down. Is this correct?"
To which their support replied "Yes, you are correct."
Cait
4 —
October 11, 2018
Good For Hosting but Don't Add Additional Services
I have been using Bluehost for years now with little complaint. This past year I tried adding SiteLock security through Bluehost. What a nightmare! It automatically auto-renews and there is no way to cancel it through the user portal. You have to call someone. I did that and the next day got charged AGAIN due to a "bug" and they had to manually remove the software from my site. I was also out hundreds of dollars for over a week while the reimbursement was processed. The only compensation I got was a single month of free hosting. If you're looking to host with Bluehost I think it's great, but I would caution against going through them for additional services.
Jake Mathews
4 —
August 20, 2018
Good But Too Complicated
I have used Bluehost for a while for one of my clients and found out that it's very good in terms of services and customer support but when it comes to new users without technical knowledge using their panel its difficult at once to use it. As per my experience for me, it felt a little bit complicated but the service and customer support is great.
Terri with Ntl Adv Specialties
5 —
June 4, 2018
Great service / Good for beginners
I was completely new to having a website. The pricing is fair and relatively inexpensive. Whenever I have questions, I'm able to get answers through their web chat or by calling. I was able to build a basic website using the available free options through Bluehost. Their auto-renew is easy to manage. It's been relatively pain-free. I like the service and options.
Todd
5 —
April 5, 2018
Great Hosting / Little Hassle
I migrated over to BlueHost after I found that my previous hosting company was blocking my client's emails as Spam without notifying either party. BlueHost had been recommended by a colleague and the process to migrate my URL was fairly painless. Unfortunately, the platform that I had built my site on previously was not supported, and I had to rebuild from scratch. (this I don't consider a negative, just a factor of doing business) I tried a WordPress site, but found the format too constricting. I eventually used an HTML based product and I was easily able to upload those files and create my website. I wholly recommend BlueHost as web hosting provider.
Monika Spolia
5 —
April 5, 2018
Excellent Service
Great hosting. Excellent prices. I have never had any trouble with the hosting. Anything I need to update, I am told in advance. The customer service is great. Waiting period is not very long. Help is there at your service 24/7. When needed, the blue host reps have walked me through the steps and resolved the issue at hand. Fast, efficient and there for you.
richard
5 —
April 4, 2018
cheap but still a little nasty
Having used Hostgator for years with approximately 30 websites I have never had a problem. What interested me to Bluehost was the 36 month $2.95 option with FREE SSL. As a bit of a techie myself I am finding the Bluehost Chat Support very limited and abrupt with an Iron Curtain between the first line of support and higher level which we don't have direct access to. I will give Bluehost a 95% rating because it's a great package (when it works) however I shall be going back to Hostgator later today if another promised resolution fails to update the SSL certificates within the next few hours.
(update it worked, partially!) I'd suggest Bluehost is best suited for individuals rather than business. It's a shame they don't migrate sites without a $150 charge as it's possible that problems will have been avoided in the first place. Saying this I do not wish to pay $150 if it's just going to fall over again!
Hostgator 95% as more costly but far better self control. Bluehost 95% because it's a lot for your money. My choice? Hostgator for business
Charles
1 —
April 1, 2018
I got them Bluehost blues
I've had Bluehost for over a year and am deeply disappointed. The people who run the service spend all their time pitching extra services instead of making their service better. When I sought advice from them, they recommended I buy services that I later found I didn't need. (They lied to me.) When I tried to turn off the autorenew for these services, I was told by their rep that THERE WAS NO WAY TO TURN OFF AUTORENEW. In other words, they would keep recharging my card forever. I told the rep flatly that they had no legal right to charge my card for a service that I canceled. He said he turned it off, but they didn't, and have been emailing everyday. (I canceled my card to avoid the autorenew.) I could go on with other complaints but will keep this short. Don't use them. They're gangsters.
Eric Miller
5 —
March 30, 2018
I can talk to a living, breathing human being
Bluehost offered me a free month of hosting to post a review. I turned down that incentive because I don't trust compensated reviews of any kind.
Our web needs are fairly simple and in the 7-8 years we've used Bluehost we've been delighted by both the company's web hosting performance and their customer service.
It's rare to call ANY large company's customer service line and find yourself immediately connected to a live, knowledgeable CSR who will patiently work with you until your question is answered or your problem is resolved, but that's always been our experience with Bluehost.
That alone is worth the what we pay them.
Deb Gall
5 —
March 26, 2018
Novice-friendly
Setting up the e-commerce was a bit confusing, and I have found their how-to information a bit thin. I think they could do a better job of documenting this for newbies like me. However, I figured it out, and it has never caused me problems. Their tech support is great to work with, and have always been very polite and knowledgeable. I am not a professional web anything, so they really do make it as easy as one could expect it to be for a complete novice. I have never had an issue with down-time, slow page loads, etc., so I have been very pleased.
Patty
4 —
March 21, 2018
Overall pleased
Overall Bluehost meets our needs and the price is right. As a small not-for-profit our needs started out pretty simple. We are currently changing and expanding our web presence and I am hopeful that Bluehost will be able to continue to provide what we need. I have had good luck with support with one exception. My home IP was blocked and I was unable to access the site from my house for over a week. I work from home so it was a big deal. They kept saying it was my ISP when it actually was being blocked by Bluehost. I jumped through many firey hoops before it was finally fixed.
katie
5 —
March 15, 2018
They Make Me Happy
I literally can't state just how happy BlueHost makes me. Everytime I call in, they are super friendly and knowledgeable. I don't have to wait 30 minutes for someone to answer the phone either. Anytime I have an issue, they literally are HAPPY to resolve it. I have yet to speak with someone at Bluehost that was rude or not helpful. THEY ARE GREAT and I HIGHLY RECOMMEND using them. Awesome job bluehost!
Mike Moreland
2 —
March 12, 2018
Migration is a Nightmare
I have four websites hosted with Bluehost and after having my fifth website designed I decided to have it migrated over. This is a big membership style website and I wanted to have as little downtime as possible so I had the migration done by Bluehost a couple days before New Years when my business would be slow. They told me my SSL certificate would migrate over, my site was not secure so then they told me they were wrong and I had to get another one. 30 days later the site kept having many issues and not secure and then to find out Bluehost never completed the migration properly so they had to do it all over again. This took another week. Their system with migration is the worst ever because they do not use any type of support ticket system. If you send in a support ticket it will take at least three days for someone from the migration department to contact you. If they email you a question it will take them at least another three days to respond again because I am told every email or support ticket goes to the bottom of the list and you are not able to chat among a support ticket. They also have no phone number and the support or customer service at Bluehost tells me they also cant contact them because they all are outside contractors. So with a couple questions back and forth it took ten days before they said they finished the migration but forget a step and it never happened. When we realize what happened and luckily my other hosting company still had my site live, we had to start all over.
Now three months later most of our dashboard does not work, we realize that our site is being directed to a http and not a https sight and our site shows unsecure. When you type in https and my website address the site is all screwed up looking and if someone uses a Mac is automatically takes them to this screwed up site. I have spent over eight hours talking to the support at Bluehost over the past three days. They first said my developer had written the code incorrectly, then they said I had the wrong SSL certificate (they are the ones that got the certificate for me), then they said they were going to un-install and re-install the certificate and when that did not work they realized the last support person installed it wrong. My developer tells me that Bluehost has not configured the site properly during the migration. They tell me that I would have to reach out to the migration department because they have no way of doing that but they think the code is wrong and not a migration issue. I know it will take 3-4 days for the migration department to contact me and they will ask me questions which will take another 3-4 days and at the end they probably will deny any responsibility. So I am forced to pay my developer $300 to go in an correct the problem on the website that BlueHost created.
Wade Myers
5 —
March 9, 2018
I had to come here to give her more than 5 stars
Very professional and awesome to work with!!
Frank Moritz
5 —
March 9, 2018
A Completely Worry-Free Experience!
I am in my second year of hosting my first-ever website on Bluehost, and I have had no problems or down-time.
Mark Mooring
5 —
February 28, 2018
A+ for Bluehost
I switched from another host because of frequent outages & poor customer service. Bluehost has been a great choice. It was easy to transfer my website with very available customer support. The dashboard is easy to understand & navigate. The price is a good value. They are an excellent choice for WordPress hosting. I have experienced virtually no outages since moving to Bluehost. Also speed & server response times were much improved. I am glad I found them.
R H
5 —
February 28, 2018
Very Happy with Bluehost
Excellent "up time." Seamless updates. Good security options. I wish I had more and better skills so I could take advantage of more of the features available to me on Bluehost.
Elizabeth Aberline
2 —
February 21, 2018
Short and bitter
Due to a change in circumstances I had to cancel my subscription. Never would I touch their chat service again. I spent over an hour trying to cancel. Had to go to my email to get token number. Returned and it was another person. Person number 3 told me that my account name and all else was not correct. But passed by persons 1 & 2. After asking for someone else with more authority she stated that my account was cancelled and that I would have to answer some questions. She disappeared. I logged in again for person no. 4. She knew what was going on. Gave me the questions then it was done and she disappeared. My original cost was $385. I am going to receive back $201. It cost me $184 for 24 days. That is their guarantee. I believe they tried every trick in the book to frustrate me and walk away including lies.
John Lally
5 —
January 4, 2018
top-notch service
Count me a satisfied customer. This website is the oldest of the four I've hosted at Bluehost since 2010 — and I wouldn't dream of moving any of them. They are cost-competive and service oriented. By the numbers:
1. Account services and maintenance has always been excellent. They were good to work with setting the accounts up, and were very good helping me set up the best value package to meet our needs,
2. Security is a strong point. I appreciate their diligence in protecting my asset. I would characterize them as an optimal mix of strong procedures and realistic administration.
3. Tech support– Has been top of the line — knowledgeable, good listeners, patient, and understanding, excellent communicators.
Mike McCloskey
5 —
January 4, 2018
Most dependable, reliable hosting company
I have hosted seven of my customer's websites on Bluehost for nearly ten years. Not once during that time have my clients lost one minute of hosting service for any reason. Part of the reason for that I believe is because of the periodic updating of their servers. Bluehost appears to be operating and meticulously maintaining state of the art servers. Another factor in Bluehost's outstanding performance in the quality and skill of the technical support representatives. When I have had a question about online renewal of my customers domain licenses or hosting or file uploads I can confidently tell my customers that I will have an answer for their questions in a matter of minutes. My confidence in Bluehost technical support was developed over those same seven years in never once having to wait for my call to be picked-up, never once having a support person provide an incorrect answer or solution to a request, never once having to ask a representative if they could transfer me to someone who spoke English. I will always reward a vendor that provides this level of service and this level of professional integrity, with my loyalty.
Lauren Brillante
5 —
January 2, 2018
Customer Service
I switched TO Blue Host a few months ago after having had Justhost.com and then Ipage.com as hosting companies I used for years switching both times because their customer service went way downhill.
My number one reason for joining any hosting service has been 'quality customer service'.
In my experience, live customer service is 100 times more effective than chat which can often be a big waste of my time and energy.
Clearly there is a competitive market for hosting and keeping costs down and prices affordable which makes customer service via chat much more cost effective. However, not all chat support is the same and as soon as a company makes live support inaccessible, I am out.
After numerous terrible experiences with chat support with Ipage.com… I switched to Bluehost. I have been able to get effective chat support and 'live' support with Bluehost and THAT is what I was shopping for.
My internet needs are simple. I host various domains with fairly simple websites. I do not use WordPress/Templates. I use a free version of Serif that lets me build a simple site with more flexibility. This works fine with Bluehost it just took a little effort to figure out how to publish with a slightly different file path. My sites and email work just fine.
I recommend Bluehost to everyone, especially because, after my previous experiences, I think the only way to keep great customer service going is to keep a good hosting company growing.
My sites and email work properly.
Kenny
2 —
December 29, 2017
Stay away from Bluehost
Tech support answers the phone quickly, but is trained to blame your code for any outage or issue with their web hosting servers. The agents answering the tech support lines have very substandard technical knowledge and don't expect them to help with any technical issue.
I started with a plain shared website. Performance was horrible. Was upsold on a more expensive plan, improved somewhat but ended up with a another upsell just to move my site to another server because support was unwilling to help with issue that was plaguing the old server. After a couple months of trouble free time on the new cloud server, issues started popping up again. Frequent server down times or restarts, random reverse proxy or load ballancer timeouts. As soon as I can find a block of time to migrate my web site I am leaving.
Yolla
5 —
December 24, 2017
No issues
Signed up with bluehost couple of years ago, been happy ever since, site runs smoothly support is helpful. I do want to say that I did not expect the renewal price to be higher than what I paid initially; I did look up renewal pricing with other web host, it turned out that they all charge a higher renewal price; I stayed with Bluehost where I remained happy.
Alma T
5 —
December 23, 2017
Cannot be happier!
Just got off a call with Joe from support, been working on launching the site, and he was super helpful. As a person that had no clue how to set up a website it was really important for me to find a company with affordable pricing, one that has helpful resources, and great support. When I first wanted to start my websites, I search how to set up my blog and found lots of resources on how to do it on bluehost, when I encountered issues installing a theme I contacted support and they were really helpful. The rep was nice enough that he suggested couple of plugin to help me with my SEO stuff. So far been really happy with bluehost!
Al
5 —
December 21, 2017
Love you bluehost!!
I have been with Bluehost for 6 years now and I cannot be happier, the initial pricing that I signed up for was very reasonable, I still remember price shopping around and noticed that Bluehost was recommended by many influencers in the industry, they are also the top recommended host on WordPress, going with them was for sure the right choice. I love how they do the auto update for my WordPress site, i have had an issue with a couple of bad plugins, but with the current auto update, things cannot be more secure. I learned that they recently started offering free SSL, soon I will be selling a couple of products on my site, having the free SSL cannot be better.
Ivy Frazier
2 —
November 17, 2017
Over Zealous Security
The account was deactivated for suspicious activity. Please send a copy of 1. A government-issued ID showing the name of the account owner, 2. Some form of official documentation substantiating address, such as a utility bill in hard copy, or other business/personal documents to [email protected] to reactivate the account.
In the middle of setting up my email address for my site, less than 18 hours of signing up for the service; I get the above email stating my site has been deactivated due to suspicious activity. Really? All I did was send 5 test emails when configuring Microsoft Live and ThunderBird email clients. I was the one who got suspicious…you want me to send you a copy of my drivers license and a utility bill to you or you wont reactivate the account and website? It goes without saying, I cancelled the service and now am waiting 5-10 business days for a refund. Wow!
Yasin
1 —
November 17, 2017
Not Trustworthy
I used their VPS for a few years with some problems (had to solve lots of them my own). Uptime was good, speed was mediocre and apps were working good but if you have a problem their staff cannot solve and just tell try this try that.
My first big problem was about disk space. It was going up full for every 2 – 3 months. Of course their staff couldn't solve the problem. It was not my problem or my software's. I had to solve this by myself by using SSH for hours.
Lastly they started to not to accept my credit card. I used the same card for years on their site without any problem. They said try different cards. We tried lots of different cards and their service refused all of them with nonsense errors. Even our banks couldn't understand what is going on. We are using the same credit cards all over the world without any problem.
Our service down for about 2 weeks because of bluehost. STAY AWAY from bluehost.
Paul Morgan
3 —
November 13, 2017
Small print: be careful of refund claims with Bluehost.com
Bluehost is fine like you say, but it didn't work for me. I decide on a refund and I had checked out the details under refund. "Bluehost will deduct a non-refundable domain fee of 15.99 from your refund." which is fair enough, but they also opted me in for privacy, which I didn't notice and didn't require since I was just testing, so I was charged extra for that. They argue the small prints made it clear, but the line
"Bluehost will deduct a non-refundable domain fee of 15.99 from your refund." could have included more details of what else could be taken from your refund. it just seems a little sneaky not to outline everything under the refund section. There answer to me was, if it wasn't clear, you should have asked us.
Richie
3 —
October 24, 2017
Bluehost is starting to stink
the emails were working today and all of a sudden after 9AM PST, the emails stopped working. So I contacted bluehost to find out what's going on. I logged into the account and check as well. i went into the email area and found that all the emails on the account is gone. WTF! I'm with the agent chatting and it's now 10:31AM PST and still no answer as to what happened and what is going on.
Ryan
2 —
October 11, 2017
Don't do it!
Bluehost has been a bad experience! We started using Bluehost about 5 years ago to host a few of our company websites. Things were fine. Then we added more websites, as well as our company email. In the last few months, we noticed our websites would go blank during the day. No explanation from Bluehost as to why it was happening – you would think they might contact us and inform us of the problem, and offer some solutions. We had to contact them – their suggestion was to move to a dedicated host because our website traffic was too large for a shared server. So we migrated. Apparently Bluehost does zero backups, and we lost a lot of valuable emails in the process. They also removed our SSL certificate, and told us it would cost $149/yr per site to get it back (we host about 20 sites). It also altered our ability to upload media files to our websites via wordpress, adversely limiting our ability to do work on our websites. Their answer is to use FTP – however, when you have 10 people who work on your websites and are familiar with WordPress, there is a learning curve to FTP.
Long story short, Bluehost caused a HUGE disruption to our business. And when you call customer support, they give you the run around ("let me transfer you to that department"), only to find out their knowledge and experience is very limited.
Hope this review helps. If your hosting needs are minimal, you'll probably be fine with Bluehost. You get what you pay for.
Amin
5 —
October 1, 2017
BlueHost is the Best
I'm with bluehost for more than a year now.
Never had a problem with them , online chat and customer support are always perfect.
Cpanel is simple and it contains everything you need.
Simply Bluehost is the best.
Munna Hossain
4 —
May 24, 2017
Bluehost should not be your only choice
Web hosting is crucial for your WordPress site. The performance of your site mainly depends on your web hosting service. There are different web hosting providers. Bluehost is one of the leading. But I think it should not be your best choice.
I am not happy with their customer support, it is not a cheap web hosting service.
Their tech support is not perfect for the users especially the beginners. Because they have many problems.
Bluehost performance is average. They have many things should be improved.
Fahad Nizar
5 —
May 1, 2017
Bluehost is a reliable host
Every hosting has it's own pros and cons. If you ask me whether bluehost is the best hosting then I would say No.
There are better hosting providers like aws (Quora runs on aws), Google hosting.
If you are just now starting to blog and if this is going to be your first website then, Bluehost is a reliable host.
But for starters, it is really difficult to use aws or google hosting server. You need to be well-versed with a command line to use these services. That's why I recommend a shared hosting provider.
When it comes to shared hosting all hosting providers are the same. I recommend bluehost because of their refund policy and 24/7 support etc..
Akshay
5 —
April 25, 2017
Bluehost The Best
Bluehost is the best hosting provider,using it for last 2 years and no problems there.
John T
2 —
April 4, 2017
Problems with my emails
I Am to the edge of losing my job now due to the worst desision of my life: moving to Bluehost! It was so a terrible mistake, it has been a nightmare since the beginning. I can firmly tell you after talking to one after one after one support agent thay they don't have the slightest idea of what they are talking about, support agents can barely speak good english (worst than mine), they talk like they are on India or somewhere there, and they are not prepare for REAL TROUBLE, they are just prepared to dumb solutions like: restart your computer, use another browser, it is your ISP problem, for God's sake! This is a nightmare.
I been struggling with email problems since 2 weeks ago! Talked to many support agents, one and another, waited for long times (right now I have a chat with them since 3 and a half hours ago and they don't have a little idea of what to do), they have given me a lot o stupid excuses like ("sorry the chat is slow" or "I am just a representative not a specialist").
I sent them a TRACE from my IP to their IP and they don't even now what a TRACEROUTE is!!
shravan
5 —
March 9, 2017
Top wordpress hosting provider
I'm using WordPress hosting account on Bluehost from last 2 year but still, i've not found any problem with this hosting company, their customer services is very good and prices are also better than other hosting company so I suggest this hosting company all of you.
Daniel
3 —
March 6, 2017
Not That Happy
Well, I switched to BlueHost to increase the page load speed, etc. That's not happening! In fact, it's really bad with going into wp-admin. The recent outage took me by surprise and in talking with them I asked about "cloud redundancy" and was told the entire cloud service was down. There is something definitely wrong with that picture and they really need to look at how they are configured. Anyway, the pricing hook is dead on and I was believed to think I'd get the intro price for 12 months but guess what? Not gonna happen unless you do 3 years. I talked, at length with sales before making the switch and wasn't told that, in fact was told just the opposite. So, yeah I felt the bait/switch routine.
I do like the ease of setup and the tools for sure. The $150 buck we can transfer talk went in one ear and out the other. Fortunately for me, I have an IT background and didn't need that but they should have been clear about that for those who need that kind of assistance.
Bottom line, when my 12 months are up, I am going with another provider period. I refused to transfer my domains over to BH and glad I did, so I should have any issues with that come moving day.
Adithya
5 —
February 8, 2017
Definitely a good web host
I would like to start by saying that BlueHost is a pretty great Web Hosting Service. I have used it for Hosting WordPress Websites and I can see it is having great speed, good functionalities and OK Support. Another great thing that really made me go for is their Affordable Prices. I find the prices just right.
Happy with BlueHost. I had few minor issues but that wasn't big of a deal. I still continue to use BlueHost and I would recommend it for fellow bloggers and Web designers.
There are rarely any downtimes. I never faced any huge downtimes with bluehost.
If you are looking for a good Web Hosting with great Speed, Security and Reliability for an Affordable Price, Blue Host is one of them.
A.I.N
1 —
February 3, 2017
Horrible host. Horrible Tech support
I have been with Bluehost for up to 5 years but I am totally fed up. For the first time in a long while I finally got 3 sites that were getting traffic! What did Bluehost do? The throttled the sites and now it takes over 10 minutes to load a page.
Its been 3 days today of back and forth – CPanel is frozen. My 3 active sites are frozen! Tech support blames me for not optimising my databases. They want me to add something called CDN. The last person I spoke to tried to sell the cloud service to me. I finally got it. I am been held hostage. I HAVE TO upgrade or be damned! I have gone as far as asking how to add this CDN – me not being too techie but I seem to have hit a wall with tech supp. or they are pissed off with me for being so dumb!
How am I supposed to optimise the sites when they are inaccessible. CPanel takes 10 minutes or more to transit between pages. Its not something you would wish on your worst enemy. I have tried to explain this vicious circle to no avail.
To date I have spoke with 5 different tech support guys but they throw it back in my face. Not being a techie, I am left with 3 crippled sites with no clue who to turn to. Recently they no longer respond to emails. My business is crippled – just when I finally started getting traffic.
I will advise to look before you leap with this host.
Mary Doo
5 —
December 30, 2016
BlueHost.com
I have been very happy with Bluehost.com. Their technical support had helped me through humps. Can't ask for anything more at $3.49 per month for a 3-year into price with multiple websites.
Adey
5 —
December 25, 2016
Bluehost Review
I am using Bluehost from 2014 and my experience with Bluehost is just excellent, I never encountered a single hosting problem in last 3 yeas, The customer support provided by them is even awesome. I 100% Recommend Bluehost to everyone.
Dev
4 —
December 22, 2016
Far from perfect, but better than most
I have been with BlueHost for a 2+ years now. I have a WordPress and a PHP site hosted with them. I agree that performance isn't great (as the numbers show) but luckily my sites are small and don't get much traffic so I don't think it affects me much. If any of my sites get popular or start making me money, I would probably switch over to something else. But for now, the price is great – I locked in my rate for 3 years so I wouldn't have to worry about the price going up..
Brian
2 —
November 30, 2016
Getting Worse
I've been with bluehost 10-15 years, and used to be quite happy with their hosting, prices, and I understood the limitations of shared hosting, but for the most part it didn't matter for my purposes. I now have a few packages personally, shared, VPS, Cloud, and manage about 50ish of my clients that use bluehost as well. The last 6 months service-wise has been appalling. Slow, lies, misinformation, and it honestly feels like they'll tell you anything to get you to just go away; try to get them to listen to logic, forget it! I am now recommending all of my clients on bluehost leave, because when they have issues I don't want to be the one they call to deal with BlueHost's support. I also agree, their server responses have gotten extremely laggy, and oddly enough the shared hosting seems faster than packages that are supposed to be much better.
Eric Powell
2 —
November 19, 2016
No Technical Support
I have had a site with Bluehost, mostly problem free for the past five years. Previous issues have been resolved efficiently, but not anymore!
Last week I received an email from them stating that 'Emergency Maintenance" was required on my box, and that it would entail 30-90 minutes of downtime. Not so. They completely broke my site, and I am unable to get through to their technical support, so I have critical data trapped in a database I can't access because they scrambled the configuration. I can't even put up a temporary site on a dynamic host to keep my business running! SO PISSED right now.
Haitham
5 —
October 23, 2016
Good
I've been with Bluehost for almost a year, I have a VPS with them, the uptime for the last 12 months is 100%, support is beyond good, they reply to me quickly usually within 5 minutes, last Friday morning, I was playing with Apache setting, trying to optimize Apache through WHM and finally I got a 403 forbidden error, my website went down, I couldn't fix it… so I connected live chat support, they responded in less than 60 seconds, after 5 min. live chat support couldn't fix the issue, he said to me: "please wait for 5-10 min, I'll get you a senior technician to fix your problem" 7 or 8 minutes later, he said to me : you site back to work , the senior technician said there was a problem with WHM and he gets it fixed" it took 17 -18 min. to fix my issue….
To be honest, shared hosting sucks, there's no good one, but you can find someone who is less bad than the others….all shared plans have limitations, probably, one day, you'll be on the suspension list!
Most customers with shared hosting are second-degree customers, you get what you pay for, for example, A2 hosting, they have priority support for $19 a month, without priority support, it's almost like Bluehost support… and maybe even worse…
Jared M
2 —
October 23, 2016
Custom Service and Tech Support Virtually Non-Existent
You can pretty much judge / rate / review ANY company–in ANY industry–by their level of customer support. And from the perspective, Bluehost should be rated a 1 out of 10. If you are an existing Bluehost customer, there is literally no way to contact them directly. They have an ticket and a chat feature only… both of which are outsourced to India and take a LONG time to get through to anyone… and usually results in zero actual assistance or results.
They have, literally, outsourced 100% of their customer support and tech support to a foreign their party that has no idea what they are doing. And even if their outsourced / 3rd party tech support was "OK", that doesn't excuse or explain completely cutting yourself off from your customers… the people that pay your bills. In my experience, that's the beginning of the end for any company–when they simply do not want to have any direct contact–or feedback–from their customers.
It took me 20 to 30 minutes in a chat queue and another 15 or 20 minutes going back and forth with the person on the other end of the chat to get a simple contact email for bluehost–because there are none published anywhere on their site or online. Not for basic questions–about anything. Not for feeback–about anything. Not for suggestions–about anything.
Hosting companies know what a complete pain in the ass moving your websites to a new host usually is… so, once they have you as a customer… they rarely provide you with any real support. It's a common and ongoing problem. Bluehost is my 3rd hosting company. I thought I had finally found a host that had at least a reasonable level of service… but I was wrong.
Eunge
5 —
October 2, 2016
They're OK.
Some issues you mentioned perhaps are true, but it's just to make BlueHost black.
The shared hosting service is upselling universally, including technical support, hardware and bandwidth. In this industry, a tech representative is serving for 5,000 users at least by design, considering the salary of US$3000/mo and the service fee of US$4/mo only. Otherwise company makes no profit. In this case, when you have an issue according to the server even the network which are generic to almost the other users, the technical support is NO possible for anything certainly.
I have personally visited more than famous hosting companies in US. Unlike many other companies doing support outsourcing, BlueHost is obviously the best one in many aspects. They have 2 standalone buildings (3-floors for each) with 200+ full-time employess and 400+ interns.
Corey
2 —
September 28, 2016
High renewal costs
I was sucked into the low price offer and the recommendation from WordPress.org, I did have good service for 3 years. I then noticed my Jetpack plugin show a lot of down time moments through out 3 year period. Also it is quite slow, and speed is important for ranking with google. But what stopped my trust was the renewal fee of $11 a month, that is more than 100% increase in price. I think someone managing Blue Host decided that since customers are on auto renewal, lets just double the price and we will be instantly rich.
Jeff
5 —
September 19, 2016
It all depends on your situation
I JUST switched to today so don't consider this to be a full review, but I do have some observations worth noting.
Within the span of a day I got this cheap little account to host 2 WordPress sites and one static site, all without additional fees. The cPanel is good. The WordPress install worked well. Everything so far is working out.
But the path to get here involved a support chat session lasting 45 minutes with someone so horrendous that all I can do is laugh now. To be fair, he must have been dealing with a dozen customers at once but he was so fine with being incompetent that he must have been at his wits end. I decided to abort this chat and look up info elsewhere and things worked out, but had I actually listened to anything he said I would have messed everything up very badly.
Also the FTP is horrendously slow ( 44kb/sec ), 2x slower than godaddy which I though must have been the worst but nope. Honestly this won't usually matter to much since most large file transfers will be http and not ftp but it's worth mentioning.
Julie
5 —
September 17, 2016
Bluehost is Worth Your Money
Bluehost is a money-worth as I am using it for two years and have to faced nay big issue, other than slight downtime's which can come with any web host, but most of the times, my website was up and running within few minutes.
Also, my technical problems were solved by Bluehost staff very quickly, so I would highly recommend Bluehost to all the new bloggers and webmasters.
Esjay
2 —
September 10, 2016
Leaving Bluehost after 8 years
Used to be a good hosting company. Downhill for a year now, with problems escalating since Jan 2016. Cpanel does not work. Hotlink protection does not work. Contacted support and they tried to blame me. I told them it was a file change they had made and I had deleted my htaccess file and used their own cpanel hotlink protection and it failed. Support person deleted files they had changed to erase their fingerprint and it still does not work. Domain manager, cannot disable Privacy Protection. Chat support unable to assist said created Help ticket. Copy sent does not include issue. Contacted support again to verify ticket and was told nothing they can do, Domain Support not in on weekends! So much for the 24/7 support they advertise! Make Copies of EVERY contact with Bluehost including your billing info. This is interstate commerce and carried out over wire.
firos
4 —
September 6, 2016
So far OK hosting
I am using Bluehost for last 5 years to manage around 30 websites.
Here is my exact feedback.
1. Email service is bad. Very slow. Poor interface. Most of my customers complained about email slowness, so we were forced to switch email hosting to Rediff/Google.
2. Support is good. Everytime support is available on chat or call. They are supportive and many times they helped me to fix the issue except few times depends on the chat person.
3. Worst thing is, if they found any website malware issue, they will simply deactivate the service and all of my customers started to complain.
4. Hosting multiple websites on server facitlity is good. Cpanel features are good. WordPress installation is also good.
5. Cost is too affordable.
Solo
4 —
July 11, 2016
OK but declining
I managed a website on a wordpress platform for a medium size business for 4 years. Their hosting service started out well for us but after about 18 months the site speed started to decline so I upgraded to a VPS business package which only helped for a few months.
As time went on I experienced declining results in page load speed, a marked increase in traffic throttling (a real bummer when multiple clients are trying to browse your site), and more frequent down times.
In the beginning I was very happy with Bluehost. Having that first year happy experience set me up for disappointment later as the site grew along with hosting expenses.
I will say that Bluehost support on the phone was great the first year and their resource library will walk any newbie through just about every question asked in simple clear video tutorials. For a small noncritical site I think they are a fine host, but for a business wishing to be successful I don't recommend them after your site traffic grows.
Ben Yanke
2 —
July 5, 2016
Used to be Good – But Stay Clear Now!
I have had nothing but trouble with bluehost. I manage a number of sites, including our company website, and their support was unhelpful at best. My almost brand new (ie, not bogged down) WP installation was dealing with 10-15 second load times, if it would load at all. It was a combination of DB and filesystem issues. And another site was taken offline for almost 3 days due to bluehost's database issues, and as I was transferring a third away from them, the whole server itself crashed, leaving me without my site's data for the rest of the day, and the site offline. Their hosting on some of their boxes is simply unreliable, and their databases are even worse.
I'm not sure if their infrastructure is crumbling or if it's just incompetency, but in 2 months, 3 separate sites (hosted on 3 separate boxes…I checked) all experienced relatively serious issues thanks to hosting issues.
For those who say their uptime and site load time has been great with wordpress, I suspect it's because they aren't checking their site often. Run some scripted cron checks and you'll see how bad things are sometimes. I'm not saying every site is down all the time, but it's far too often for a supposedly reliable host.
In other words, I am staying clear of bluehost, and moving all my clients away from them as soon as I'm able. Stay clear. And now I'm going to be sharing these reviews far and wide.
Sorry, Bluehost. You just can't treat customers like that, especially customers who are responsible for sending you over $100/mo. You're not making that from me anymore, and you'll not be seeing my business anytime soon.
Jaylord Cuevas
5 —
June 12, 2016
Bluehost is doing their job!
I would definitely recommend Bluehost as your hosting provider because of the excellent features they give that other hosting providers can't. Whenever you have a problem, customer support is very important and they give 24/7 round the clock support so no need to worry. Although their pricing is cheap than other providers, 'reliability' of their servers are outstanding! And the feature that I liked most is their user-friendly control panel. Right from creating your account 'til hosting setup, the process is sure easy to understand and you would complete it in minutes.
I highly recommend Bluehost especially if you have a WordPress site. Just a couple of clicks and you'll have.
WordPress installed and working on your site without touching a line of code.
Joseph Dlhopolsky
2 —
May 19, 2016
Dropped the ball
We've been with Bluehost for many years. Recently we have encountered problems with e-mails sent from the site. When something goes wrong and there have been no software changes on our end, the finger points to a server issue. The most recent problem was html-formatted e-mails being sent from the code by the mature and widely used phpmailer library. They were being sent as plain text with nr paragraph codes embedded. A ticket to technical support was returned telling us that they don't offer software support (which we never asked for) and to upgrade PHP from 5.3 to 5.4. This was the wrong answer, given that phpmailer works back to PHP 5.1.
They also had a DOS attack that took them more than a day to fend off.
Ignacio Cossini
4 —
May 1, 2016
Good, but not premium
I've been using Bluehost many years.. I'm on a shared hosting plan with no traffic limit. The price is standard and in general – the performance is 'OK', however lately looks weak…
I feel that my site's performance is has been going down over the past 6 months. I have a standard WordPress site with very low traffic and a latency of 15secs! I contacted support for help and their answer was to follow the standard guidelines, the same info as you can find over the net yourself.
That made me feel like they DO NOT appreciate me as client and maybe it's time for me to look for a new hosting provider…
Max
4 —
April 19, 2016
Good for new sites
Bluehost has been around for a long time and I have been a happy customer for a few years.
Pros:
1. cPanel
2. Adwords credit (not sure if anyone needs it, though)
3. Good for a bunch of small websites. If you have 15 sites that receive barely any traffic (under 100 visits a day)
Cons:
1. A bit slow if the site grows bigger
2. Renewal pricing is not the same as promotional pricing on signup.
Jonathan Shyman
2 —
April 18, 2016
Very serious email problem
I had been hosting with Bluehost for a few months. A client called me and said they were having trouble logging into their email. I logged into cpanel and they were correct, their email address was somehow missing. I quickly called bluehost, and they agreed that some hosting accounts were just dropping email accounts. All the emails were still on the server, but every once in a while I would need to recreate the account for the client to access it.
I was shocked of course that such a well known host would have such a huge problem, and not even warm me about it! A client could lose thousands before realizing that the problem was simply that their email had gotten closed with no warning before or after. Here is the kicker: Bluehost had no idea when it would be fixed or even had a short term solution for me. They were saying that it was something I was just going to have to deal with.
That day I opened with a new company, moved my sites, and never looked back…
Mitch
5 —
April 18, 2016
Good Experience
I have been a Bluehost user for almost 5 years now. Bluehost has consistently provided outstanding tech support. I would absolutely recommend Bluehost to a friend.
Keith Schindler
5 —
April 15, 2016
Bluehost is great.
Definitely have to shout out for BlueHost. I have three domains registered, with two active websites. Registering the domains was a piece of cake as was setting up the first website. The second was originally a WordPress free site that I moved to BlueHost. The transition was seamless.
My only frustration has been with an online Chat support session where the supported didn't seem to read my comments, or couldn't understand me. Other than that, I am REALLY pleased with BlueHost and will recommend them to everybody.
Mali
4 —
April 15, 2016
More complex than advertised
As someone who has never built a website, I was hopeful that the easy-to-use advertisement of Bluehost would ring true. Unfortunately, once I began the process of building the website, it got complicated and getting help would cost me even more money!
While I am still working on the site, I was a little disappointed and cannot yet say whether or not it will have been money well spent. What further irked me, however, was that they immediately tried to sell me more stuff and badger me into 'upgrading'.
That said, there is plenty on offer when building the site, which makes the process more complicated for non-techies like me, but will surely be an asset for serious site-builders. For example, lost of free downloads, templates and the like as well as WordPress, which I am learning to use.
Overall, I have to say the jury is still out, but I'm hoping it will be worthwhile.
Alicia Rades
5 —
April 13, 2016
Good company, but a bit slow…
Overall, I've had a great experience with Bluehost, and I've been using them for about 4 years. I started with the Basic shared hosting package and later upgraded to the Business Pro plan.
I've experienced very little downtime (I noticed my site down once for about 10 minutes), and I've found their platform very easy to navigate. Because of that, I haven't had to talk to support much, but when I have, they seemed very friendly and helpful. I have never had any security problems, either.
The biggest drawback is that my site isn't as quick as I'd like it to be. I've done a lot to try to speed it up, like optimizing images, installing a cache plugin, etc., but my site still takes about 3 seconds to load (tested by Pingdom). That's on the Business Pro plan, and that's faster than the Basic plan.
If you're looking for a fast site, Bluehost probably isn't the answer, but if you need something easy to use to get you started, it's a good company to work with.
Joseph
4 —
April 9, 2016
Decent host
I've been using Bluehost for several years – mostly for myself and some of my clients (I'm WordPress developer).
I've yet to seen a problem or an error from a client side. I'd say they are pretty decent host for a small to medium sized blog/website.
Peter
4 —
April 8, 2016
Good 🙂
I like these guys a lot better than my previous host. They have great tech support (most of the time), are polite and responsive (short wait times). I especially like the tools they provide: cPanel, WordPress Tools, SpamAssassin, etc. Highly recommended.
Scot Mactaggart
4 —
April 2, 2016
Low price, but works well…
The WordPress-specific hosting plan at BlueHost feels a bit pricey, and I don't know if I'll ever get over that feeling, but the setup and management steps I've taken with my new site have been noticeably faster than other WP sites I've run.
The 20 points I knocked off were mostly about the need for some polish in the cPanel / WebDisk / domain management areas. Like when I log in, I land on what it tells me is a deprecated page…or when the step-by-step instructions didn't actually match the steps in application. Luckily, I've done most of this before and setup and testing continue.
Richard
4 —
March 15, 2016
Bluehost is better than 1and1 BUT…
The GOOD
Gets a site up ASAP! A simple site, like for a small business, will be fine with Bluehost. Their people actually will assist with WordPress related problems and issues, which 1and1 would not even touch.
The BAD
Once your site actually starts to get traffic and scale, Bluehost falls apart. The service seems set up for sites with zero – 50 daily visitors. My site on a dedicated Premium Bluehost account struggles to cope with 3000 unique visitors daily. Crashes frequently.
HB Abels
5 —
March 2, 2016
Solid performance
I manage several websites with Bluehost and have nothing but a good experience with them. Their cPanel is well laid out and easy to do most tasks like upload WordPress or setup email accounts. There are plenty of helpful tutorial videos and pages that get you going as well.
The few times I've need customer service they were always available quickly and went above and beyond to help me resolve my issues. Their price point is very reasonable for the features and performance and they offer an good affiliate program as well. I will continue to use and recommend to others.
Jasper Ribbers
5 —
December 18, 2015
Great experiences so far..
I've had great experiences with Bluehost.
First of all, I find the interface very easy to use, which is not the case with some of the other services that I've tried. I've wasted a lot of time trying to find what I was looking for as I'm not very technical and not familiar with a lot of the hosting lingo. The tutorials are also very helpful.
Secondly, site performance is excellent, my site is fast and always online. Finally, the customer support via chat is very fast. I also love that it's 24/7, so I'm not tied to US working hours. I've always been helped pretty quickly. All in all, Bluehost is the best hosting service in my opinion.
Ryan James
5 —
December 10, 2015
First website? Give it a go…
BlueHost has consistently been a reliable hosting service since my first day as a digital entrepreneur. Their prices are affordable and the quality is on par. The customer service is quick and always able to resolve any questions or concerns that I have.
Long story short, if this is your your first website, give BlueHost a shot. We recommend it highly to all Startup Savant readers.
Dom Wells
5 —
December 8, 2015
Best platform for beginners
Bluehost is hands down one of the best hosting platforms for beginners.
It's price-friendly, and the interface is easy to get around, unlike some other hosting companies that give a very scary and tech-heavy dashboard. It's also friendly on the wallet, has excellent support, and isn't going to randomly go offline if your site gets more than 10 visits.