Mid Range Business Web Hosting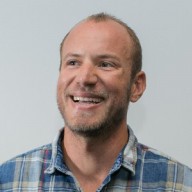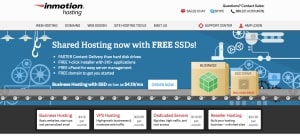 InMotion Homepage
Chances are that you're familiar with InMotion Hosting.
Maybe you haven't used them, but you've heard of them. Or seen them around. A vague recollection of their name or ads somewhere some time.
That's because they're BIG.
Since 2001, InMotion has grown a customer base of over 300,000 domains with two data centers in Los Angeles and Virginia Beach. (Fun Fact: turns out they also own Web Hosting Hub, which is more targeted towards bloggers and beginners.)
As one of the older and more established names in the industry, they also boast grandiose claims of being numero uno in transfers, support, and industry guarantee.
But here's the thing:
Many times, the largest companies are the worst offenders. Coasting by on their brand recognition or flashy ad campaigns while neglecting the things that made them successful in the first place.
Is InMotion an established company who's keeping the quality which made them successful? Or are they just another large enterprise getting by on reputation alone?
To find out and provide an unbiased review, we purchased an InMotion "Launch Plan" back in June 2015 and set up a basic WordPress test website. Stats like uptime & speed can be seen here (click "History" to dig deeper).
This review relies strongly on data, such as uptime, load time (speed) and customer support experience.
Pros of inMotion Hosting
InMotion performs well on three big areas of uptime, speed, and support. They also provide a few additional features which can make your experience more enjoyable.
Let's take a look:
1. Average Uptime of 99.95%
Right out of the gate, InMotion's uptime clocked in at 99.947% (0.007% better than the industry average of 99.94%) based on our careful tracking and monitoring over the last 16-months. But these days that's not good enough to even put them in our top 20.
What I personally like about their uptime is that they're consistently getting more reliable.
Last 16-month average uptime:
March 2019 average uptime: 99.98%
February 2019 average uptime: 99.98%
January 2019 average uptime: 99.98%
December 2018 average uptime: 99.97%
November 2018 average uptime: 99.95%
October 2018 average uptime: 99.91%
September 2018 average uptime: 99.99%
August 2018 average uptime: 99.98%
July 2018 average uptime: 99.98%
June 2018 average uptime: 99.93%
May 2018 average uptime: 99.97%
April 2018 average uptime: 99.99%
March 2018 average uptime: 99.96%
February 2018 average uptime: 99.91%
January 2018 average uptime: 99.68%
December 2017 average uptime: 99.99%

InMotion average uptime 2017-2019 | See stats
2. Fast Server Speed
Fast loading times aren't just great for user experience. Speed is also factored into Google's algorithm for dictating where in the rankings you'll show up (you know – the whole SEO thing). How fast your page loads has one of the biggest impacts on your bottom line, forcing half your traffic to bounce if it doesn't load within two seconds.
InMotion followed their strong uptime performance with an average page loading times of 855ms. In other words, 4% faster than the competition's average of 890ms.
One poor company, Web Hosting Pad even had an average page load time of ~1281ms. So yeah – InMotion is pretty quick in comparison!
Last 16-month average load time: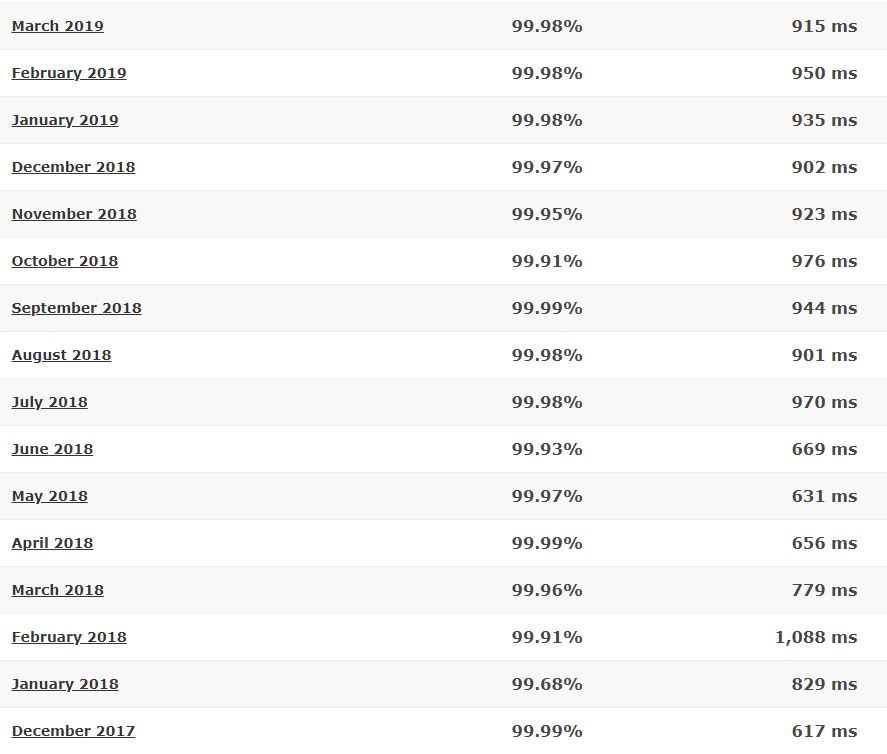 InMotion average speed 2017-2019 | See stats
3. Customer Support – 10 out of 10
InMotion Hosting claims that they're a leader in web hosting customer support.
Frankly, this isn't a particularly bold assertion to make. Web hosting customer service has been historically unreliable and ineffective, and the industry is notorious for turning even the simplest issues into a multi-week fiasco.
As such, I don't exactly have high hopes when any particular hosting company claims to be a "Leader in Customer Support".
Reviewing InMotion Hosting, I was pleasantly surprised. During the course of this review, I personally investigated the quality of their support team and conducted a thorough "Background Check" with actual customers to ensure that my interaction was not anomalous.
I'm proud to report that the entire 'investigation' yielded nothing but positive results. I presented the customer service representative with 3 simple but telling queries designed to gauge their product knowledge and general efficacy.
As you'll see below, the results were outstanding!
Within 2 minutes of submitting my ticket, I was connected with a live agent who quickly and professionally answered all of my questions. While I'm compelled to mention that their account activation is not instant when you are using InMotion outside the U.S., my overall experience with their customer support team was surprisingly and delightfully pleasant.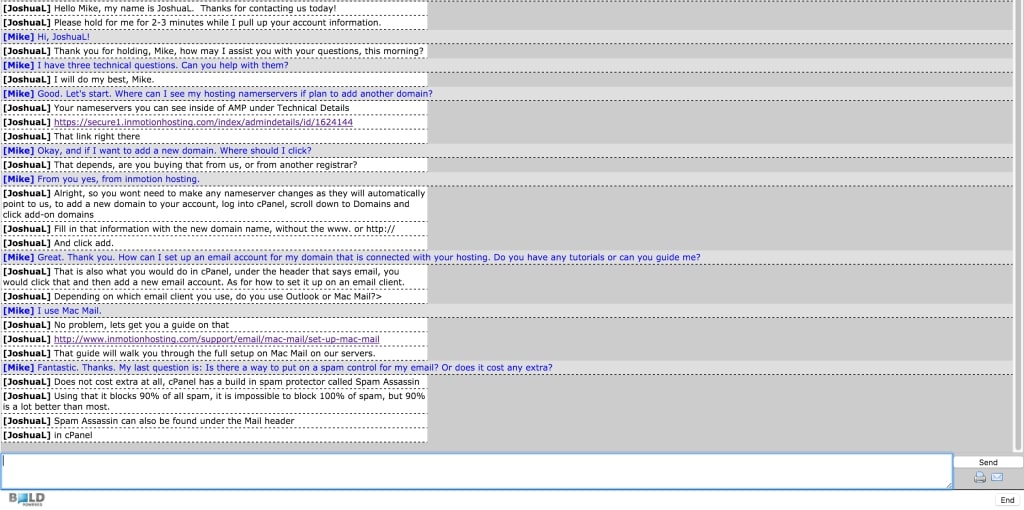 A quick chat with InMotion hosting customer support
Read FULL chat transcript here
JoshuaL: Hello Mike, my name is JoshuaL. Thanks for contacting us today!
JoshuaL: Please hold for me for 2-3 minutes while I pull up your account information.
Mike: Hi, JoshuaL!
JoshuaL: Thank you for holding, Mike, how may I assist you with your questions, this morning?
Mike: I have three technical questions. Can you help me with them?
JoshuaL: I will do my best, Mike.
Mike: Good. Let's start. Where can I see my hosting nameservers if I plan to add another domain?
JoshuaL: Your nameservers you can see inside of AMP under Technical Details
JoshuaL: https://secure1.inmotionhosting.com/index/admindetails/id/1624144
JoshuaL: That link right here
Mike: Okay, and if I want to add a new domain. Where should I click?
JoshuaL: That depends, are you buying that from us, or from another registrar?
Mike: From you yes, from inmotion hosting.
JoshuaL: Alright, so you wont need to make any nameserver changes as they will automatically point to us, to add a new domain to your account, log into cPanel, scroll down to Domains and click add-on domains.
JoshuaL: Fill in that information with the new domain name, without the www. or http://
JoshuaL: And click add.
Mike: Great. Thank you. How can I set up an email account for my domain that is connected with your hosting. Do you have any tutorials or can you guide me through?
JoshuaL: That is also what you would do in cPanel, under the header that says email, you would click that and then add a new email account. As for how to set it up on an email client.
JoshuaL: Depending on which email client you use, do you use Outlook or Mac Mail?>
Mike: I use Mac Mail.
JoshuaL: No problem, lets get you a guide on that.
JoshuaL: https://inmotionhosting.com/support/email/mac-mail/set-up-mac-mail
JoshuaL: That guide will walk you through the full setup on Mac Mail on our servers.
Mike: Fantastic. Thanks. My last questions is: Is there a way to put on a spam control for my email? Or does it cost any extra?
JoshuaL: Does not cost extra at all, cPanel has a build in spam protector called Spam Assassin
JoshuaL: Using that it block 90% of all spam, it is impossible to block 100% of spam, but 90% is a lot better than most.
JoshuaL: Spam Assassin can also be found under the Mail header
JoshuaL: in cPanel
Mike: Thanks, JoshuaL, I do not have any further questions. Have a good day!
JoshuaL: Have a great day too, Mike!
4. 90-Days Money Back Guarantee
Standard industry practice for money back guarantees typically falls around the 30-day mark. But not InMotion. They're so confident in their service, that they provide up to 90 days business, VPS and reseller hosting plans.
(For shared hosting options, they only offer a 30-day money back guarantee.)
5. Integrations & Apps (WordPress, too)
Another claim InMotion makes on their website is that they're a leader in supporting Open Source projects.
Again, those boasts are backed up with a portfolio of over 310 applications (!). You can find everything from popular content management systems like WordPress and Drupal to shopping carts or eCommerce systems like Prestashop and Magento.
6. Premium Sucuri Plugin for WordPress Users
InMotion's WordPress hosting comes with the Sucuri security plugin that regularly scans your sites for exploits and security risks, in addition to ongoing remote backups, anti-spam, and anti-virus protection.
7. Free Site Transfer
The good news is that, like other web hosts, InMotion Hosting offers to transfer your site for free from your current host.
The bad news is that they DO NOT promise zero downtime during the migration process (which other hosts regularly guarantee).
8. Great for E-commerce Support
InMotion is one of the few web hosts with active partnerships between Prestashop and other leading eCommerce services (SiteGround being the other).
They make your eCommerce experience even better by providing easy integrations with payment processors, helping you side-step an otherwise huge pain in the… neck.
9. Free Data Backups
Many web hosts charge for backups. Or they include ridiculous Terms of Service clauses that make their backup service useless for most customers.
InMotion hosting is different. They will regularly create a backup of your account up to 10GB, and also provide an easy-to-use tool to manually backup your site.
10. Google Apps Integration
Last but not least, InMotion also provides a handy little three-step wizard for connecting with Google Apps.
Some web hosts (GoDaddy comes to mind) force you to pay for their subpar email clients. While setting up a Google App integration to use your new domain with Gmail, Google Docs, Drive, and more isn't exactly brain surgery, it can be a frustrating process if you've never edited MX records before.

11. Super Secure Smartwall Threat Defense System (TDS)
The recent Equifax security breaches illustrate just how clear and present the danger of cyber terrorism really is, and with the continual rise of brute force, Dos, and DDoS attacks, it has become more important than ever before that every website owner has a clear understanding of the security protocols being used by their web hosting provider.
Luckily, InMotion Hosting spares no expense to ensure the security of their user's private information.
Partnering with Corero Network Security, InMotion security now offers a unique security measure called the Smartwall Threat Defense System or TDS.
Corero's TDS is a family of DDoS protection appliances that detect, mitigate, and eliminate DDoS attacks in real time.
Boasting an impressive array of technical specs, Corero's TDS delivers the following to all of their customers:
The SmartWall is a slimline DDoS protection appliance that delivers 10Gbps full-duplex or 20Gbps unidirectional performance in a ¼ wide, 1 RU form factor.
1 RU delivers up to 80Gbps, and 4 RU delivers up to 320Gbps.
For those of you who aren't well versed in technical jargon, it's suffice to say that the Threat Defense System employed by InMotion Hosting and their partner, Corero Network Security, is among the most impressive in existence.
With InMotion Hosting, you can sleep soundly at night knowing that you and your website are protected from even the most aggressive brute force and DDoS attacks
Cons of InMotion Hosting
InMotion is mostly perfect. Of course, there's always gonna be a few drawbacks to providing good uptime or excellent customer service. Here are InMotion's:
1. Low Advertised Pricing ONLY for 24 Month Signup
Yes, InMotion's pricing currently looks on par with much of the competition. An excellent value considering all of their positives, right?!
Unfortunately, the only way you can get this low advertised rate is by signing up for 24 months. If you'd prefer a shorter timeline (like 12 months), that cost rises a little bit.
This is a VERY common trick employed by MANY web hosts, making the too-good-to-be-true price – actually too good to be true.
2. Delayed Verification Process
InMotion requires all new customers to be verified by phone for security purposes. That means NO instant account access after signup for many, especially outside the U.S.
In rare cases, they might even need a picture of your ID card.
While we applaud their security efforts, this understandably might turn off many potential customers (especially international ones).
3. Some Plan Limitations
In their defense, InMotion does go above and beyond providing free backups and site restoration.
But there are limitations to these services. For example, any sites exceeding 10BG won't be backed up. And you can only restore files once every four months for the sites that do get backed up. If you need something more frequent, there's a $49 fee.
InMotion Hosting Pricing, Hosting Plans & Quick Facts
Here's a quick overview of the hosting plans offered by InMotion Hosting: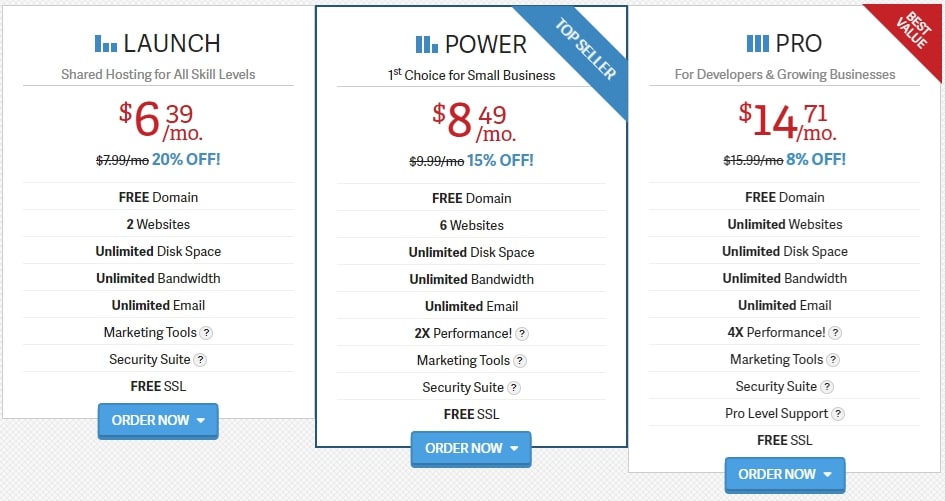 Shared Hosting: Their shared hosting, also stated as "business hosting," comes with three plans:
Launch plan: This plan starts at $6.39 per month. It supports 2 websites, 2 MySQL databases, 6 parked domains, and 25 subdomains.
Power plan: This plan starts at $8.49 per month. It supports 6 websites, 50 MySQL databases, 26 parked domains, and 100 subdomains.
Pro plan: This plan starts at $14.71 per month. This plan supports unlimited websites, unlimited MySQL databases, unlimited parked domains, and unlimited subdomains.
All shared hosting plans come with unlimited storage and bandwidth and are backed up by their generous 90-day money back guarantee.
WordPress Hosting: Their WordPress hosting plan is similar to their shared hosting plans in every way, but it is fine-tuned for WordPress.
Free Domain: Yes!
Ease of Signup: Four-step signup process. A bit lengthy. Don't forget about the security verification too.
Payment Methods: Credit Card, Check, Purchase Order.
Hidden Fees and Clauses: There's a limit of 50,000 files per account for users.
Upsells: A few upsells.
Account Activation: Account activation can take a while. Usually, they verify orders by phone before activating accounts.
Control Panel and Dashboard Experience: cPanel.
Installation of Apps and CMSs (WordPress, Joomla, etc.): Softaculous for one-click install of popular apps and CMSs.
Do We Recommend InMotion?
Yes and no.
Our InMotion experience started out well.
Their uptime, speed, and support were all strong. But over the last few months, things have started falling off the rails a bit. Both speed and uptime slips have been disappointing, so they've fallen down in our overall rankings to the twenty-sixth place.
You can try InMotionHosting.com for yourself if you're curious.
P.S. If you want to see hosting providers that ranked above InMotion Hosting, check our best performing hosts here.
Visit www.InMotionHosting.com
Have you had any experience with InMotion Hosting? If so, please leave a review below – positive or negative! All we ask for is transparency and honesty.
72 user reviews for InMotion Hosting

prof
1 —
February 20, 2019
Sad,sad,sad
They have no adequate backup plan for your email, maybe even your website. Just found out that my email has been deleted, 20 years worth, and all they can say is that their backup of yesterday does not have any content. They told me they do not archive emails at specific points of time, so their backup plan is to overwrite the previous backup. Really that is a backup service. They basically have wiped out my email history and have no way of recovering it!!!! I'm a small business that relies on my emails. I backup up my standard data nightly but fully expected a provider to at least backup my emails.
What kind of provider runs like this??????
Ron
1 —
February 5, 2019
If you want to develop a web based business run from IMH
I have been a customer of IMH for just under 10 years. This year I finally decided to get serious about developing a web based business. Read carefully the previous review about email marketing before EVER using IMH for business purposes ("Email Sending Issues" December 31st, 2018 review here).
While researching search engines and how they rank you within their searches I discovered that the number of "clicks" to a site determines where you rank in a search on a search engine.
Once I had fully developed my site and implemented it in production on a VPS platform at IMH I used a tool provided by IMH to generate email "campaigns" which are marketing email intended to generate "clicks" to your website. Before doing this I communicated with IMH support because in the past some other large emails I had sent using the "shared" hosting not the VPS solution had gotten my domain suspended (not a good practice if you are going to support eCommerce as a hosting company). I had moved my domains to VPS thinking that IMH would be more flexible with this policy. WRONG!
After communicating with IMH support I throttled the PHPList app (the app that IMH provided) to the recommended settings under 240 email per hour (I set it to 203) and after a couple of campaigns I set PHPList to only send 1 email to the same domain every half hour (this kept me from alarming yahoo mail servers and a couple of college mail servers and mostly avoided greylisting).
Last night IMH canceled my account (My business website is now inop thanks to IMH). In the article the author asks the question "Is IMH resting on it laruals"? The answer is a resounding YES! They have not kept up with what reality is in the eCommerce era and their policies are in direct opposition to developing and marketing an eCommerce site.
Just a side note. Until last night IMH Support in my mind had been excellent. I am an Information Technology Systems Engineer (I build and support hardware and sometimes need help with software and settings) and there are times when support gave me direction and let me resolve my issues and other times I turned it over to them and they took care of it.
If you are just blogging you are fine as long as you don't email your members newsletters etc. I would not recommend any type of eCommerce site be hosted by IMH on any of their services.
MY SINCERE RECOMMENDATION IS TO RUN FROM INMOTIONHOSTING AND DON'T LOOK BACK!
Success
1 —
December 31, 2018
Emails sending issues
We just discovered that Inmotion has a very big gap of performance regarding mass mailing. They suspend your account if you use their Smtp settings to send mass emails. Their system is not strong enough to support mass mailing.
If you are a company be it small or big and that you need to send mass emails to your customers then do not use Inmotion services Hostetter seems to be more performant in that. They allow mass mailing and the sending is 99x faster than Inmotion.
So to those willing to use their mailing list or to get in with their customers through mailing do not chose Inmotion they are not good in that too weak for that hostgator is stronger faster and better go there.
This is a true review based on real life experience. We can provide proves of that. We have been obliged to delete 12 email accounts from our hosting account with Inmotion to create 15 néw emails with hostgator.
We sent over 55600 emails with hostgator and so far no problem but with Inmotion we sent 4200 and our email account was suspended for too much emails sent.
I hope this review can help companies and privates in their choices
Thanks
Success to you
Arthur Bradley
1 —
December 9, 2018
Gone down hill lately
Lately, I've just been getting one problem after another. I keep calling, waiting half an hour to talk to someone, they fix the issue (eventually) only to introduce a new error. Honestly, I've lost all confidence in their ability to run a smooth operation. Shame. Been with them 7 years, but not much longer.
Boris
1 —
December 5, 2018
If i could give 0 stars
For comparing, Inmotion VPS plan is worse than much cheaper shared plan on Siteground, it is slower, websites can be inaccessible, and at the times slower than usual, which is a total shame for the money they charge. Support is also a disgrace. When you have pre-sale questions, the support will answer you within 30 seconds, but when you have any technical issues, you will wait for 30, 45 minutes. After waiting for that much, support can answer, and if you are not there within literally few seconds to respond, they will close the chat for inactivity? Even when they answer, they tend not to fix your problem, so you have to contact a few times. This is my 3rd hosting provider in the last 4 years, and definitely the worst one. Can't wait to forever leave these scammers!
Vale Shalja
1 —
November 20, 2018
The worst hosting and support I've experienced so far
Avoid this company at all costs. Our websites kept crashing right after we renewed our . Also, there is NO WAY you can get a refund so they are basically stealing your money if you hate their service. We had live products launched that kept crashing for days (and we were losing sales because of that) so they forced us to give them more money so they would dispatch more traffic to us.
Also, they will not accept PayPal payments (and online company mind you) because they want to have your credit card in their system.
It has the worst customer support I've encountered that say lines like (and I am not joking) "This is how technology works and that is why it's slow". They have no idea what they're talking about.
This is literally the single worst hosting company I ever encountered, avoid them because you will lose money, traffic, time and nerves.
Andreas
1 —
November 20, 2018
inhosting suck
All our websites and email systems have been down for almost a day and we receive no whatsoever support from inmotion. The live chat support says it has been passed on to the System Administrations Team, but we are not allowed to speak to them. We would be contacted once it works again.
That was ten hours ago. Since then our whole company has no email, our websites dont work and we have no idea what to do.
On live chat they told us we can reply to the support email we will get, which is a bit of a joke considering that our whole email system is down because of inmotion.
Dont buy them!
Chris
1 —
November 16, 2018
Unacceptable!
I can start out by saying there isn't much 'positive' about Inmotionhosting. The only positive would be their quick customer support BUT there would be no need to contact customer support if they didn't have so many problems.
Biggest issue that too a huge effect on my company is that they shut down my website on a Friday because I needed to send a document to them by the end of the week. I sent it back that evening but when I sent it back that specific support team had already left the office for the weekend. I called, I contacted regular support via chat and they said they would be back on Monday, they don't answer their emails on the weekends.
SOOOO that siad, my website was shut down all weekend and lost 50% of its traffic because they decided to shut my site down on a Friday and not answer on the weekend to an urgent matter. Just unacceptable!
That would be only ONE of the bad experiences I've had with Inmotionhosting. Browse other hosting options before you look into selecting inmotionhosting. I do not recommend them.
Lesly Bazelais
1 —
November 4, 2018
Horrible experience
I used InMotion several years ago. I must say that their service was decent by then. Last year, I made a terrible mistake by giving them another try since their VPS was a bit cheaper. My God, I was wrong. My site went to the gutter in SEO. For certain keywords, my site used to be on the first page on Google. Right after I moved to Inmotion, my site went to page 20 then 30 and then literally disappeared when entering a few key words. I really could not understand what went wrong. We we did not change the content of the site. I did a bit of research and found out that the static IP that InMotion gave us was also being used for other web sites. I suspect that the CPanel licence was not exclusive to my web site either. It was a real nightmare. There were hundreds of damaging back links. When I said "hundreds" I do not mean it literally. There were about 6 or 7 hundreds back-links referring to other websites but still pointing to my site. Once I cancelled my service and went to another provider, keywords like "creole translation" "haitian creole translation" generated great Google placement in SEO. We got back to first page. It was a real disappointing experience. if your business relies on SEO, be very careful with InMotion hosting.
Ed
3 —
October 22, 2018
A Hidden WordPress Pitfall
I hosted with InMotion on a "PRO" server, installed WordPress, and thought I was good to go.
In Motion Hosting SEEMED great — until they (quickly) began to THROTTLE my site big time. To conserve resources I installed a Heartbleed plugin, caching, and made other adjustments. Still saw big time throttling and terrible latency, especially in the back end.
It was so bad that I was regularly seeing up to 30 SECOND LATENCY in the back end when clicking on just about anything — generally not as bad on the front end, but at times there too. Numerous calls to InMotion yielded excellent tech support and good response but no useful solution(s) at all.
I've had WordPress installations on many other hosts and frankly InMotion's throttling is the worst I've experienced anywhere — and virtually CONTINUOUS. It was a very poor solution for a WordPress installation and was, frankly, unusable.
I had to take down the site after only a few weeks and am now searching for a replacement.
Everything else advertised I generally found to be accurate — its servers were reasonably fast, support was excellent, uptime great, ease of use (CPANEL and FTP access) simple… BUT THE THROTTLING WAS DISASTROUS AND ENDLESS.
Sorry InMotion, I've been elsewhere and experienced ZERO or minimal throttling if any with an identical installation. Your incessant and aggressive throttling at least for me made use of a WordPress installation impossible.
Andrew
1 —
October 18, 2018
Absolute Terrible Service
I was with Inmotion Hosting for many months before deciding to pull my service. I had a DMCA complaint due to an over seas developer error that was corrected and then reversed causing me to have account outages multiple times. InMotion was incompetent the entire time and provided no access to their "legal" department for direct communication, therefore I experienced site outages causing me losses. They may have competitive pricing and decent quality of service but they're customer does not first in these cases and they need to be open and communicative to understanding the situation.
Joe Bilow
1 —
September 5, 2018
Fraud
I have a 'reseller' account with them that I used as a sandbox. A couple of months ago I contacted them stating that I no longer needed this account configuration and requested they download me to a plan that could accommodate my requirement of hosting to URL's. Both have minimal traffic so I expected it to be straightforward. I contacted support and they worked with their technical team to confirm that the Pro plan for $17 a month would work. I paid for the month and expected this to be completed.
A few weeks later my main domain was not available. I contacted them and was told the downgrade had been canceled and it would cost me $39.99 to get access to my site, email, and data again. I requested a call with management and this is where things went downhill… I was told this was my fault because I didn't speak with their technical team directly instead requesting their support rep talk with them. My requirements were simple (see above, that's all of them) however it appears there was an issue with the reseller accounts each having their own c-panel. I'm not sure how me speaking with them would have prevented this issue. I was also told no discounts or credits would be applied to my account. After being scapegoated and chastised I gave up. I only stated that this was not my area of expertise and this expertise is what I was paying for, they did not care.
This was only the latest issue I've had with this company.
Overall I did not find their uptime or speed any better than previous hosting companies.
Resume Writing Lab
4 —
September 1, 2018
Upset
I do love their support they are always helpful, em, no not always, there were chats with totally unprofessional guys. Moreover, when I contacted them the next time they were surprised Inmotion representatives can promise such things. Downtimes happen too often. They moved my site to another server and as a result, it looked like a mess for 2 days!
Anthony McMurray
1 —
August 13, 2018
Horrible
I not only got individual hosting for WordPress but got a VPS as well. This has to be the slowest hosting I have ever worked with in 17+ years. The support is not good and the rep got smart with me about the speed, telling me if I wanted a better loading time it would cost more than the almost $250 I paid for the year. Host Gator has them beat by miles. Don't waste your money.
Jack Denton
5 —
July 18, 2018
Nice Uptime + Good price
Great uptime stats, a bit slow but it is quite cheap. I would recommend it. I always recommend you use some form of WordPress managed hosting. These are hosts that cater specifically to WordPress websites. Their servers are usually better configured, caching is already set up for you, and their support is more knowledgeable about WordPress issues.
Oscar
4 —
June 3, 2018
great support, billing not great
I've been with InMotion for 2 years now and I have mixed feelings about them. InMotion advertises their hosting plans as including a FREE domain (free in bold caps). However, in their terms of service, they quietly list the domain as free for only one year and then you have to pay for domain renewal in addition to the hosting package. It's not a huge deal, but it's not what I thought I was getting. To me, this qualifies as a deceptive practice, so, just take this into consideration if you are considering using them to host your site. As far their tech support goes, they have been great compared to other hosts I have used. The waiting time to chat (or speak) to someone is usually pretty short (less than 5 min in my experience) and so far they have been knowledgeable enough to answer my questions and they've always solved my problems. Be aware that I said "so far" because I have had horrible experiences with other domain hosts in the past as I'm sure many of you have had, so I know what can happen.
K L Marsh
4 —
May 31, 2018
InMotion Hosting Saved My Day
Today I inadvertently deleted my website with one absent-minded double-click. I contacted InMotion Hosting tech support and within hours they completed a FREE data restoration, and my website was up and running again. I'm just an amateur, and I was in a complete panic until William Wa. saved the day and told me how to get my website back. I highly recommend InMotion Hosting. They've helped me numerous times over the years, and I don't know what I'd do without their tech support.
Midhun
1 —
May 3, 2018
No proper fix for any issues and pathetic way of handling tickets and
I would not recommend inmotion to anyone. They reply for your chat immediately but there is no proper way of handling tickets. In motion is good if you don't want any updates or upgrades to your server once you purchase it. Your headache starts If you notice any issue and request them to fix it. There is no proper way of handling ticket, multiple persons will be handling the ticket. They fix one issue you will get another one and it goes on. This is how they work.
Max
1 —
April 30, 2018
Keep clear
I will tell you just one thing. Over the years InMotion Hosting quality went from 100 to 1.
I have one business account (shared hosting but business), and it seems that I have lost the last 6 months of my work. Because their website makes them look so safe…but the last backup they had of the server where my customers' websites were hosted is dated NOVEMBER 2017.
And when I contacted them (more than once) they had a different excuse every single time. The last one is that they take copies of websites and so on every 24-36 hours, but only if the account is below 10Gb. Well my account did not reach 10Gb of disk space, and anyway I should have been informed of such policy and, last but not least, can you be so stupid and enforce such policy? I mean, I would understand if they told me that over 10Gb they take a weekly backup or every two weeks…but passing from 24-36 hours to 6 months? It was obviously a poor excuse.
I am quite tempted to post the whole chat I had with them…lol
G. Peters
1 —
April 16, 2018
They sell data
Beware. They sell your data to Quanki.com who they also host, and will refuse to remove it under any circumstance. You actually have more luck going directly to Quanki.com that via InMotion.
I emailed their legal department and gave them evidence of harassment etc that was coming directly from them publicly hosting my private information, they at first completely ignored me, then replied to my second email saying they're not willing to do anything. They weren't even willing to take the information down in the face of a police report.
No morals or human decency. Just because you don't HAVE to do something legally, it doesn't mean you shouldn't look at the situation from a human perspective rather than the bottom line of your bank account.
Brett
5 —
April 5, 2018
let's be real here
So I was just reading some of these reviews… and wow – while some are nice – others are just, well… brutal. Being a business owner myself, I understand it only takes one or two grumpy people to tarnish a very good thing – in whatever you do. Now I am not saying anyone's experience isn't as it is… I just want to share my experience here as well.
I came over from another hosting company – one that is most likely the biggest (that's a hint). And to me the customer experience is no comparison. InMotionHosting is top notch. I *consistently* get top-level, personalized support. I *consistently* learn something.
Having hosted all my sites (about 10) through InMotionHosting has been probably one of the best decisions I have made. Over the last two years I have developed many techniques to optimize my site through their guidance… one conversation at a time. We so often think it is another's responsibility to fix our issues… If we come with a slightly different attitude – one of looking to learn – this company will be a veritable goldmine.
Pages load fast. Uptime consistent. And they are available 24/7. And they aren't in a rush to get you off the phone like some other providers (who answer as if you are interrupting their day). Solid company. Solid people. I definitel
Farshid
1 —
April 3, 2018
VPS Servers
Since we changed the server to VPS on our second account, we had all sort of problem, worst than all was that the IP they assigned was a used up one and was blacklisted by so many global filter companies. Until this gets resolved we won't have an email coming. Horrible! and when I talk to them, they say they are running a scan and that's it; nothing else. Exactly the same thing happened for our first account and I thought it was an unlucky situation; but this time I realized it is not coincidence, they are assigning garbage IPs for their new VPS customers.
Sergio
5 —
Match 27, 2018
They helped me a lot in developing my business.
I am having some technical difficulties during the implementation of my agency and all the problems that are appearing are being solved by the excellent technical staff. Today I was able to enable Let's Encrypt for all my developing sites, and in the previous months, to implement HTTP2, and migrate to the VPS plan. Soon I will go to the Dedicated. I strongly recommend, because apart from the servers are great, the team ALWAYS solves the problems and this is what you can not miss in a hosting service. For those who develop websites and are not a server expert, better leave the more complex tasks to their team.
Yue
1 —
Match 14, 2018
PLEASE BEWARE OF MIGRATION TO VPS
Inmotion hosting replies fast to your queries, but they are ABSOLUTELY HORRID in fixing issues. I moved from reseller to VPS, paid for SIX MONTHS in advance… they never migrated my site properly. My site worked fine as reseller, just a bit slow, so I moved to VPS, now I constantly get database crashes, empty promises that "this time its fixed" only to have to crash again and again and again. Finally, I escalated to the manager who admitted that during migration, they missed something, and its been fixed. But clearly NO, because few days later, I'm getting database and server errors. I've lost thousands of dollars using inmotion hosting, they never fixed the issues, my database is completely corrupted because their migration was SO BAD. BEWARE!!!!!
Mistu
3 —
February 22, 2018
One week into trouble
I finally purchased a dedicated WP hosting plan at Inmotion due to a guy calling himself WPcrafter who is obviously afffiliated with them. But already during the first week I experienced countless 504, 503, 502 errors which made me quite nervous considering that my WP was light and without (fortunately) much contents. Some days the site was just gone for long periods at a time. Couldn't even log in to my WP admin panel. The people at Inmotion are very friendly and I had hoped for successful relationship with them. They could not locate the problem and told me that if they can't replicate the error themselves there is nothing they can do. That answer made me sweat. IMO should there really be any teething problems on this level? I made a quick decision, just one week in, and exported my data and shut the site down. I asked for a refund which they promised to issue. So we will see. My big big concern with all these popular hosting sites are that they are promoted and pushed by tens of thousands of money hungry affiliates. This makes it really really hard to believe any reviews, honestly!
sam
3 —
December 15, 2017
Unforseen Charges
Customer service great at first, then soured shortly after, within 30 days. For more complex configurations on VPS such as varnish, nginx proxy, etc, be prepared to spend a lot of money paying for the "managed hosting" the top tier support which the provide. They have 3 levels of support, but not all tiers are built equally, meaning that you may get different answers from different tiers. Depending on your needs, the hosting might be sufficient for you. But if you're looking for something more custom or more optimized for performance, be prepared to spend extra money out of pocket.
Jake N.
5 —
November 30, 2017
Excellent customer service!
I've been with InMotion for many years now, and having used several other hosts in the past can say with confidence InMotion is the best. Their fees are more than reasonable, and – most importantly to me as a 1-person show – their customer service is bar none. Whenever I have an issue – which is rare – I can contact the InMotion team quickly via online chat, phone, or email, and get the issue resolved fast. Usually the tech will fix the issue for me online, but also explain what the problem and fix was so I can correct it myself in future. All in all, I'm very happy with all aspects of InMotion.
Leif Andreas
5 —
November 30, 2017
Great Customer Service
After cycling through Rackspace, AWS, and GoDaddy for VPS hosting I've been very impressed with both the cost and service offered by InMotion. My wait times for phone support have been consistently under 1 minute and often less. Their reps seem to be, with few exceptions, knowledgable and equipped to handle just about every problem I've had. My only complaint is there was some downtime on my server. They did extend my hosting for free in exchange, but, of course, downtime is downtime…
thorsten
2 —
November 9, 2017
Inacceptable
We haven't been too happy with inmotionhosting but just like any average relationship we got along. Until they suspended our account, that is. Without prior warning or information they took down our website, shop and support system just because we allegedly took more bandwidth than we should have. Any professional hosting service would have informed us that we were about to reach a limit and that the downloads might slow down if we exceeded that limit. But inmotionhosting just deleted the whole thing. Good job!
Oh, and instead of informing us of taking our whole web server down they let us find out the hard way.
The 20/100 are because we were more or less happy before this – but for anyone looking for a professional web hosting service that company should be a no-go.
Maryann
5 —
November 8, 2017
Hands down, the best
From getting me started with a transfer from "another host" and Joomla to their servers and WordPress, to helping me easily move into web development on my own, IMH has consistently proven to be the best decision I've made regarding my work. The tech support outshines any I've been in contact with. Personable, professional, and prompt! They're there for my success.
Yol
2 —
November 8, 2017
Fit for my purpose
I moved to inMotion 4 months ago after being with Godaddy for 6 years. I can tell you that inMotion pricing, speed, uptime and load time is way better than Godaddy.
I did read lots of articles and reviews before going with inMotion hosting.
I started with their WordPress hosting but one of my sites started getting lots of traffic (5000 daily visitors), so I upgrade to VPS. That was also inMotion recommendation to avoid having my account suspended.
I have to admit that the moment I moved to inMotion, my traffic increased considerably and I started ranking #1 for lots of keywords. I don't know if that was because I moved to inMotion or because Godaddy sucks.
Being with Godaddy for many years, inMotion Account Management Panel (AMP) and cPanel is totally new to me, so I always contact inMotion support rather than trying to figure their AMP and cPanel. Most time I use chat online which I find it faster.
Their support is great and they try their best to help you and find a solution, but some of them don't seem to know what they are doing or talking about. Hopefully they are new hire, so you give them a change to learn and get better at what they do.
I have three websites and their VPS100 is sufficient for me at the moment. Their pricing is not the cheapest but one of my sites already pays for it. Their support is not the best, but they are always available (at least online), willing to help and find the best solution for your problem. Speed and page load, my ranking has improved and traffic to my revenue making site has increased considerably.
Bottomline, inMotion hosting is fit for my purpose and can be for yours depending on what you need.
By the way, have you checked their tutorial? They have lots of them in their main site.
Leanne Ferguson
5 —
November 4, 2017
The best customer support I ever had!
I'm not kidding. The inmotion support team is wonderful. I can't say enough.I opened a site with inmotion as they were the hosts that my online marketing education sugested. I have been with them 30 days. And it took half that time for me to decide to move my blog from another host. I now have two sites with inmotion. The support team is quick, knowledgable, nonjudgemental, open,honest and really really nice to me. Even if I ask 100 questons they have always been great!! I feel like they are on my own team and they really care about making my online career a success. THANKS TEAM YOUR THE BEST!!!
M. Kendall
5 —
November 4, 2017
Happy I made the switch to inmotion
I finally became so frustrated with my previous host that I recently decided to change. The information provided in the Inmotion Youtube videos gave me so much help, that I decided to go with them.
I would like to say how happy I am that I did it. I have asked a million questions, and had a few hiccups that needed more assistance. Everyone has been helpful! It is the first time in many years that I felt like I was getting straight answers and the help I needed.
Sean seale
5 —
November 4, 2017
Above and beyond
Right from the beginning, Inmotion and their support team have been 100% available and have answered ALL my requests and questions, sometimes spending a couple hours on the phone with a support technician. Always calm, always helpful and supportive, and very knowledgeable, each member of their staff goes above and beyond to deliver on their promise. I have NEVER experience such good customer support before.
Simon Dunant
5 —
November 4, 2017
Awesome hosting
InMotionHosting are categorically the BEST hosting company on the planet. There servers are reliable (never had one single issue in the 3 years I've had a VPS with them) and their support staff are INCREDIBLE.
I vow to stay with InMotionHosting for life because of their customer support. I've always left support chats feeling super happy, and their support staff are so helpful, friendly and treat you like a human being.
I am so glad I left my previous host (and it's associated headaches) behind.
InMotionHosting treat their customers with the utmost respect, something that is seriously lacking in the hosting industry, and that for me is the reason I've given them 100/100 in this review. They're simply AWESOME
R. Kirby
5 —
November 3, 2017
Customer Service
I downloaded a badly coded plugin on my WP Site yestetday. Today i was unable to get back into my admin dashboard. I was locked out. I contacted Inmotion's Customer Service; spoke with Tony W. Who had me up and running in minutes. I was completely blown away by his competence and professionalism.
Thx Tony
EZEQUIEL
5 —
November 1, 2017
JUST PERFECT
These guys are really amazing. Best customer support ever, even if you are not a knower. They'll have patience.
Some tasks took a bit more than expected (migrations, etc). But for the low cost, its completely OK.
Go with the.
Luigi Martin
5 —
October 16, 2017
Best value for money
After hostgator, netfirms, and other Endurance scam hostings, I've found inmotion fantastic.
They're not perfect, but given the cost, they are VERY worthwhile… not the cheapest, but totally worth the extra few $
Great support (even from Australia).
jaime
1 —
September 29, 2017
bad experience
they decided to close our account and service without giving you opportunity of recover everything when they decide that CPU or Memory resources are too high.
Without any explanation, one they you find everything is closed and when you ask them they told us its too agressive website.
bad experience with them, be aware.
jaime
1 —
September 29, 2017
bad experience
they decided to close our account and service without giving you opportunity of recover everything when they decide that CPU or Memory resources are too high.
Without any explanation, one they you find everything is closed and when you ask them they told us its too agressive website.
bad experience with them, be aware.
Lee
1 —
August 18, 2017
Not as advertised
This is my 3rd year with inmotionhosting. When I first using it , it was really fast and reliable. Lately for the past few months I am having multiple outages in a day. Sometimes up to 30 times a day. Their customer support is non existent and often gives a standard newbie answer, or completely choose not to answer despite that I am on pro plan. Reading all these feedback I am certain that I should switch out ASAP despite still having 1 full year on the plan. Man I thought that my site was having multiple issues that things are not working well. Hundreds of man hour wasted trying to figure out what went wrong. I guess after reading all the latest review here it is clear that inmotionhosting really do suck. I NOW TRULY AGREE THAT INMOTIONHOSTING IS IN FACT A FRAUD.
David
2 —
August 17, 2017
Bad Support and Bad Uptime
I have a VPS and a reseller account at InMotion. At first the support was great, but now not so much. Sites go down regularly and the response is 'we're working on it, but don't know when it'll be fixed.' Several times they have been down for days! They have also stopped my VPS server twice without any notice or reason given requiring a call to support to restart the server. Once this happened at night and I wasn't monitoring the account. It was down for 18 hours before I knew it.
Definitely not recommended. Looking at moving all my sites elsewhere.
nate
1 —
May 18, 2017
Cheap is what you get
Wow, these guys are horrible. This review above must have been with some preferred account because so far I have had no good experience with these guys. Down for over 2 days, ftp constantly is down. I assume they are just constantly under attack because my root was hacked 2 times (yes with auto gen' passwords only used on this site.) Overall they are a joke and I can't recommend them less.
AVOID AT ALL COSTS.
Paul Walsh
1 —
May 16, 2017
Inmotion Nightmare
I took hosting with InMotion after reading a review on the internet that it was the fastest hosting available…. How utterly misleading that was!!…..
Being new to WordPress having moved away from .NET hosting, I Initially needed space to develop several wordpress websites.
I took the hosting in November 2016, planning ahead, and then started to develop 1 of the websites but it was on my developers webspace, until the site was due to go live.
The site was finally uploaded and made live 3 weeks ago (April 2017) and to my EXTREME disappointment noticed that on the live site, the speed was absolutely terrible, taking up to 20 seconds to load the home page…. Would you wait 20 seconds? No neither would I !
So, at first opportunity AFTER going live with the first site I contacted your technical support to tell them of my concern….. his response although initially concerned, then went on to basically say, "If you're not happy… go somewhere else!"
At which point, I said, I just want the best speeds for my website….. he apologised and suggested I go to MAXCDN to "speed up" my pages as they would cache them and make them quicker, which I did, but with very minor difference, as MAXCDN said the server was still slow….
But, then I got to thinking, "why am I having to do all this??….. to make a server that I read in a review was the fastest, now going to 3rd party companies within the first days of going live to speed the site up!" What a crazy set of affairs!
I asked for a refund because the hosting was not fit for purpose with 20 second loading times and not what I subscribed to.
I was told that I was out of my time for a refund, even though the website had only gone live in APRIL 2017, which InMotion would be able to see, as there was no traffic on the site. They have now refused to refund over and over again….
If InMotions hosting is not fit for purpose, they should give a full refund at whatever point
Jaime
1 —
April 15, 2017
Websites have been down for 3 days.
You absolutely should never use this company!
The server I have 2 client hosted on has been down for 3 days now with no ETA of when the server will be up again. They keeping telling me to check the status page but it has said the exact same thing for 36 hours. No ETA.
Jaime
1 —
April 15, 2017
Websites have been down for 3 days.
You absolutely should never use this company!
The server I have 2 client hosted on has been down for 3 days now with no ETA of when the server will be up again. They keeping telling me to check the status page but it has said the exact same thing for 36 hours. No ETA.
Xavier Paredes
1 —
April 14, 2017
2 days down time!
I'm not going to write a lengthy review. Let me just say that all my sites stopped working around sometime around noon Wednesday 12 2017. I waited for about 30 mins to see if the service comes back but it didn't. So I called them and was told they were doing "unscheduled maintenance" and the issues usually get resolved within the hour.
At the 5 hour downtime mark I called again and was told they don't have an ETA. I asked to speak with a supervisor who told me the same.
Today Friday (2 days later) service is still down. I called at 9:35am and was told again the same thing. I asked again to talk to a supervisor and was told he is busy. I was offered a callback and was assured that the supervisor (who goes by the name of "Jami O.") will call back. Right now the sup it's 5:56pm and nobody has returned my call.
My position is: I understand equipment fails. I understand that shared hosting will never be 100% up-time. What I don't understand is how negligible and incompetent this company is. How is it possible that 2 days later (and counting) they can't even provide me with an ETA.
I've been with inmotion hosting probably for more than 5 years but this has been hands down the worst hosting service experience I've had. Ever.
Not only are my 4 websites down but I lost 2 days of work because of this. I take responsibility for not backing up my work. However, the point is: Inmotion Hosting is an epic fail. Literally.
You have been warned.
Faye Massey
3 —
March 24, 2017
Not the same
As a previous employee i can tell you 90% of what imh claims is wrong. Servers are constantly going down. We have VPS nodes databases that went CORRUPT due to apower outage at our shitty west coast data center. It was our issue but we told people who lost their sites. Sorry but you should keep backups and gave them a free month of hosting.
Not to mention out ticket system is out of date. Theres no way for customers to view the tickets but it can take sometimes close to 2 days before you get taken care of or a 30 minute wait on our phone lines.
Thw out of scope here is so undefined if you need help with something not server or your wordpress specifically well have you see a dev even if it is a server issue. Ive had to actually argue with a higher tier to fix some server issues.
They also dont have enough people to handle the weekends. I ended up being the lone chatter a few times on certain days. Other than that theres only 3 people taking your chats on a sunday for a world wide support center.
They keep hiring people but the work sucks on the support floor so they keep leaving or getting fired.
Paul
1 —
February 28, 2017
Horrible Support
We have started to move away from them. We started by moving away our eCommerce site. Now it has been nothing but trouble with them and they are only hosting our email. Their servers are down a lot. The advertised amount of time can in no way be true. Calling in or going to their chat take about 1 hour before you can get to someone who will just tell you there is nothing they can do. Very frustrating.
Andres
1 —
January 9, 2017
Don't use InMotion Hosting
My website with InMotion Hosting has been down for almost three days already. And this is the second time in something like a 5 month period. I've asked for a refund. I strongly recommend anyone to consider other options. I hope this will help other people to avoid mistakes.
Sean
3 —
January 9, 2017
Not happy !!!
-since january 6, 2017 downtime 50 hours and counting
-in september 2016 (my site 72 hours down)
*customer service are a total waste of time, takes 80-90 min before you get an agent.
*absolutely no communication from this company when the servers are down
*no information why the servers are down
*no information about status and what they are effectively doing
*no countermeasers been taking (west coast servers are down often for a prolonged time)
*** i'm a very upset customer, been with inmotion hosting for the past 3 years but lately they have become very unreliable and they don't value their customers.
(their chat agent will link you to their terms and service page during a server issue, stating that they are not obliged for a 100% uptime)
There's no way they have a 99.98% uptime, that's just manipulating numbers and paying off review sites.
Larry Ostrovsky
1 —
November 24, 2016
VPS Down For 6 Days – NO RESOLUTION!
I signed up for this service because of good reviews. I was sold on redundancy, backup, speed, support…etc by their sales team.
All was well for a few months but then suddenly it all went wrong. There was a server outage, the promise of short downtime when I signed up quickly vanished. The promise of redundancy vanished as well.
Day 1… Apologies, no answers
Day 2… Apologies, no answers
Day 3… Threats of a legal intervention was met by canned replies that absolve responsibility. No answers
Day 4… more of the same, sites are still down, request for backup is met with vagueness of delivery
Day 5… Stronger requests for backup are requested again met with a response of a ticket creation and no timeframe of resolution.
Day 6… Strong request for backup is acknowledged and I was given an end of day delivery. I got the backups. No database. Turns out the database is corrupt.. there is no redundancy… there is only disbelief of trusting this company.
You have been warned… buyer beware.
Pascal
5 —
November 13, 2016
uptime 100% Avg. resp 240ms
For the last 3 month uptime 100% and avr. rep time 240ms
My only complaint is they dont support "Let's encrypt".
So far I recommend
Gigy Sam
2 —
October 19, 2016
Not Good for Uptime
inMotion seems to have come to a HALT. I had installed an SSL certificate to one of my sites and it seems that they have no clue why one of my site is loading a different site. And the very same day, one of my site stopped showing up and the support guy has the gall to say that I am not hosting that site with them.
Now when I made it pretty clear that I am not pleased with them, their supervisor came up and told me that it will take time for propagation….Propagation of a website which was working in inMotion..As far as I know, the propagation is an issue if I changed the DNS configuration…They are thinking that people are fools.
Ron B
2 —
October 15, 2016
Ongoing Server Outages
I am utterly at the end of my rope with the server outages on which my websites reside. I've chatted with technical support on numerous occasions, receiving a variety of bogus reasons as to why my sites are bouncing on and offline, now up to more than 10x/hr.
I have been forced to making a request to transfer my sites 100-3064657 when that should have been offered to me much sooner. I'm told that the server is a known offender and evidently has been overloaded or has a number of malicious websites on it or both.
The numerous outages are costing me time and money and I am not 100% Satisfied whatsoever.
The previously referenced ticket was created more than 48 hours ago and apparently didn't get started until Friday. I contacted tech support last night for an update and only got a blanket response "…it's being worked on". I contact tech support again this morning and find that the ticket has been closed.
Now why would an incomplete ticket be closed? I am also being told that there is now no way to reference the status of my request as it was passed along to another group – How is any group of people supposed to be able to track and have any responsibility for issues that do not have an item identifier? That makes no sense to me at all.
This issue has me between a rock and a hard place – I can't get current copies of my sites, so I can't even transfer to another (hopefully more reliable) hosting service because the server won't stay online long enough to get the data for even one of my sites!
As of the current time, between only four of my sites hosted at inmotion, outages have occurred more than 420 times in the past 24 hours.
Anupam Rekha
3 —
September 26, 2016
support has long wait time and is over worked
I had my whole VPS deleted without giving a firm yes and no refund. The support was harder to reach with long wait times and not being able to come to the point.
Varun
1 —
September 24, 2016
Worst support
Worst Technical support. They have wasted 36 hours. My money making website did not work because of them for 36 hours. and they did not care about it.
Don"t buy inmostion hosting ever. end at last I cancel the account and ask them for the full refund.
zeniwo
5 —
September 16, 2016
Inmotion review – An excellent web host
My website is hosted on inmotion for more than 6 months. In my opinion, Inmotion is one of the best web hosts we can get under $10 per month.
I have monitored both the speed and uptime of my website consistently, speed remains between 400 ms and 500 ms and uptime was more than 99.98%.
I also talked to their support team frequently and found them to be supportive and intelligent.
My earlier experience with godaddy was very ordinary in terms of speed, uptime and support.
I clearly consider inmotion to be better than many famous web hosts like Godaddy, bluehost, hostgator, ipage etc.
Atta
5 —
August 4, 2016
Second to none
InMotion hosting is no doubt top class hosting. After a pathetic experience with GoDaddy, I moved to InMotion and it was one of the best decision I ever made in my life.
Highly recommended. A++++
Gerard
4 —
July 26, 2016
Great Choice for Reseller Hosting.
A couple months ago I had to make the switch from another hosting company, I was really happy with them but several issues prompted dumping them. Before jumping in I did some research in Google and other review sites, didn't find this one tho, and was torn between SiteGround and Inmotion. After some chats with Pre-Sales of both companies decided to go with Inmotion and take advantage on some cool discounts they had for new accounts.
It's not the cheapest but it's not that expensive either. I have not had any significant issues, I have contacted support for some general questions and they have been really helpful every time. Just like you said, they might improve the site speed in general, but it's not a deal breaker to me.
So far I'm really happy with their service and support, if I run into something major in the future will surely update this review.
Darell
5 —
July 25, 2016
Helping with an SSL Certificate
I just finished getting help from an InMotionhosting tech person, Felipe G. He was great. I was having an issue with an SSL Certificate that I had purchased and needed help making sure it would get installed properly. Felipe quickly figured out what I needed to have done and then installed the certificate, made sure it was working as it should… solving my SSL Certificate issue.
Thanks again Felipe G for your help.
Alan Gilbertson
5 —
July 2, 2016
Great hosting…
I switched my personal hosting to InMotion earlier this year. Switching is never fun, but with really good tech support it can be relatively painless. Fortunately, they're terrific, and the whole experience was excellent. The site, even on a shared hosting plan, performs noticeably faster than it ever has, so I've been pleased.
But the test of a good company isn't when things are going well. It's when something goes wrong, and the InMotion team absolutely excel in that regard. On the couple of occasions I've run into problems (self-created in one case, a really obscure WordPress problem on another), the tech support folks have been great: courteous, bulldog-persistent and thoroughly in communication with me until the problem was resolved.
I've put a couple of clients up on InMotion, and they're super-happy. Me too, because I don't get host-generated problems and the back end is easy to navigate and secure.
Highly recommended.
Cari
5 —
June 29, 2016
Very intuitive
I am not a tech-savvy person, so I wasn't sure what to expect when I needed to put together a website for my small business. InMotion has been an invaluable resource. Any time I run into trouble, I can pick up the phone or start a quick chat. They email me with tips, information, or just to check in. I highly recommend it – for their product and their customer service.
Eduardo
5 —
June 26, 2016
Best support
I had an issue with my WordPress site where I could not log unto the admin page and get to edit and work on my site. I tried for 2 days to resolve it on my own and reach frustration. I reached out to the Inmotion hosting helpdesk and they were able to fix it.in no time. I could not be more impress with the service and speed of their response. There is no question to me the SERVICE at Inmotion hosting is SUPERIOR to all others. One of the many reasons I do not plan to leave them and gladly been recommended them to my friends and family.
Kyle Lawrence
5 —
June 25, 2016
Great service
I consistently receive prompt and excellent service from InMotionHosting. I appreciate their work. They offer an excellent hosting package at a low price. I would recommend them above the services of comparable prices.
Dana Anders
5 —
June 24, 2016
Overall very satisfied..
I never had many of the typical issues you face with worpress hosting on InMotion Hosting. For example you can install and send larger uploads out the gate (no 2MB bs), there is not much fiddling needed with PHP settings or any of that stuff that can make it hard to start a website. The help guides are detailed and largely up-to-date, but I used them less than I normally would, because most stuff simply works well as is and as it comes pre-configured.
The site speed is good. The servers are secure. The prices are fair. You might pay a little more than you do for bare bones elsewhere, but a full CPanel with ever increasing functions and very logical placement, attentive, technically solid customer support, secure fast servers and everything working out of the gate saves a lot of time and that makes up for more than the difference. I think those sorts of hosts are growing lately and a customer I can see why that is.
When you need support, the cues are short and the guys helping know their stuff and are quick to help (none of the typical e-mail replies, which tend to be rather absent of content). Instead you get knowledgable real people that are quick to help.
As a european customer I couldn't use the Adword goodies, but that's about the only trouble I ran into. I'd be happy to chose them again.
JEfromCanada
5 —
June 22, 2016
Affordable, fast *and* includes WHMCS
When shopping for a reseller hosting provider over a year ago, I had one primary consideration – it *must* use SSD hardware. I initially signed up with A2 Hosting and was really pleased until I discovered there were certain packages that did not get compiled into their hosting package. I had to start again looking for another suitable host.
Doing some more research, I discovered InMotionHosting. They were offering an initial signup discount that was too good to ignore. It was almost by chance that I discovered one of their best selling points – they include a FREE license for WHMCS with their reseller plan. That made the value proposition impossible to resist.
Even after renewing my hosting plan at the "normal" renewal price, I feel like I've got a good deal for the amount of space and bandwidth in my package. Barring some competitor coming up with a better price, I can't see myself switching any time soon.
Gil Lugo
5 —
June 21, 2016
Great support!!
I just want to say first that my website issues has been resolved promptly and it's running again!!! I like to add that Edward H did a tremendous job and his customer service skills were super!! Even when English is not my primary language but he understood my issues and worked on them quickly and also offered some tips on the do's and dont's since I'm new at creating my own blogging site.
Kelvin Fox
5 —
May 14, 2016
No problems at all…
It's very important to choose the right web hosting if you want to do a real long business. There is a chance that you may lose your data, money, and thus completely waste your time. A few years ago I had chosen Yahoo, but they didn't offer the PHP version the developer I hired needed. I left and I spend a week trying to find the solution but to no avail. Then he recommended inMotion Hosting to me.
The uptime is GREAT, and last year inMotion had upgraded their HDD's to solid state drives, which made my website a lot faster.
I love these guys, and they seem to have loved me too. Since last week I left them, since I no longer needed a website, but I might go back! (hence why the website doesn't work anymore)
Mohammad A.
5 —
April 25, 2016
It's not just about service quality, it's about support quality
I found InMotion Hosting year ago via a blog post about WordPress…
I had troubles with my previous host who lowered my resources, although I was still paying the same price not to mention the bad support experience.
Eventually, I changed my host and moved over to InMotion. I got to admit, the first thing that amazed me is the intensive care they give to their customers, not to mention the great quality of their services .. Since I moved to InMotion, and my website never had a downtime. But what I really want to focus on here is the support – it's probably the best experience I've had so far…
Shilpa S.
5 —
April 8, 2016
Glad I made the switch…
Having tried various hosting providers I felt either I was paying too much or losing on the quality. At one point I was even planning to manage my own hosting on AWS.
After weeks of research I was finally able to narrow down my choices to a select few, I chose inmotion hosting and I am glad I decided to go with them.
I have had a few technical issues during the past 3 years but their support has been amazing and the resolution time is way better than what I have experience with other providers. I recommend IMH to all my friends.
Nick Gerancher
5 —
March 4, 2016
My honest opinion…
InMotion Hosting is just plain awesome. They provide excellent service and have not let me down yet. Their customer support is GREAT! Another thing is that if you do not want speek with someone one on one, they have sooo many articles out there with other people's questions and will most likely answer yours as well.
I've only needed to talk to an actual person once about a personal site error I was having and my representatives help me fix it right away. If you need a bang for your buck and reliable hosting provider, InMotion Hosting is the BEST way to go!!